Açık Erişim
Abonelik veya Erişim Ücreti
Bir güvensizlik ülkesi olarak Türkiye'nin mültecileri, Suriyeliler ve Türk mülteciler
Özet
Doğu ve güney komşuları üzerinde gelen göç akınlarının ve üye ülkeler arasındaki göçlerin artışıyla Avrupa Birliği (AB) en büyük krizlerinden birini yaşamaktadır. Avrupa'daki en ana tartışma konuları arasında Avrupa'ya göçü ve AB içindeki göçü sınırlamak ve üye ülkeler arasında mülteci kotası ve külfet paylaşımına yapılan itirazlar yer aldı. Bu krizde Türkiye anahtar ülke olarak ortaya çıktı ve ülkedeki büyük Suriyeli mülteci nüfusu ve bu nüfusun Avrupa'ya gitmesini engellemesi karşılığında vaat edilen milyarlarca Avro nedeniyle tartışmaların odağında yer aldı. Suriye krizi 4,8 milyon mülteci yarattı ve 2016 yılı sonu itibariyle bunların 2,8 milyonu Türkiye'de ikamet etmekteydi. Suriyeli mültecilere karşı cömert tavrıyla Türkiye güvenli bir ülke olarak tescil edilmiş oldu. Bu, hikayenin daha karanlık bir başka yüzünü gölgelemektedir. Çünkü aynı ülkenin vatandaşları 1980 askeri darbesinden bu yana milyonu aşkın sığınma başvurusu yaptılar. Ülkenin bugünkü şartları ve yeni veriler, Türkiye'den AB'ye yönelen daha çok mülteci akını olacağını gösteriyor.
ABSTRACT IN ENGLISH
Turkey's refugees, Syrians and refugees from Turkey: a country of insecurity
The European Union (EU) has faced one of its biggest crises with the rise of population inflows through its Eastern and Southern neighbours as well as movements within the Union. In 2016, the main debate that dominated Europe was on restricting migration within and into the EU along with concerns and objections to the refugee quota systems and the sharing of the burden among member states. Turkey emerged as a 'gate keeper' in this crisis and has since been at the centre of debates because of the large Syrian refugee population in the country and billions of Euros it was promised to prevent refugees travelling to Europe. The Syrian crisis produced over 4.8 million refugees with over 2.8 million were based in Turkey by the end of 2016. Turkey with its generous support for Syrian refugees has been confirmed as a 'country of security'. This shadows the darker side of affairs as the very same country has also produced millions of asylum seekers since the 1980 military coup. Current circumstances and fresh evidence indicate that there will be more EU bound refugees coming through and from Turkey. 
Anahtar Kelimeler
Suriyeliler; uluslararası göç; mülteciler; Türk mülteciler; sığınmacılar; Avrupa; Syrians; international migration; refugees; Turkey; Turkish refugees; asylum seekers; Europe
Tam Metin:
PDF
Referanslar
Baser, B. (2015). Diasporas and homeland conflicts: A comparative perspective. Farnham: Ashgate.
Carrera, S., Blockmans, S., Gros, D., & Guild, E. (2015). The EU's Response to the Refugee Crisis: Taking Stock and Setting Policy Priorities. CEPS Essay, (20/16). Available at SSRN: http://ssrn.com/abstract=2715460 Accessed: 10/10/16.
CNN (2011, April 8). Stateless Kurds in Syria granted citizenship. http://edition.cnn.com /2011/WORLD/meast/04/07/syria.kurdish.citizenship/. Accessed 29/9/2016.
Dalay, G. (2015). Forming Turkey's Next Government: What are the Implications for Polarization and Policies? German Marshall Fund. http://www.gmfus.org/publications/ forming-turkeys-next-government. Accessed: 19/10/16.
GİGM (Göç İdaresi Genel Müdürlüğü) (2016). Göç İstatistikleri. http://www.goc.gov.tr/icerik/goc-istatistikleri_363_378. Erişim: 4/12/16.
Dressler, M. (2013). Writing religion: the making of Turkish Alevi Islam. Oxford: Oxford University Press.
Ediev, D. M., & Yücesahin, M. M. (2016). Contribution of migration to replacement of population in Turkey. Migration Letters, 13(3), 377.
Eurostat (2016). First time asylum applicants in the EU-28 by citizenship, Q2 2015 – Q2 2016.png http://ec.europa.eu/eurostat/statistics-explained/index.php/File:First_ time _asylum_applicants _in_the_EU-28_by_citizenship,_Q2_2015 _%E2%80%93 _Q2_ 2016.png. Accessed 12/12/2016.
Genç, H. D., & Öner, N. A. Ş. (2016). Stuck in the Aegean: Syrians leaving Turkey face European barriers. In: Sirkeci, I. and Pusch, B. (eds), Turkish Migration Policy, London: Transnational Press London, pp.127-148.
Gül, E. & Çevik, B. (2015). 2013 Verileriyle Türkiye'de İllerin Gelişmişlik Düzeyi Araştırması. Is Bankasi. https://ekonomi.isbank.com.tr/UserFiles/pdf/ar_07_2015.pdf Accessed: 01/10/16.
HRW (1996). Syria, The Silenced Kurds. https://www.hrw.org/reports/1996/Syria.htm. Accessed 29/9/2016.
Issa, T. (Ed.). (2017). Alevis in Europe: Voices of Migration, Culture and Identity. London, New York: Routledge.
Kaya, A. (2015). Islamisation of Turkey under the AKP rule: Empowering family, faith and charity. South European Society and Politics, 20(1), 47-69.
Keeley, B. (2015). Income Inequality: The Gap between Rich and Poor, Paris: OECD Publishing. DOI: http://dx.doi.org/10.1787/9789264246010-en.
Kirişçi, K. (1996). Is Turkey Lifting the 'Geographical Limitation'?—The November 1994 Regulation on Asylum in Turkey. International Journal of Refugee Law, 8(3), 293-318.
Kosnick, K. (2004). 'Speaking in One's Own Voice': Representational Strategies of Alevi Turkish Migrants on Open‐Access Television in Berlin. Journal of Ethnic and Migration Studies, 30(5), 979-994.
Kulu-Glasgow, I., & Leerkes, A. (2013). Restricting Turkish marriage migration? National policy, couples' coping strategies and international obligations. Migration Letters, 10(3), 369.
Lievens, J. (1999). Family-forming migration from Turkey and Morocco to Belgium: The demand for marriage partners from the countries of origin. International Migration Review, 33(3), pp. 717-744.
Lordoğlu, K., & Aslan, M. (2015). Araştırma - Saha Notları: Beş Sınır Kenti ve İşgücü Piyasalarında Değişim: 2011-2014. Göç Dergisi, 2(2), 249-267.
Martin, P.L. (1991). The unfinished story: Turkish labour migration to Western Europe: with special reference to the Federal Republic of Germany (Vol. 84). Geneva: ILO.
Martin, P.L. (2016). Wither US migration. Migration Letters, 13(2):295-306.
Martin, P.L. & Sirkeci, I. (2017). Recruitment, remittances, and returns. In: Reinert, Kenneth A. (Ed.). Handbook on Globalisation and Development. Cheltenham, UK; Northampton, MA, USA: Edward Elgar, chapter 18, pp. 569-603.
Massicard, É. (2013). The Alevis in Turkey and Europe: identity and managing territorial diversity. London, New York: Routledge.
McDowall, D. (1996). Modern History of the Kurds. New York: IB Tauris.
Milan, F. F. (2016). Turkey: What Hides Behind a Failed Coup Attempt. The RUSI Journal, 161(4), 28-32.
Öner, N. A. S., & Genç, D. (2015). Vulnerability leading to mobility: Syrians' exodus from Turkey. Migration Letters, 12(3), 251-262.
Pusch, B. & Sirkeci, I. (2016). Introduction: Turkish migration policy at a glance. In: Sirkeci, I. and Pusch, B. (eds), Turkish Migration Policy, London: TPLondon, pp.9-22.
Reniers, G. (1999). On the history and selectivity of Turkish and Moroccan migration to Belgium. International Migration, 37(4), 679-713.
Sağıroğlu, A.Z. (2016). Turkey's migration law and policy: is it a new era? In: Sirkeci, I. and Pusch, B. (eds), Turkish Migration Policy, London: Transnational Press London, pp.41-54.
Scherbov, S., Mamolo, M., et al. (2016). European Demographic Datasheet 2016. http://www.populationeurope.org/. Accessed: 01/10/2016.
Shankland, D. (2003). The Alevis in Turkey: the emergence of a secular Islamic tradition. London, New York: Routledge.
Sirkeci, I. (2000). Exploring the Kurdish population in the Turkish context. GENUS, an International Journal of Demography, 56(1-2): 149-175.
Sirkeci, I. (2003a). Migration from Turkey to Germany: an ethnic analysis, New Perspectives on Turkey, 2003(28-29): 189-208.
Sirkeci, I. (2003b). Migration, ethnicity and conflict: the environment of insecurity and Turkish Kurdish international migration. PhD Dissertation, University of Sheffield.
Sirkeci, I. (2004). Iraqi International Migration: Potentials for the Post-war Period, Population Review, 43(1): 37-49.
Sirkeci, I. (2005a). Diaspora: Turkish. In: M. Gibney and R. Hansen (eds.) Immigration and Asylum from 1900 to the Present, Santa Barbara: ABC-CLIO, pp.607-610.
Sirkeci, I. (2005b). War in Iraq: environment of insecurity and international migration, International Migration, 43(4): 197-214.
Sirkeci, I. (2006a). The Environment of Insecurity in Turkey and the Emigration of Turkish Kurds to Germany. New York: Edwin Mellen Press.
Sirkeci, I. (2006b). Ethnic conflict, wars and international migration of Turkmen: evidence from Iraq, Migration Letters, 3(1): 31-43.
Sirkeci, I. (2009). Transnational mobility and conflict. Migration Letters, 6(1), 3-14.
Sirkeci, I. (2013). Population Change and Migration in Europe and the UK. In: Drew, J. & Bond, M. (eds). The UK & Europe: Costs, Benefits, Options. The Regent's Report. London: Regent's University London, pp.16-26.
Sirkeci, I. & Cohen, J. H. (2016). Cultures of migration and conflict in contemporary human mobility in Turkey. European Review, 24(3): 381-396.
Sirkeci, I. & Esipova, N. (2013). Turkish migration in Europe and desire to migrate to and from Turkey. Border Crossing, 3(1), 1-13.
Sirkeci, I. & Martin, P. L. (2014). Sources of Irregularity and Managing Migration: The Case of Turkey. Border Crossing, 4(1-2), pp.1-16.
Sirkeci, I. & Martin, P.L. (2016). Editorial: The Migration Conference and 13 years of Migration Letters. Migration Letters, 13(3):329-332.
Sirkeci, I. & Zeyneloğlu, S. (2014). Abwanderung aus Deutschland in die Türkei: Eine Trendwende im Migrationsgeschehen? In: Alscher, S. & Krienbriek, A. (eds.) Abwanderung von Türkeistämmigen: Wer verlässt Deutschland und warum? Germany: BAMF, pp.30-85.
Sirkeci, I., Cohen, J. & Can, N. (2012). Internal mobility of foreign-born in Turkey. In: Finney, N. & Catney, G. (eds.) Minority Internal Migration in Europe. Farnham: Ashgate, pp.175-193.
Sirkeci, I., Cohen, J. H., & Yazgan, P. (2012). Turkish culture of migration: Flows between Turkey and Germany, socio-economic development and conflict. Migration Letters, 9(1), 33-46.
Sirkeci, I., Seker, B.D., & Caglar, A. (eds.) (2015). Turkish Migration, Identity and Integration. London, UK: Transnational Press London.
Sirkeci, I., Bilecen, T., Costu, Y., Dedeoglu, S., Kesici, M.R., Tilbe, F., Unutulmaz, K.O. (2016). Little Turkey in Great Britain. London: Transnational Press London.
Sözen, Ü.S. (2016). Fragile balance of EU-Turkey readmission agreement. In: Sirkeci, I. & Pusch, B. (eds), Turkish Migration Policy, London: Transnational Press London, pp.149-168.
Thielemann, E. R., Williams, R. and Boswell, C. (2010). What system of burden-sharing between Member States for the reception of asylum seekers? PE 419.620. European Parliament, Brussels, Belgium.
White, P. J., & Jongerden, J. (Eds.). (2003). Turkey's Alevi enigma: a comprehensive overview. Leiden: Brill.
World Bank (2016). World Development Indicators. Last updated: 14/10/2016. data.worldbank.org.
Yazgan, P., Utku, D. E., & Sirkeci, I. (2015). Syrian crisis and migration. Migration Letters, 12(3), 181-192.
Yeğen, M. (2007). Turkish nationalism and the Kurdish question. Ethnic and Racial Studies, 30(1), 119-151.
Refback'ler
Şu halde refbacks yoktur.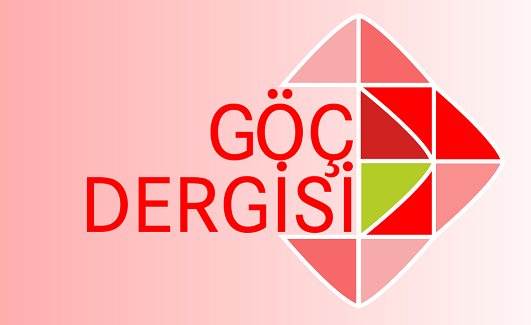 Copyright © 2003-2018 Transnational Press London | Tüm hakları saklıdır | TRANSNATIONAL PRESS LONDON LTD. İngiltere ve Galler'de kayıtlıdır. Şirket kayıt no. 8771684.