Economic Survival Strategies of Turkish Migrants in London By Olgu Karan
Body: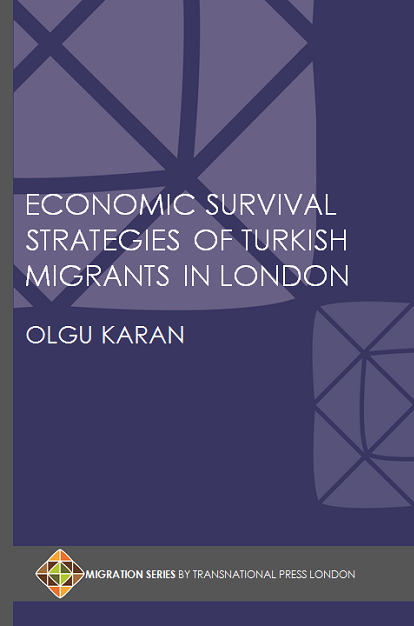 Economic Survival Strategies of Turkish Migrants in London
by Olgu Karan
paperback | ISBN: 978-1-910781-47-0 : Buy from Lulu | Buy at Amazon | Buy direct from TPLondon
hardcover | ISBN: 978-1-910781-49-4 : Buy from Lulu | Buy at Amazon
Kindle version : Buy at Amazon
eBook version | Buy at CEEOL
"Karan shows how this collectively created social capital gradually acquired cultural capital, as the migrants' children became familiar with the English language, and as the experience of running businesses in London was shared among the migrants. Alongside these processes, he sees the emergence of a new form of ethnic identification to 'our people' – the Türkiyeli – based on the sharing of common experiences. And this identification, he finds, is shared by both Kurdish and Turkish communities as well as by those with religious and non-religious beliefs. The book provides detailed insights into these migrant experiences, while also considering the theoretical explanations. It is a really welcome contribution for everyone concerned with the problems and challenges of integration and of identify today."
- Professor Steve Jefferys, London Metropolitan University, UK

""This study is about economic survival in the Turkish and Kurdish communities of North London with some interesting comparisons to the longer established Turkish Cypriot community. It is to be welcomed that the study spans macro and micro levels. Also to be welcomed is that it eschews the idea that identity and culture is fixed and unchanging, providing some fascinating and important examples to the contrary, and that it moves beyond essentially culturalist approaches to entrepreneurship and even more so, mainstream individualist ones."
- Professor Theo Nichols, Cardiff University, UK

"Dr Karan noticed that two ethnic communities in conflictual relationships with each other in home country (Turkey) are marshalling collective resources in a very cooperative way across ethnic boundaries and forming small business ventures and thus contributing to the empowerment and upgrading of their households and communities."
- Professor Bahattin Akşit, Maltepe University, Istanbul, Turkey

"This book based on semi-structured interviews and other material shows how the collapse of the textile industry in London pushed members of the Kurdish and Turkish communities to become business owners in catering and retail. Having relatively limited education and knowledge in the English language together with discrimination in the mainstream labor made the transition attractive. In addition UK's legal framework and strong sense of solidarity within the groups made it possible to set up a business. However, competition is fierce and authorities hardly supportive. To stay in business owners, their family members and hired co-ethnics have to engage in long working hours leading to social isolation. Most business owners are men and relations within the family are patriarchal.
I found this scholarly and well written book a valuable and welcomed contribution to the literature on how ethnic minorities in rich countries make their living."
- Bjorn Gustafsson, Senior Professor, Department of Social Work, University of Gothenburg, Sweden and Research Fellow, Institute for the Study of Labor (IZA), Bonn, Germany
CONTENT

Acknowledgements
About the Author
Foreword by Steve Jefferys
Chapter One: Introduction
Chapter Two: Analytical Tools and Theoretical Models in Understanding Ethnic Entrepreneurship
Chapter Three: Cypriot, Turkish, and Kurdish Entrepreneurship in the UK
Chapter Four: Researching Turkish Entrepreneurs in London
Chapter Five: Interests
Chapter Six: Social Networks and Mobilisation
Chapter Seven: Opportunities and Constraints for KT Businesses
Chapter Eight: Conclusion
References
Index
ABOUT THE AUTHOR:
Olgu KARAN is Assistant Professor in Sociology at Başkent University, Ankara, Turkey. He obtained his PhD at London Metropolitan University's Working Lives Research Institute where he conducted the research titled "Collective Resource Mobilisation for Economic Survival within the Turkish Speaking Communities in London" supervised by Dr Leroi Henry and Professor Allan Williams. Dr Karan received his BA degree in Political Science from Bilkent University and MA degree in Political Sociology from the Dalarna University in Falun. His research interests include social exclusion, social movements, and development.
CREDITS: Cover Design: Gizem Cakir
Transnational Press London | All rights reserved