The Migration Conference 2017 Proceedings
Submitted by

TPLondon (not verified)

on Mon, 12/25/2017 - 21:50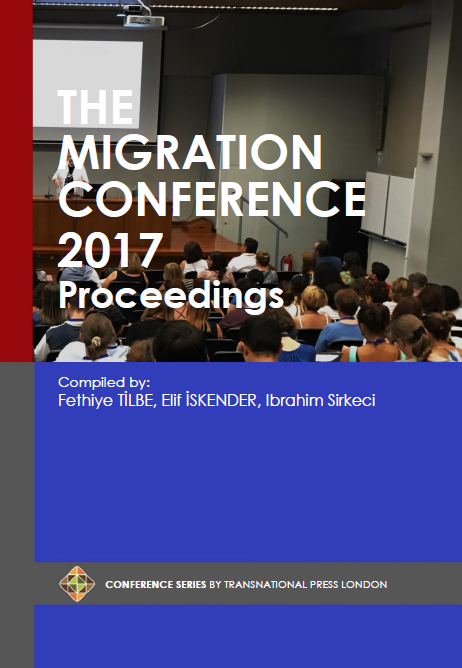 The Migration Conference 2017 Proceedings is compiled by Fethiye Tilbe, Elif Iskender, and Ibrahim Sirkeci. This volume brings together a selection of papers presented at the 5th Migration Conference hosted by Harokopio University Athens, 23-26 August 2017.
This selection of papers presented at the conference are only a small segment of unedited contributions while many other papers have already been published in or submitted to edited books and refereed journals. There were a total of about 400 papers presented over 100 parallel sessions and three plenary sessions at Kallithea Campus of Harokopio University, Athens, Greece.
The keynote speakers included Oded Stark, Saskia Sassen, Giuseppe Sciortino, Neli Esipova and Yuksel Pazarkaya.
You can purchase paperback copies via the link below. Electronic copies of chapters are also available.
paperback | ISBN: 978-1-910781-54-8

Buy from Lulu | Buy from Amazon Türkçe | Buy from Amazon UK
Download electronic copies of individual chapters below:
PDF versions on Academia | Kindle by amazon | Kindle by amazon Türkçe
About the editors v
Acknowledgements vi
Introduction: The Migration Conference 2017 - Fethiye Tilbe, Elif Iskender, Ibrahim Sirkeci 1
Chapter 1. A Psychosocial Perspective of Immigrant Female Killers in TV Series - Anna Zaptsi 3
Chapter 2. Establishing Feeling of Security for the People Who Suffer from Conflict - Süleyman Özmen 13
Chapter 3. Implications of the European Union-Turkish Migration Agreement for the Slovak Domestic and Foreign Policy - Barbora Olejárová 22
Chapter 4. Football player migration in Greece: Wage differences and crowding-out effects - Panagiotis Dimitropoulos 31
Chapter 5. Mobile Application for Asylum Seekers - Antonios Makris, Eleni Petraki, Xronis Dimitropoulos, Styliani Liberopoulou, Konstantinos Tserpes, Christos Michalakelis 39
Chapter 6. Massive Displacement Meets Cyberspace: How Information and Communication Technologies are elping Refugees and Migrants and How We Can Do Better - Joseph G. Bock, Kevin McMahon, Ziaul Haque 48
Chapter 7. The Depictions of The Refugee Crisis on the Public Arena: An Analysis of the News Frames Promoted by Spanish Digital Media - Sergio Álvarez, Alfredo Arceo 70
Chapter 8. Migration and Refugee Representation in Political Cartoons - Arda Umut Saygın 80
Chapter 9. Forced to Flee: A Case Study Analysis of Sexual Violence During the Syrian Civil War - Emma von der Lieth 89
Chapter 10. The Points of Continuity: Muslim Migration from Monarchist and Socialist Yugoslavia to Turkey - Vladan Jovanović 141
Chapter 11. Cinema and Migration: The Representation of Illegal Immigration of First and Third Generation Turkish Worker to European Countries in Turkish Cinema: A Comperative Analysis of the Films "The Bus" (1977) and "The Island of Hope" (2007) - Levent Yaylagül, Nilüfer Korkmaz-Yaylagül 151
Chapter 12. Legal and Circular Migration in the European Union Mobility Partnerships - Katarzyna A. Morawska 165
Chapter 13. Some Results of Irregular Migration in Turkey - Melek Zubaroğlu Yanardağ, Umut Yanardağ 173
Chapter 14. Credit Constraints and Rural Migration: Evidence from Six Villages in Uttar Pradesh - Ruchi Singh 181
Chapter 15. The Effect of Migration upon Lexical Aspects of the Movers' Mother Tongues: The Example of Pomak in Turkey- Hasan Boynukara, Uğur Altıntaş 192
Chapter 16. Diversity and creativity in the center of Athens: Co-existence or implicit conflicts? - Aggeliki Demertzi1, Eva Papatzani2 200
Chapter 17. The Role of Religious Groups on the Daily Religious Lives of European Turks - Yakup Çoştu, Feyza Ceyhan Çoştu 214
Chapter 18. The Role of Loneliness in the Process of Addiction Development among FSU Immigrant Drug Users in Israel - Liat Yakhnich 223
Chapter 19. Intergenerational Voices on Identity in Migration: Greek Islanders Speak- Melissa Afentoulis 230
Chapter 20. Refuge for the Rohingya in Southeast Asia? - Jera Lego 237
Chapter 21. Immigration Theme in Elif Shafak's Novels - Reyhana Jafarova 250
Chapter 22. The Ionians in Anatolia and the Mother Goddess Cybele Cult - Seher Selin Özmen 259
Chapter 23. The Alevi Youth in the German Diaspora - Deniz Cosan- Eke 274
Chapter 24. Language and Identity Problems - Neriman Hocaoğlu Bahadır 285
Chapter 25. The Certainty of Uncertainty; The Critical Tool of Certainty in a Migrant's Journey to Effectively Control Issues in Human Security, Fraud and Integration for the Benefit of the Migrant and the Receiving Country - Sherene Ozyurek 295
Chapter 26. On Immigrant Radicalism and Immigrant Nihilism -Thoughts on Migrations from the Middle East to Turkey - Mehmet Evkuran 304
Chapter 27. Brain Migration: Factors and Models - Andrej Privara, O. Tolstoguzo, Maria Pitukhina, Magdalena Privarova 311
Chapter 28. Put the Burden on Whom? Transit or Destination Countries: The Cases of Greece and Croatia - Rukiye Deniz 329
Chapter 29. Support or Obstacle? Effects of Immigrants on Domestic Labor Force in Turkey - Atakan Durmaz, Özge Korkmaz 338
Chapter 30. Human Trafficking: Is the Law of the Western Societies Effective or Not? - Alexia Kapsampeli 348
Chapter 31. Diaspora Bonds as a New Foreign Capital Tools: A Research on the Countries Applying and Potential of the Turkish Diaspora - Atakan Durmaz, Adem Kalça 354
Chapter 32. Of Crocodiles, Magumaguma, Hyenas, and Malayitsha: Zimbabweans Crossing the Limpopo in Search of a Better Life in South Africa - Chipo Hungwe 371
Chapter 33. Gender Identity and Performance of Filipino Female Student Migrants in Korea - Cathe Ryne Denice Basco Sarmiento 380
Chapter 34. Stakeholder's Concerns into the Federal Registration and Procedure Centres in Switzerland - Marwan Alkhouli 393
Chapter 35. Asylum Under Pressure: international Deterrence and access to asylum - Vasiliki Kakosimou 403
Chapter 36. Migration: A Triangle of Aspiration, Opportunity or Exploitation? A Migrant's Perspective - Shweta Sinha Deshpande, Aashna Banerjee 411
Chapter 37. Engaging Albanian Communities Abroad: One on One Mentoring - Joniada Barjaba and Arben Malaj 423
Chapter 38. Mobile People - Mobile Ethnographer: Thinking about Cultural Mobilities - Maria Panteleou 430
Chapter 39. Breaking the Myth of Universality in National Health Care Systems: Undocumented Immigrants and Asylum Seekers' Health Care Access in Spain and Sweden, 2011-2015 - Daniela Cepeda Cuadrado, Camila Rodrigues Vieira 436
Chapter 40. Status and Stigma - Careers of Self-employed of Turkish Origin in Salzburg - Heiko Berner 451
Chapter 41. Labor Market Effects of Migration: An extension of the Ricardian Model - Karen Jacqueline Contreras Lisperguer 460
Chapter 42. Leaving or Staying? Migration Motifs of People of Turkish Origin with German Graduation - Cemal SARI 469
Chapter 43. Refugee Status Determination Policy and Practice: The Australian Experience - Petra Playfair, Adriana Mercado 478
Chapter 44. Building or Burning the Bridges? The Determinants of Return Migration Intentions of German-Turk Generations - Tolga Tezcan 487
Chapter 45. Crimmigration in Brazil and the Netherlands: How the Phenomenon of Securitization can be a Fuel to These Processes? - Laís Azeredo Alves 497
Chapter 46. The Immigrant-Native Wage Gap in Malaysia: The Preliminary Results - Borhan Sareya Abdullah, Alexandros Zangelidis, Ioannis Theodossiou 508
Chapter 47. Mapping Shipwrecks of Refugees and Immigrants in the Mediterranean Sea Since 2015 - Artemis Tsiopa 527
Chapter 48. Rethinking Refugee Activism within and beyond the State: The Trajectory of Refugee Activism Birce Altiok Karsiyaka 524
Chapter 49. The Application of the Analytical Hierarchy Process Model in the Process of Conflict Management - LL.M. Nena Nenovska Gjorgjievska 545
Chapter 50. Deciding to Stay: Bissau-Guinean Labour Migrants in Cabo Verde, West Africa - Brandon D. Lundy, Kezia Lartey 551
Chapter 51. Nature and Consequences of Migration to Gulf Countries: A Study of Selected Rural Areas of Allahabad District in India - Mohammed Taukeer 564
Chapter 52. Economic Behavior of Albanian Immigrants during the Economic Crisis in Greece - Dorina Kalemi 578
Chapter 53. In Searching Law on The Indonesian Diaspora: Lessons Learnt from South Korea and India Experiences - Susi Dwi Harijanti, B. Dewansyah, A. Abdurahman, W. Dramanda 589
Chapter 54. Importing a Labor Force for Catalonian Agriculture. A Case of Human Rights Deprivation in Spain. Sustainability and Successes - Olga Achón Rodríguez 598
Chapter 55. From "Haponesa" to "Issei": Ethnicized Identities of Okinawan War Brides in Post-War Philippines - Johanna Orgiles Zulueta 629
Transnational Press London | All rights reserved