Border Crossing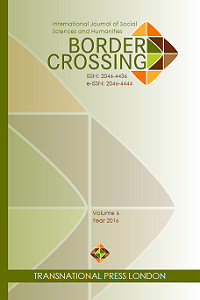 CONTENT: CURRENT ISSUE | PAST ISSUES
Border Crossing is an international peer reviewed multidisciplinary journal of Social Sciences and Humanities inviting researchers, students, scholars as well as practitioners for scholarly exchange.
Border Crossing invites papers in all subject areas of Social Sciences and Humanities including Business and Management, Finance, Banking, Economics, Sociology, Human Resources, Political Science, International Relations, Law, Geography, Literature, Psychology, Marketing and Communication. Papers are reviewed and considered for publication as they arrive on a rolling basis all year round. Border Crossing follows a strict double blind review policy and adheres to ethical publishing guidelines. Border Crossing publishes articles in English as well as articles in Turkish with extended abstracts in English (max. 500 words).
ISSN: 2046-4436 | e-ISSN: 2046-4444
Border Crossing was launched in 2011 by Ibrahim Sirkeci and supported by an international editorial board and managed by associate editors.
Most viewed articles in Border Crossing in 2016
1 The impact of a mega-event on city branding: The European Capital of Culture 2010 and the image of Istanbul Evinc Dogan and Ibrahim Sirkeci
2 A generative framework for creative learning: A tool for planning creative-collaborative tasks in the classroom Sylvia Truman
3 Research-Teaching-Practice linkages: A challenge for Business Schools Anabel Gutierrez
4 Collective Resource Mobilisation for Economic Survival within the Kurdish and Turkish Communities in London Olgu Karan
5 Measuring academic research performance through audit at the expense of trust: Exploring the 21st Century University Chris Holligan and Ibrahim Sirkeci
6 Turkish migration in Europe and desire to migrate to and from Turkey Ibrahim Sirkeci and Neli Esipova
7 Political Participation in Alevi Diaspora in the UK Tuncay Bilecen
8 Migrant associations as alternative jobs providers: Experience of Turkish and sub-Saharan communities in Belgium Altay Manco and Andrea Gerstnerova
9 Learning uncomfortably Noemi Sadowska and Dominic Laffy
10 Meaning and Functions of Norwegian-Turkish Vernacular Space in Drammen, Norway Karolina Nikielska-Sekula


Border Crossing is indexed and abstracted in:
Central and Eastern European Online Library (CEEOL)
China Academic Journals Database (CNKI Scholar): CNKI search
EBSCO Academic Search international
ERIH PLUS (Erih Index)
Finland Publications Forum (JUFO)
Norwegian Register of Scientific Journals, Series and Publishers (NRSJSP Search)
Research Papers in Economics (RePEc): RePEc search
.