Call for Papers: Cost of Remittances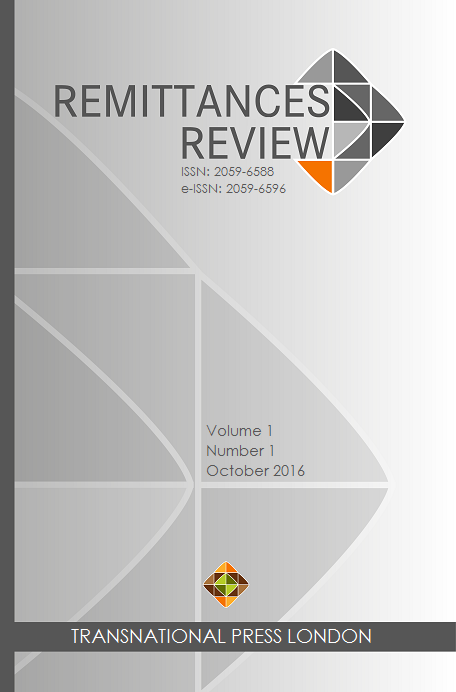 CALL FOR PAPERS: REMITTANCES REVIEW - Special issue on Cost of Remittances
Remittances Review invites contributions for a special issue on reducing the cost of remittances. International remittances are expected to top $2 billion a day before 2020, with two-thirds flowing to developing countries. Remittances reduce poverty in families that receive them, and can stimulate economic growth in migrant-sending nations.
---
Call for Papers: Remittances Costs Download PDF

---
The Sustainable Development Goals include a target to reduce "to less than three percent the transaction costs of migrant remittances and eliminate remittance corridors with costs higher than five percent" by 2030. There have been significant reductions in remittance costs, including between the US and Latin American countries, but remittance costs remain high in many African corridors.
The cost of sending remittances is shaped by market forces as moderated by political interventions and taxes. Policies to minimize money laundering and finance terrorism have raised money transfer costs in some areas, while the technologies such as mobile phones have reduced remittance costs.
Remittances Review invites academics, NGO and industry experts, and policy makers to contribute papers. Remittances Review is an interdisciplinary and peer-reviewed journal publishing high quality and policy oriented scholarship on Remittances and Money Transfers. All submissions are subject to double-blind peer review.
Remittances Review invites papers from all disciplines including Economics, Geography, History, Political Science, Law, International Relations, Anthropology, and Sociology. The journal welcomes research that is anchored in a discipline while also engaging across disciplinary boundaries with other migration and remittances researchers. Contributions to this special issue should comply with the author guidelines available through the Journal website.
Papers submitted must be original scholarly pieces and follow the submission guidelines of the journal: http://www.tplondon.com/journal/index.php/rem/about/submissions.
Anticipated schedule
Submission deadline: 30 June 2017
Notification: 15 August 2017
Final revisions: August-September 2017
Publication date: October 2017
The schedule is subject to revisions.
Please forward your queries and submissions directly to the Editors:
Ibrahim Sirkeci, Regent's University London, UK (sirkecii@regents.ac.uk)
Philip L. Martin, University of California, Davis (martin@primal.ucdavis.edu)
Jeffrey H. Cohen, Ohio State University (cohen.319@osu.edu)
Bharati Basu, Central Michigan University (basu1b@cmich.edu)
Remittances Review Remittances Review (ISSN: 2059-6588 | e-ISSN: 2059-6596) is indexed and abstracted in:
• Central and Eastern European Online Libarry (CEEOL)
• China Academic Journals Database (CNKI Scholar)
• Research Papers in Economics (RePEc)
For more information, please visit:
http://tplondon.com/rem
In this special issue, we invite academics, experts from the industry and politics to join the discussion with papers on all aspects of reducing remittances costs.
---
Remittances Review is an international, peer-reviewed journal that publishes research articles, conversations/interviews, book reviews, conference reports, viewpoints, and letters on remittances and money transfer research, trends, practices, policies. Although the production of academic work pertaining to the cultural, social, economic, and political aspects of remittances and money transfers is growing, there is still a need for research and theoretical contributions that centre on issues of development, poverty, regulation, migration, practice, and policies.
The aim of Remittances Review is to offer a platform where different disciplines and approaches can be brought together to address these topics and establish a genuine forum for serious discussion and exchange among researchers, policy makers and practitioners in the field. The journal addresses a broad audience of students, professionals, policy makers, and enthusiasts, and offers an accessible venue for sound scholarship and research.
Remittances Review invites submissions in all disciplines, including economics, finance, accounting, business and management, history, sociology, anthropology, political science, geography, law, and psychology. Contributions on under-researched topics are particularly welcome.
We are inviting papers on current Remittance trends, policy concerns, regulation and need for deregulation, exclusivity contracts, remittances and development nexus, consumption and household economy, remittances and conflict as well as practitioner, professional accounts of current challenges and transitions in remittances and money transfer markets. Papers on social remittances as well as financial remittances are welcome.
You may find submission guidelines and other details regarding the journal on tplondon.com/rem; and email us at remeditor@tplondon.com for your questions and contributions.
Editorial Team of Remittances Review.