Conflict, Insecurity and Mobility
Body: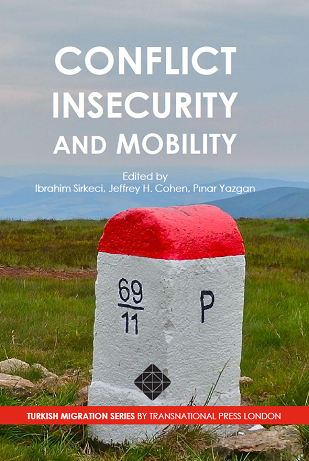 Conflict, Insecurity and Mobility
edited by Ibrahim Sirkeci, Jeffrey H. Cohen , Pinar Yazgan
You can purchase the book via the links below.
paperback | ISBN: 978-1-910781-09-8 :
Buy from Lulu | Buy at Amazon
hardcover | ISBN: 978-1-910781-11-1 :
Buy from Lulu | Buy at Amazon
Kindle version :
Buy e-book
Theories and models of contemporary migration often revolves around neofunctional models. They define migrants as rational actors who are focused on improving their economic, social, and political well-being which is enabled by access to opportunities that are not available in their origin communities and/or countries. Nevertheless, initiation of migration is largely driven by difficulties, discomfort, disagreements, tensions, and conflicts at the origin, while migration decision and destination choices are moderated by individual characteristics, cultural and social capital as well as by the local, national, and international context. In other words, people do not move when they are satisfied and comfortable with what they have and where they are. The number of movers around the world is relatively very small. The costs of migration and other moderating effects make international population movements an exception even today with an ever increasing mobility across the world.
"The studies collected in this edited book offer evidence to our argument that migration does not provide an ultimate response to insecurities in the home countries or conflicts in traditional destinations; instead as hinted in some of the contributions, migration shifts the balance of power and security as insecurity and conflict are negotiated in the process of migration with particular reference to the Kurds and Kurdish migration."
CONTENT PDF
Chapter 1. Introduction by Ibrahim Sirkeci, Jeffrey H. Cohen, Pınar Yazgan, Natalia Zotova
Chapter 2. Marginalisation and Copenhagen gang wars by Pınar Yazgan and Therese Svensson
Chapter 3. Distance beyond the border: Kurds of Syria and Turkey in Istanbul by Souad Osseiran
Chapter 4. Border people's border perception: The case of Shemdinli (Shemdinan) by Ferhat Tekin
Chapter 5. Development, security and the role of Frontex on the Turkish-Greek border by Burcu Toğral Koca
Chapter 6. Contributor or barrier: The role of Kurdish Diaspora in Turkey's European Union accession process by Şevin Gülfer Sağnıç
Chapter 7. Perspectives on conflicts and potentials in a changing neighbourhood: Berlin-Neukölln and the role of urban governance by Manuela Freiheit and Kristina Seidelsohn
Chapter 8. The Kurds: "A history of deliberate and reactive state-lessness" by Hanifi Barış
Chapter 9. As if all life had vanished... The return of Kurdish villagers to their hometowns by Şemsa Özar
Chapter 10. Negotiating identity and coping with urban space among young Kurdish migrants in Istanbul by Karol P. Kaczorowski
Chapter 11. Perspectives on communal violence against Kurds in Turkey by İmren Borsuk
Chapter 12. Military service-migration nexus in Turkey by Ulaş Sunata
CREDITS: Cover Photo: Altay Manco - Cover Design: Nihal Yazgan
Transnational Press London | All rights reserved