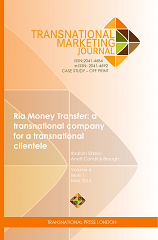 Ria Money Transfer: a transnational company for a transnational clientele
by Ibrahim Sirkeci & Anett Condick-Brough
Published: 24 May 2016
You can purchase the case study via the links below.
paperback | ISBN: 978-1-910781-24-1: Buy from Lulu | Buy from Amazon
Kindle version : Buy e-book
This case study looks at the development of a money transfer company in a dynamic and fast changing market. Transnational nature of the business as well as profiles of customers are emphasised. Ria Money Transfer is part of the Euronet, US based parent company. Aspiring to become the most progressive company in the sector, Ria deals with customers with backgrounds from all over the world. This is also reflected in the work force of the company. Operating in distinct environments, businesses are not only concerned with a multicultural body of customers, agents and clients but also multiple economic, political, technological environments with a large number of small and big competitors. This case study alludes to the questions about the key drivers of success for a transnational company with such complex web of markets, consumers, clients and competitors. Company information, direct quotes from representatives and media are used to illustrate aspects of the business and markets.
This case study has been published in Transnational Marketing Journal. It is produced as an off print. See: Sirkeci, I., & Condick-Brough, A. (2016). CASE STUDY: Ria Money Transfer: a transnational company for a transnational clientele. Transnational Marketing Journal, 4(1), 41-58.
CREDITS: Cover Design: Nihal Yazgan
Transnational Press London | All rights reserved