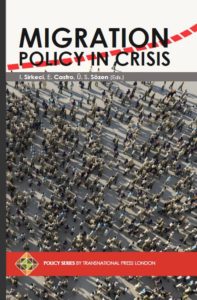 Migration Policy in Crisis
Edited by Ibrahim Sirkeci, Emília Lana de Freitas Castro, Ülkü Sezgi Sözen
Published: 27 August 2018 | 166 pp. | paperback | ISBN: 978-1-910781-85-2
Buy from TPLondon | Buy from Lulu | Buy at Amazon | Buy Kindle version
Migration and challenges associated with human mobility are here to stay. We, as migration scholars, reiterate, rethink, reconsider what we do know and identify areas for further investigation constantly. Every year we get intrigued by volumes of research and scholarship presented at the Migration Conferences (TMC) since 2012. At the fifth conference in 2017 held at Harokopio University in Athens, about 400 papers were disseminated by researchers covering different aspects, approaches, methods, and takes on human mobility. This edited volume in hand here, although inspired and shaped by the contributions initially presented at the TMC 2017, is more than a conference proceedings book. The volume includes not only more experienced and distinguished academics but also new researchers committed to high quality scholarship in this field.
"Migration has become an everyday topic in the last years, and the arrival of persons fleeing for their lives or human rights or in search of a better life has been deemed as a "crisis". In reality, though, Politics are creating a crisis of protection. This book flashes out this scenario in Europe, pointing to the crisis of policies towards migrants in the EU. To face the challenges in the current international setting balancing the interests of States and the needs of human beings is essential. This requires analysis a commitment to being comprehensive, propositional and analytical and this book delivers this."
– Liliana Lyra Jubilut, Professor in International Law, Member of the IOM Migration Research Leaders' Syndicate, Brazil
"Whenever we hear the voices of irresponsible populists trying to destroy the European project, we should never forget that we live in and have to fight for an age of enlightenment. The volume at hand provides a superb reminder."
– Markus Kotzur, Chair of European and International Law and Vice Dean for Studies and Teaching, Universität Hamburg, Germany
Contents
Preface
Markus Kotzur 3
INTRODUCTION
Ibrahim Sirkeci, Emília Lana de Freitas Castro, Ülkü Sezgi Sözen. 5
HUMANITARIAN SECURITIZATION OF THE 2015 "MIGRATION CRISIS": INVESTIGATING HUMANITARISM AND SECURITY IN THE EU POLICY FRAMES ON OPERATIONAL INVOLVEMENT IN THE MEDITERRANEAN
Maciej Stępka. 9
RESTRICTION, PRAGMATIC LIBERALISATION, MODERNISATION: GERMANY'S MULTIFACETED RESPONSE TO THE "REFUGEE CRISIS"
Axel Kreienbrink 31
COMMUNICATING REFUGEES AND HUMAN RIGHTS: THE GERMAN GOVERNMENT'S ASSESSMENT OF THE ROLE OF THE EUROPEAN COURT OF HUMAN RIGHTS
Johanna C. Günther 53
SOLIDARITY VS. SOVEREIGNTY: PERSPECTIVE ON THE SLOVAK FOREIGN POLICY REACTIONS TO THE MIGRATION CRISIS
Barbora Olejárová. 77
ASYLUM UNDER PRESSURE: INTERNATIONAL DETERRENCE AND ACCESS TO ASYLUM
Vasiliki Kakosimou. 95
LEGAL AND CIRCULAR MIGRATION IN THE EUROPEAN UNION MOBILITY PARTNERSHIPS
Katarzyna A. Morawska. 103
DEVELOPING THE UNDERSTANDING OF MIGRANT INTEGRATION IN THE EU: IMPLICATIONS FOR HOUSING PRACTICES
Maria Psoinos and Orna Rosenfeld. 115
IMMIGRATION AND ELECTORAL SUPPORT FOR THE RADICAL RIGHT: EVIDENCE FROM DUTCH MUNICIPALITIES
Panagiotis Chasapopoulos, Arjen van Witteloostuijn and Christophe Boone. 133
Product Details:
ISBN: 9781910781852
Publisher: Transnational Press London
Published: 27 August 2018
Language: English
Pages: 166
Binding: Perfect-bound Paperback
Interior Ink: Black & white
Weight (approx.): 0.29 kg
Dimensions (approx.): 15.6cm wide x 23.39cm tall