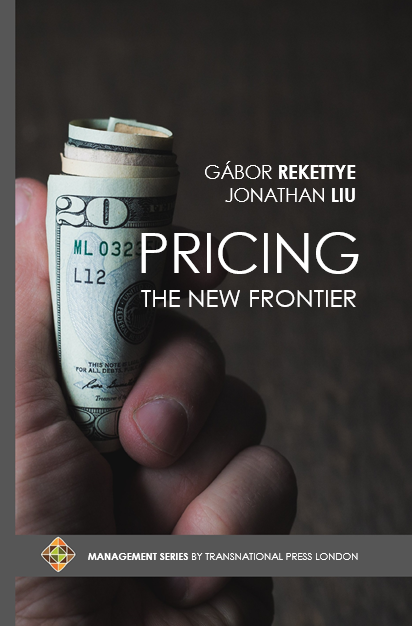 Pricing: The New Frontier 
by Gábor REKETTYE and Jonathan LIU
Published: May 2018
You can purchase the book via the links below.
paperback | ISBN: 978-1-910781-33-3: Buy from TPLondon | Buy (Black&White interior) (£24.99) or Buy (Colour interior) (£39.99) from Lulu
paperback | ISBN: 978-1-910781-83-8: Buy (Colour interior) at Amazon USA | Buy (Colour interior) at Amazon UK (£39.99) | Buy (Colour interior) at Amazon Germany
hardcover | ISBN: 978-1-910781-30-2: Buy from Lulu |
Kindle version | ISBN: 978-1-910781-83-8: Buy at Amazon (UK) (£9.99) | Digital version | Buy at CEEOL | Google Play
The importance of pricing and price management is growing all over the world, primarily due to the turbulent economic situation, accelerating technological development, the saturation of markets and the globalization of competition. All these trends affect the achievement of company objectives, place prices, pricing and price management in a context that differs greatly from what has been known before.
In developing and fast moving economies like India, getting the pricing strategy right is a necessity for the short and long-term future of the firm. The pricing decision will impact on the profitability and ultimately on the performance of the firm. Executives and managers responsible for making pricing decisions will find this book useful and informative in shedding light on an area that is complicated and complex.
– Dr M.K. Nandakumar, Associate Professor of Strategic Management, Indian Institute of Management, Kozhikode, India.
Leading technological development across the world requires an in-depth understanding of the impact of the pricing decision and business strategy. This book will give its readers a clear understanding of the impact of the pricing decision on the industry, the customer and its competitors. I fully recommend and endorse this book.
– Jeff C.K. Lim, BU Deputy CEO at ASM Pacific Technology Ltd. Singapore.
Pricing of goods and services is a critical decision that creates an immediate competitive advantage. This book explains the principles of pricing clearly and concisely. It seamlessly knits concept and practice. It is a useful textbook but also useful to practising managers charged with challenging task of pricing goods and services. I strongly recommend the book to practitioners and students.
– Professor Abby Ghobadian FBAM, FAcSS, CCMI, Professor of Management, Henley Business School, United Kingdom.
At a time when almost continuous change is disrupting nearly all industries and the internet is putting ever more power in the hands of the customer, a book that treats pricing with substance and foresight is a welcome addition to the market.
– Professor John R. Schermerhorn, Jr., O'Bleness Professor Emeritus, Ohio University, United States
In contemporary business, pricing is much more than just the money equivalent of the product value. This book provides a high-quality review of different concepts and issues regarding pricing from different stakeholders' perspectives. It can be recommended both as students' textbook as well as a managers' toolkit for making strategic and tactical pricing decisions.
– Professor Mirna Leko Šimić, Professor of Marketing at Faculty of Economics at J.J. Strossmayer University of Osijek, Croatia
Price is the value that is attached to a product or service and is usually the result of a complex set of calculations, research and risk analysis. This book provides comprehensive and understandable strategies and tactics that one may use to price a product or service in our current the multi-faceted operating environment. It is a great resource for both practitioners and academics.
– Dr Dolores Rinke, CPA, Professor Emerita, Purdue University, United States
In a fast-changing world with fierce competition, pricing has been increasingly the new frontier and battlefield for business operations. Dynamic pricing needs to be deployed as the brand new strategy for global organizations to gain competitive advantages and sustainable profit growth. This book provides insightful knowledge of the dynamics of setting price in a networked global context and enables academics and professionals to have a clear understanding of the principle and practice.
– Dr Xinping Shi, Associate Professor of Information and Operations Management, Hong Kong Baptist University, Hong Kong SAR China.
Getting the pricing of products and services right is challenging and difficult. It is more complicated in a globalized world and further challenging when it is across different types of economies. This book will offer guidance in setting and negotiating prices for trading across borders and on the digital platform and will prove useful for practitioners and students. I highly recommend the book.
– Professor Vincent XG Qi, PhD, FRAI, Wolfson College, University of Cambridge; Marcel Mauss Chair Distinguished Professor of Global Supply Chain Management and Business Anthropology, Anshan Normal University in China.
Contents
PART 1. PRICING BASICS
Chapter 1. PRICING IN FOCUS
Chapter 2. THE ECONOMICS OF PRICING
Chapter 3. CUSTOMERS' PRICE PERCEPTION
Chapter 4. PRICES, COSTS AND PROFIT
Chapter 5. METHODS OF PRICE SETTING
PART 2. STRATEGIES AND TACTICS OF PRICING
Chapter 6. PRICING STRATEGY
Chapter 7. PRODUCT LIFECYCLE PRICING
Chapter 8. DYNAMIC PRICING
Chapter 9. PRODUCT LINES PRICING
Chapter 10. PRICE BUNDLING
PART 3. INTERMEDIARY PRICING
Chapter 11. PRICING ACROSS THE MARKETING CHANNELS
Chapter 12. RETAIL AND WHOLESALE PRICING
Chapter 13. PRICING IN INTERNATIONAL MARKETS
Chapter 14. SUCCESSFUL PRICE NEGOTIATIONS
Bibliography
Index
ABOUT THE AUTHORS:
Gábor REKETTYE, MSc, PhD, DSc, is Professor Emeritus at the Institute of Marketing and Tourism, University of Pécs, Faculty of Business & Economics. He is Honorary Professor at the University of Szeged, Faculty of Business Administration. He received his master's degree at the Budapest University of Economics, and his PhD at the Hungarian Academy of Sciences, both in economics. Dr Rekettye is the author of several textbooks, which are taught at different Universities in Hungary. In addition, he has written over 300 publications in Hungary and abroad. In his career, he was working in the industry, in foreign trade and for five years he has served as commercial counsellor of Hungary in Tokyo, Japan. Between 1993 and 1996 he was the Dean of the Business School. For 16 years, between 1993 and 2009 he was heading the Marketing Department of the School. In 2003, Gábor Rekettye received the highest scientific title in Hungary, 'The Doctor of the Hungarian Academy of Sciences' (DSc). In 2005, he was elected to Chairman of the Committee of Marketing Science at the Hungarian Academy of Sciences. He served in this position until 2011. In 2013 he received the Hungarian Order of Merit Officer Cross from the President of Hungary.
Jonathan LIUis Professor of Global Business Management. He is the Lead on research and scholarship in the Faculty of Business and Management at Regent's University London. Jonathan teaches and researches in Entrepreneurship and Venture Management. He started his academic career as a lecturer at Aston University and moved to Middlesex University as a senior lecturer. In 2002, he became Middlesex University's Professor of Chinese Management. He joined Newport University in 2006 as Professor of Management and was their Associate Dean for Research and Enterprise as well. Jonathan is the Editor-in-Chief of the International Journal of Business Performance Management. He is on the editorial board of the Journal of Islamic Marketing and book review editor of the Journal of Technology Management in China. Jonathan publishes extensively and has over a hundred articles and ten books published in Business and Management. Jonathan is on the Council of the National Conference of Universities Professors, a Council member of the Universities China Committee in London, a Fellow of Higher Education Academy and a Chartered Fellow of the Chartered Management Institute. Jonathan is a trustee and Chairman of the board of the Directors of Ming-Ai (London) Institute.
CREDITS: Cover Design: Gizem Cakir | Cover Photo: Matthew Henry (https://burst.shopify.com/@matthew_henry)
Transnational Press London | All rights reserved