The Migration Conference 2023 Programme
£14.50
Description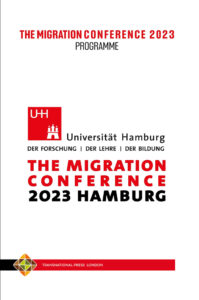 The Migration Conference 2023 Programme
Compiled by The Migration Conference Team
Published: 18 July 2023 [Conference Series: 24]
Paperback ISBN: 978-1-912997-75-6 Buy from Amazon
Digital ISBN: 978-1-80135-008-2 | Read free on Google Play Books | Download free PDF version| Read on Kindle
The Migration Conference 2023 Programme offers about 80 sessions in four days from 23 to 26 August 2023. The Migration Conference series attracted a few thousand colleagues over the last 11 years and become one of the largest continuous events on migration and the largest scholarly gathering with a global scope.
The conference covers all areas of social sciences, humanities, economics, business and management. More popular areas so far included work, employment, integration, refugees and asylum, migration policy and law, spatial patterns, culture, arts and legal and political aspects which are key areas in the current migration debates and research.
Throughout the program of the Migration Conference, you will find various key thematic areas covered in over 300 presentations by about 500 contributors coming from all around the world, from Australia to Mexico, Japan to Brazil, and South Africa to Norway. We are proud to bring together experts from universities, independent research organisations, governments, NGOs and the media.
The Migration Conference 2023 is hosted by the Faculty of Law at Hamburg University in Germany. Details of the conference programme and the links to the online sessions can be inspected here. www.migrationconference.net | @migrationevent | fb.me/MigrationConference | Email: migrationscholar@gmail.com
Product Details:
Paperback ISBN: 978-1-912997-75-6
Digital ISBN: 978-1-80135-008-2
Conference Series: 24
Publisher: Transnational Press London
Published: 18 July 2023
Language: English
Pages: 64
Binding: Digital and Paperback
Interior Ink: Black and White
Weight (approx.): 0.35 kg
Dimensions (approx.): 18.9 cm x 24.61 cm
Additional information
| | |
| --- | --- |
| Weight | 0.65 kg |
| Version | Digital, Ebook/Kindle |