The Migration Conference 2021 Programme
£14.50
Description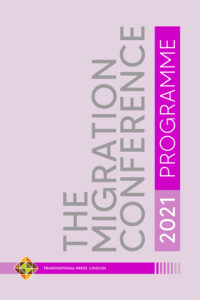 The Migration Conference 2021 Programme
Compiled by TMC2021 Team
Published: 3 July 2021 [Conference Series: 15]
Paperback ISBN: 978-1-80135-065-5
Digital ISBN: 978-1-80135-066-2 | Read free on Google Play Books | Read free on Academia.edu | Download PDF version
The Migration Conference 2021 Programme offers over 50 sessions in five days. The Migration Conference series attracted a few thousand colleagues over the last 10 years and surely become one of the largest continuous events on migration and the largest scholarly gathering with a global scope.
The conference covers all areas of social sciences, humanities, economics, business and management. More popular areas so far included work, employment, integration, refugees and asylum, migration policy and law, spatial patterns, culture, arts and legal and political aspects which are key areas in the current migration debates and research.
Throughout the program of the Migration Conference you will find various key thematic areas covered in over 300 presentations by about 500 contributors coming from all around the world, from Australia to Canada, China to Ecuador, Brazil to Japan, and South Africa to Norway. We are proud to bring together experts from universities, independent research organisations, governments, NGOs and the media.
TMC 2021 is hosted by Ming-Ai (London) Institute and The International British Business School, UK. Looking forward to continuing the debates on human mobility after the Pandemic. | www.migrationconference.net | @migrationevent | fb.me/MigrationConference | Email: migrationscholar@gmail.com
Product Details:
Paperback ISBN: 978-1-80135-065-5
Digital ISBN: 978-1-80135-066-2
Conference Series: 15
Publisher: Transnational Press London
Published: 3 July 2021
Language: English
Pages: 45
Binding: Digital and Paperback
Interior Ink: Black and White
Weight (approx.): 0.35 kg
Dimensions (approx.): 18.9 cm x 24.61 cm
Additional information
| | |
| --- | --- |
| Weight | 0.65 kg |
| Version | Digital, Ebook/Kindle |