Description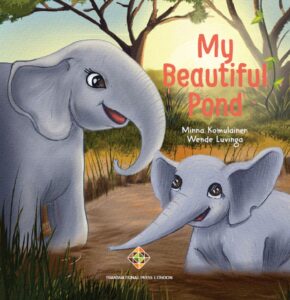 My Beautiful Pond
by Minna Komulainen and Wende Luvinga
Illustrated by Özge Deniz Tastan
Published: 15 July 2020 [ Children Books ]
Available in: English | Finnish | Suomen | Türkçe
Paperback: ISBN: 978-1-912997-43-5: Buy from Amazon
Electronic version: eISBN: 978-1-912997-53-4: Buy from Google Play | Buy Kindle version
"Not so long time ago in the great plains of Masaai land, lived a young and very happy elephant, his name was Matata. Matata loved to play and his favourite play was bathing in a mud pond.
Matata lived with his mother, Mama Tembo who was the wisest, and the most intelligent animal in the whole land. They say she was wiser than owl because she also has kindest hearts of them all. Whenever there were misunderstanding and fighting, animals would go to Mama Tembo, who would call a meeting under a big baobab tree, with patience and compassion she would listen and resolve it in a way that every animal would be satisfied."
About the Authors:
Minna Komulainen is an enthusiastic regional development and innovation specialist. With her professional background of PhD (Tech.) and MSc. (Business, Agriculture and Forestry) she brings her long-term expertise of environmental changes to the story of East-Africa. Minna Komulainen has coordinated international development projects in Tanzanian cooperatives and in the desertification project of UDPD in the Middle East and Northern Africa. She is an active writer, columnist and blogger. She has widely published on the environment, landscape, marketing and place branding. She writes a blog about digitalization (digitaalinenliiketoiminta.fi). Minna has also founded the digital platform for educating children on climate change (ClimateChangeForKids.org).
Wende Luvinga is an international development professional, managing assignments in several sectors including climate change. Apart from that, Wende is a children Author, her first book Hamisi the Complaining Lizard was published in 2017 in English and Kiswahili has been widely sold. Her stories are inspired by the African storytelling tradition, and folktales as a way to promote social values in the society. In addition, Wende is a founder of the reading group Swahili for kids in Finland, and has visited school and libraries to read stories to children to promote diversity. Wende lives in Helsinki with her family.
Product Details:
ISBN: 978-1-912997-43-5
eISBN: 978-1-912997-53-4
Children Books Series: 1
Publisher: Transnational Press London
Published: 15 July 2020
Language: English
Pages: 40
Binding: Paperback
Interior : Colour
Weight (approx.): 0.2 kg
Dimensions (approx.): 8.5″ wide x 8.5″ tall
Additional information
| | |
| --- | --- |
| Weight | 0.40 kg |
| Version | Print |
| Binding | Paperback, Hardcover |
| Interior Ink | Black and White |