Image of Istanbul
£18.75 – £34.50
Description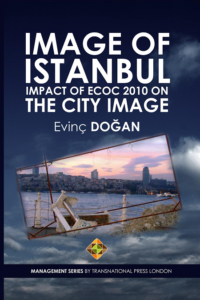 Image of Istanbul: Impact of ECoC 2010 on the city image
by Evinç Doğan
Published: 31 July 2016
You can also purchase the book via the links below.
paperback: ISBN: 978-1-910781-26-5: Buy from Lulu | Buy at Amazon
hardcover: ISBN: 978-1-910781-23-4: Buy from Lulu | Buy at Amazon
digital: Buy Kindle version | Buy e-book at CEEOL
Istanbul "took the stage" as one of the three European Capital of Culture (ECoC) cities in 2010. In this spectacle, the urban spaces were projected as the theatre décor while residents and visitors became the spectators. The images of Istanbul pile up in videos and posters to show the city in every aspect in which everything becomes mishmash and the message gets lost in the chaos. While Istanbul is depicted as a mystified city through Orientalist representations, this image of Istanbul moves between the opposite ends of the contrasting pairs, and in contestation. IMAGE OF ISTANBUL, IMPACT OF ECOC 2010 ON THE CITY IMAGE by Evinç Doğan is a unique analysis of the city image of Istanbul during the 2010 ECOC mega event.
About Author:
Dr Evinç Doğan is a graduate of IMT Institute for Advanced Studies Lucca (Italy), Istanbul Technical University and Bogazici University, she has been a visiting research fellow at Regent's University London. She is currently an Assistant Professor at Akdeniz University, Antalya, Turkey.
Product Details:
ISBN: 9781910781265 (paperback) ISBN: 9781910781234 (hardcover)
Publisher: Transnational Press London
Published: 31 July 2016
Language: English
Pages: 222
Binding options: Perfect-bound Paperback | hardcover
Interior Ink: Black & white
Weight (approx.): 0.39 kg
Dimensions (approx.): 15.24cm wide x 22.86cm tall
Additional information
| | |
| --- | --- |
| Weight | 0.39 kg |
| Version | Print |
| Binding | Paperback, Hardcover |
| Interior Ink | Black and White |