Recent Migrations and Refugees in the MENA Region
£24.50
Categories: E-books, Migration Series
Tags: conflict migration, Hatay, Ibrahim Sirkeci, immigrants, Jordan, Lebanon, MEA, Middle East, migration, Rania Khalil, refugees, Sahrawi, social work, Syria, Syrians, Turkey, youth refugees
Description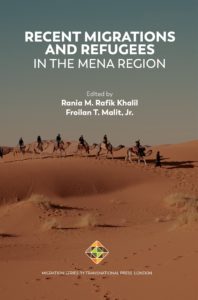 Recent Migrations and Refugees in the MENA Region
Edited by Rania M. Rafik Khalil and Froilan T. Malit, Jr
Published: 2 October 2019
You can also purchase the book via the links below.
Paperback: ISBN: 978-1-912997-17-6: Buy from Lulu | Buy from Amazon
Electronic version: Buy from Google Play | Buy Kindle version | Buy at CEEOL
While numerous studies have investigated the multifaceted nature of the Syrian refugee crisis across the Middle East, Europe and beyond, further academic studies are necessary to unpack the complex and multilevel narratives of the Syrian refugee crisis, particularly the roles and effects of national and domestic politics, labour market and social integration, and future policy discourses related to the Syrian refugees in the refugee-hosting countries. With this edited book, we seek to fill this particular gap by contributing to the current empirical, theoretical, and policy discourses on migration and refugee studies using evidenced-based political, economic, and social insights that have policy consequences on the Syrian refugee crisis across geographic refugee-hosting communities in the Middle East.
As the global Syrian refugee crisis has entered its ninth year, the need for regional and global political cooperation becomes even more critically imperative in the global refugee and migration governance system. However, despite the global urgency and growing financial donations and initiatives by some governments and international development agencies to address the Syrian refugee crisis, the geopolitics of conflicts and refugee crisis has continued to hamper any potential solution to halt the Syrian refugee problem. Global competing state interests, priorities, and constraints often define the institutional politics and level of cooperation between states across governance levels. This power politics directly impacts the quality, speed, and level of humanitarian assistance needed to protect Syrian refugee populations, specifically women and children, from exploitation, precariousness, and poverty. Moreover, domestic politics and economic condition has continued to shape state policies, while local populations across authoritarian and democratic refugee-hosting states in the Middle East, Europe and beyond tend to uphold mixed responses and support for the Syrian refugee crisis. This current political response towards the Syrian refugee crisis has not only impacted their social, economic, and cultural integration in refugee host societies but also their capacity to return to Syria in the long run.
Content
INTRODUCTION
Rania M. Rafik Khalil and Froilan T. Malit Jr.
CHAPTER 1 – The Syrian Youth Refugees' Social and Economic Engagement in Lebanon
Suzanne Menhem
CHAPTER 2 – Attitudes of Social Work Students towards Syrian Refugees in Turkey
Burcu Özdemir Ocaklı, Ezgi Arslan Özdemir, Münevver Eryalçın, Tuba Yüceer Kardeş, Fulya Akgül Gök, Veli Duyan
CHAPTER 3 – Opportunities for Building Teacher Capacity in the MENA Region for Syrian Refugee Education
Louisa Visconti and Diane Gal
CHAPTER 4 – Mobilities from the Exile: the Sahrawi student migrations
Rita Reis
CHAPTER 5 – Lebanon's Political Discourse and the Role of the UNHCR in the "safe and secure return" of Syrian Refugees from Lebanon into the so-called "secure" zones in Syria
Laura El Chemali
CHAPTER 6 – Politics of Hosting Syrian refugees: Cases from Jordan and Lebanon
Nur Köprülü
CHAPTER 7 – Conflict Responsive Patterns of Labour Migration from Hatay, Turkey to the MENA Countries
Selver Özözen Kahraman, Berrin Gültay, Ibrahim Sirkeci and Vedat Çalışkan
Editors and Authors:
Dr Rania M. Rafik Khalil is a lecturer of drama, theatre and performance currently teaching in the Department of English Language and Literature, Faculty of Arts and Humanities at The British University in Egypt (BUE). She is also the Research Coordinator and Internationlisation Coordinator for the Faculty of Arts and Humanities. Dr Khalil is currently working on a refugee research consultancy for the UNHCR and the British Council, UK with a budget of $52,000 in the MENA region.
Professor Vedat Çalışkan delivers courses on Tourism Geography and cultural geography at the Department of Geography at Çanakkale Onsekiz Mart University. He holds a BA in Geography from Istanbul University, Turkey; a MA and a PhD in Human Geography from Istanbul University. His research interests Tourism Geography, Cultural Geography; especially his research interests intangible cultural heritages, traditional county fairs in Anatolia, and festival tourism. Prof. Çalışkan also has various papers and books that he wrote about the relationships of the tourism of Turkey and intangible cultural heritages.
Diane Gal is a Professor of Education and Interdisciplinary Studies in the School for Graduate Studies at Empire State College, State University of New York. She serves students in multiple programs in the Divisions of Education and Liberal Arts and Sciences and has held several leadership roles at her college and the state university system. As a scholar-practitioner, Gal has developed new programs and courses across disciplines in online and blended formats and was the lead developer and founding chair of the MA in Learning and Emerging Technologies. Gal earned her Doctorate in Comparative and International Education and Master's in International Educational Development from Columbia University, Teachers College. Her teaching and research interests focus on exploring questions of educational provision in transitioning societies, how new technologies impact teaching and learning, the development of global mindedness, and the emerging dynamics of humanitarian relief specific to education programming and policy.
Dr Berrin Gültay works as an Assistant Professor in the Statistics Department of Çanakkale Onsekiz Mart University. She completed her PhD Thesis in Department of Statistics Theory of Institute of Science and Technology at Çukurova University in 2014. Her current research interests focus on regression analysis, biased estimators and statistics for political science. Her recent research findings published in some journals which are indexed by SCI. She has also published articles in other international indexed journals. She has worked as a scholar on two projects funded by TUBITAK. She has also currently the director of a university-funded project (BAP).
Professor Selver Özözen Kahraman received her BSc, MSc, and PhD (Geography) degrees from the University of Ankara. Following graduation, she has been continued at Canakkale Onsekiz Mart University as a teaching assistant, assisted professor, associated professor and currently Professor. She was Vice Dean of the Faculty of Science and Art for two terms. She is the director of Human Geography at the University of Canakkale Onsekiz Mart. Her research interests include population, urban, social, electoral, and political geography. Since 2005, she has been engaged primarily in research of Turkey election and population geography. She is the author of two books titled Population Geography of Gallipoli Peninsula and Spatial Analysis of Turkish Elections. She has more than 30 articles and conference papers. She co-directed and participated in many national projects.
Dr Nur Köprülü is an Associate Professor and Head of the Department of Political Science at Near East University, Nicosia, North Cyprus. She did her PhD in International Relations at Middle East Technical University (METU) in Ankara. She published articles on Arab Spring, processes of democratization, politics of identity and opposition in the Middle East in Israel Affairs, Middle East Policy, Digest of Middle East Studies, Turkish Policy Quarterly and Perceptions. Köprülü's current research focuses on authoritarian resilience in Jordan, Tunisia and Morocco after Arab Uprisings, women activism in the Middle East and North Africa and Syrian refugees. She has also co-authored articles on Cyprus published by Southeast European and Black Sea Studies and Mediterranean Politics.
Froilan T Malit Jr. Froilan Malit, Jr. is a Visiting Scholar at Zayed University, an Associate at the Gulf Labour Markets and Migration, and a Research Fellow at the CIFAL (Philippines). Malit has published peer-reviewed articles, book chapters, and technical reports for international organizations on migration policy issues in the Asia-Gulf migration corridor. He has previously worked for governments, international organizations, and academic institutions in the Middle East. He holds both undergraduate and graduate degrees from Cornell University, University of Oxford, and a migration certificate from the European University Institute. He is currently a graduate student in the Department of Politics and International Relations at the University of Cambridge.
Dr Suzanne Menhem is currently an Assistant Professor at the Lebanese University, Institute of Social Sciences-Lebanon. She is also an independent consultant with experience in sectors of emigration, immigration and refugees. Dr Menhem is member of the Network Migrinter, University of Poitiers-France. Researcher at The French Institute of the Near East (IFPO) and Researcher at Lebanese Emigration Research Center for migration and Diaspora studies (LERC). Member of the International Association of Sociology & also Member of the Lebanese Association of Sociology. Dr Menhem is an expert in field survey management and implementation. She has managed several field surveys. She also organized and participated in several researches, conference, workshops and training programs. She is author of many articles. E-mail: suzanne.menhem@gmail.com.
Rita Reis is a PhD Candidate in Social Anthropology at the Institute of Social Sciences – University of Lisbon. Her MSc's thesis (ISCTE – University Institute of Lisbon, Portugal) marked the beginning of the academic interest on the Western Sahara conflict, a "consolidated" refugee context, focusing the analysis on the daily life of borders. Her on-going PhD research focuses on the ambiguity experienced by young people, through Sahrawi students' migrations from the refugee camps (Tindouf, Algeria) to Badajoz Province (Spain) and Algiers (Algeria).
Professor Ibrahim Sirkeci is the Director of Regent's Centre for Transnational Business and Management, Head of Marketing Subject Cluster at Regent's University London. Previously he worked at the University of Bristol, Atilim University, Hacettepe University and Bilkent University. He earned his PhD from the University of Sheffield and BA from Bilkent. His research focuses on migration, conflict, insecurity, integration, labour market outcomes, remittances and transnational marketing and consumers. He is author of many books and articles including Cultures of Migration (University of Texas Press, 2011 with Cohen), Migration and Remittances during the Global Migration Crisis and Beyond (World Bank, 2012, with Cohen and Ratha), and Little Turkey in Great Britain (TPLondon, 2016, with others). He edits Migration Letters journal which he founded with Jeffrey Cohen and Elli Heikkila in 2003 and has been editor of several other journals including Remittances Review, Transnational Marketing Journal, Journal of Gypsy Studies, Kurdish Studies, and Göç Dergisi. He has been chairing the Migration Conference series since 2012. He can be contacted at sirkecii@gmail.com.
Product Details:
ISBN: 978-1-912997-17-6
Publisher: Transnational Press London
Published: 2 October 2019
Language: English
Pages: 148
Binding: Paperback
Interior Ink: Black & white
Weight (approx.): 0.30 kg
Dimensions (approx.): 15cm wide x 23cm tall
Additional information
| | |
| --- | --- |
| Weight | 0.40 kg |
| Version | Print |
| Binding | Paperback |
| Interior Ink | Black and White |