Introduction to Contract Law
£14.50
Categories: E-books, Law Series, Text books
Tags: Bar exam, Contract Law, Criminal Justice System, English Legal System, Johanna Hoekstra, Law students, Revision Guide, Solicitors Qualifying Examination, Study Guide
Description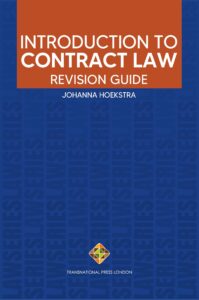 Introduction to Contract Law
REVISION GUIDE
by Dr Johanna Hoekstra
Published: 17 December 2021 [ Law Series: 3 ]
Paperback: ISBN: 978-1-912997-74-9  Buy from Amazon | Buy from Talebe.com
Digital: ISBN: 978-1-80135-080-8 Read on Google Play  | Read on Kindle  | Read on CEEOL | Read on Talebe.com
This book discusses the principles and rules of general contract law in England & Wales. It examines the key points and rules of contract law, starting with the formation of the contract and ending with the remedies for breach of contract. In this it follows the structure most used in contract law modules at universities. Please also note that this book takes into account developments of the law up until July 2021.
Contract law is a core module in legal higher education in the UK. Contract law is also an important basis for many other law modules including maritime law, company law, commercial law, and arbitration law. This book gives a clear oversight of the main issues of key contract law topics. It summarises the issues in a concise and precise manner and uses practical examples throughout to clarify how the law is applied. Key cases are used to explain and illustrate the principles of the law. This book is an ideal companion guide for exam revisions. The chapters follow a question-and-answer model that makes it easy to find information on a specific issue. The chapters end with a problem-solving scenario on key issues of the topic and a list with key cases which will be helpful in preparing for examinations. At the end of the book, you find a further reading list and a set of sample multiple-choice questions which can be used to help prepare for the first stage of the SQE examination that will be introduced in September 2021.
"Contract Law is generally taught as a first-year subject which could be a daunting subject. This book helps students to revise this subject effectively as it brings together all key areas of contract law that a student should be familiar with when preparing for examinations, drafting coursework, and preparing for seminars. It examines the key points and rules of contract law, starting with the formation of the contract and ending with the remedies for breach of contract. The book is written in plain language in the form of questions and answers. It is detailed without being too long, succinct but covers all key cases and developments in the area. The multiple-choice questions at the end of the book are very beneficial for students preparing for the SQE and exams that follow a similar format. I would recommend this book wholeheartedly."

– Dr Aysem Diker Vanberg, Lecturer in Law, Goldsmiths, University of London
CONTENTS:
Abbreviations
About the author
Foreword
CHAPTER I   Introduction
CHAPTER II   Offer and Acceptance
CHAPTER III   Intentions to Create Legal Relations & Certainty
CHAPTER IV    Consideration & Promissory Estoppel
CHAPTER V  Rights of Third Parties
CHAPTER VI  Capacity
CHAPTER VII  Terms of the Contract
CHAPTER VIII  Exemption Clauses and Unfair Terms
CHAPTER IX  Duress and Undue Influence
CHAPTER X  Misrepresentation
CHAPTER XI  Mistake
CHAPTER XII  Frustration
CHAPTER XIII  Breach of Contract and Remedies
SUMMARY: SAMPLE MULTIPLE CHOICE QUESTIONS
ANSWERS
RECOMMENDED READING LIST
INDEX
About the Author:
Dr Johanna Hoekstra is a lecturer at the School of Law & Centre for Human Rights at the University of Essex. Prior to this she worked as a lecturer at the University of Greenwich. Johanna has a PhD in international commercial law from the University of Essex and master's degrees from Birkbeck College and the University of Bordeaux.
Product Details:
ISBN: 978-1-912997-74-9
eISBN: 978-1-80135-080-8
Publisher: Transnational Press London
Published: 17 December 2021
Language: English
Pages: 203
Binding: Paperback
Interior Ink: Black & white
Weight (approx.): 0.4 kg
Dimensions (approx.): 15.24cm wide x 22.86cm tall
Additional information
| | |
| --- | --- |
| Weight | 0.40 kg |
| Version | Print |
| Binding | Paperback |
| Interior Ink | Black and White |