Introduction to EU Law
£14.50
Categories: E-books, Law Series, Text books
Tags: Bar exam, Dr Özgür Heval Çınar, EU Law, EU treaties, Law students, national courts, Revision Guide, Solicitors Qualifying Examination, Study Guide
Description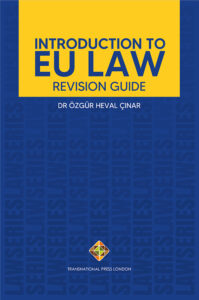 Introduction to EU Law
REVISION GUIDE
by Dr Özgür Heval Çınar
Published: 2 February 2021 [ Law Series: 1 ]
Paperback: ISBN: 978-1-80135-029-7 Buy from Amazon | Buy from Talebe.com
Digital: ISBN: 978-1-912997-93-0 Read on Google Play [£7.50] | Read on Kindle [£7.50] | Read on CEEOL [€9.99] | Read on Talebe.com
The real reason for the emergence of this book is that it is hard to find resources to explain complex issues of the EU Law in plain language, which makes it very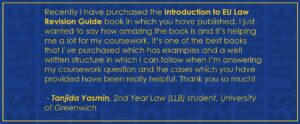 difficult for those taking an interest, in particular law students. Moreover, many years of teaching experience in this subject and seeing students experience difficulties is the key driver behind this book. This book does not repeat material that is available in many textbooks that are in print. Rather, it endeavours to present every topic in plain language and concludes every chapter with a fictitious explanatory sample case. In other words, it is an introduction to the subject of EU Law, the objective of which is to explain the topic both theoretically and in its application dimension. Additionally, this book will assist students to prepare for courseworks/examinations. At the end of the book, there is also a test that summarizes all the subjects contained in the book, which is appropriate to the first stage SQE (Solicitors Qualifying Examination) examination model that will be introduced in September 2021.
EU Law Book by Dr Çınar is different than other textbooks in the market, as it is designed to make sense of a complex area of law in a simple yet comprehensive way. The book contains materials relating to EU law with all the notable cases and materials collected in one place. It is written in plain language in the form of question and answers. At the end of each chapter, there is a case study which helps to put theory into practice. EU Law is accessible, readable and user- friendly. I would recommend it without hesitation to legal scholars and practitioners.

– Dr Aysem Diker Vanberg, Senior Lecturer, University of Greenwich
This clear and concise book provides a practical overview of EU law and will be an excellent study aid for law students. It explains the key topics of EU law in an accessible and engaging manner through a Q&A model and case studies that demonstrate how the law is applied.

– Dr Johanna Hoekstra, Lecturer, University of Essex
The is an accessible, easy to read and very useful book covering all the essential areas of EU law making them easily understood.

– Dr Marios Costa, Senior Lecturer, City Law School, University of London
CONTENTS:
Abbreviations
About the author
Foreword
CHAPTER I Introduction: History, Sources and Institutions
CHAPTER II Enforcement in National Courts: Supremacy and Direct Effect
CHAPTER III Enforcement in National Courts: Indirect Effect and State Liability
CHAPTER IV Free Movement of Goods: Fiscal Barriers
CHAPTER V Free Movement of Goods: Non-Fiscal Barriers
CHAPTER VI Free Movement of Persons: Entry and Residence
CHAPTER VII Free Movement of Persons: Employment, Social & Educational Rights
CHAPTER VIII Freedom of Establishment
CHAPTER IX Freedom to Provide Services
CHAPTER X Competition Law: Collusion and Abuse of Dominance
Summary: Sample Test Questions
Answers
Recommended Reading List
Index  
About the Author:
Dr Özgür Heval Çınar is a lawyer. Presently, he is an associate professor at the University of Greenwich, School of Law and Criminology. He completed his PhD at the School of Law, University of Essex. Previously, he was a post-doc fellow at the University of Oxford between 2012-2016.
Product Details:
ISBN: 978-1-80135-029-7
eISBN: 978-1-912997-93-0
Publisher: Transnational Press London
Published: 2 February 2021
Language: English
Pages: 122
Binding: Paperback
Interior Ink: Black & white
Weight (approx.): 0.4 kg
Dimensions (approx.): 15.24cm wide x 22.86cm tall
Additional information
| | |
| --- | --- |
| Weight | 0.40 kg |
| Version | Print |
| Binding | Paperback |
| Interior Ink | Black and White |