Rights of Migrant Workers: An Analysis of Migration Policies in Contemporary Turkey
£24.50
Description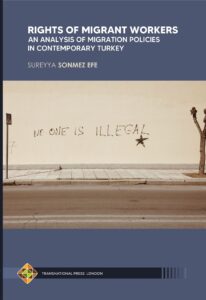 Rights of Migrant Workers: An Analysis of Migration Policies in Contemporary Turkey
by Sureyya Sonmez Efe
Published: 1 January 2021 [ Migration Series: 22 ]
Paperback: ISBN: 978-1-912997-58-9: Buy from Amazon
Digital: Read on Google Play | Read on Kindle | Read on CEEOL
This insightful book discusses how policymakers define migrant workers' status and rights at international and national levels. Assessing the evolution of the language of rights for migrant workers in international law; definition of migrant workers in Turkish legislation; key political and economic factors on Turkish migration policies; protection mechanisms that safeguard migrant workers' rights, it critically examines the policymaking processes at international, regional and national levels and evaluates the impact of the 'values' such as universal or ethnocentric values, on the definitions of status and rights of migrant workers.
The chapters evaluate the status and rights of migrant workers through the lens of cosmopolitan moral constructivism and examine the law making procedures and illustrate the dynamism of these processes with the inclusion of various conditions and actors. The book dissects the key universal and national values that impact on rights of migrant workers. This timely book challenges the rising right-wing ethnocentric policy approaches to (labour) migration to migrant workers' rights, and problematises the existing legal definitions within migration policies that place the rights of migrant workers into a precarious policy sphere.
By entering the controversial political debate for labour migration and the policy making realm, this book is ideal for scholars and researchers of political science, international relations and social policy, particularly those focusing on international (labour) migration and migration policies. It will further benefit the policymakers and practitioners working on migration, such as UN agencies, NGOs, civil societies and local authorities.
CONTENTS:
Introduction
Chapter 1. A conceptual framework for analysing rights of migrant workers
Chapter 2. The Concept of Rights of Migrant Workers in International Law
Chapter 3. The Contextual Analysis of the Case Study of Turkey 
Chapter 4. The Definition and Legal Status of Migrant Workers in Turkish Laws 
Chapter 5. Key Factors Impacting on Turkey's Policy Approach to Rights of Migrants/Migrant Workers 
Chapter 6. Legal Rights of Migrant Workers within Turkish Policies 
Chapter 7. Final Discussions of the Findings within the Framework of Rights 
Conclusion 
References
Appendices 
About the Author:
Sureyya Sonmez Efe, PhD, is a Lecturer in International Relations at University of Lincoln, UK where she teaches subjects such as Multiculturalism, Human Rights, Genocide, Global Conflicts and Global Governance. She researches on politics and ethics of migration, and migration policies at state and international levels. Before joining the University of Lincoln, Sureyya worked at Leeds Beckett University as a Lecturer in Politics and International Relations. Prior to her career in the UK Higher Education, she worked at Amnesty International UK Section as a researcher where she actively involved in a number of campaigns and lobbying of the parliament on Human Rights issues. She recently acted as a Panel Judge for the Global Undergraduate Awards (2020) for Politics and International Relations subjects. Sureyya actively work with research groups on number of inter-disciplinary collaborations such as Midlands Anti-Slavery Research Collaboration and Justice, Arts and Migration.
Product Details:
ISBN: 978-1-912997-58-9
Publisher: Transnational Press London
Published: 1 January 2021
Language: English
Pages: 306
Binding: Paperback
Interior Ink: Black & white
Weight (approx.): 0.4 kg
Dimensions (approx.): 15cm wide x 23cm tall
Additional information
| | |
| --- | --- |
| Weight | 0.40 kg |
| Version | Print |
| Binding | Paperback |
| Interior Ink | Black and White |