Current Challenges in Migration Policy and Law
£24.50
Description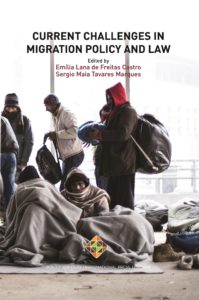 Current Challenges in Migration Policy and Law
Edited by Emília Lana de Freitas Castro and Sergio Maia Tavares Marques
Published: 1 January 2020 [Policy Series]
Paperback: ISBN: 978-1-910781-77-7 | Buy from Lulu | Buy at Amazon
Digital: Buy Kindle version | Buy digital at GooglePlay
This book emerges from those fruitful discussions as a collection of some of the matters presented, whose authors have virtuously stood out. Just as the previous books that arose from other TMC editions, Current Challenges in Migration Policy and Law gives the opportunity not only to experienced professors and researches but especially to young scholars to divulge their studies and present their experiences in the various research fields migration can be discussed, rethought and further developed.
We are thankful to Transnational Press London as it believed in our aspirations as editors and it stimulated us to be protagonists in the process of editing and building up this book the way we believed it would contribute to the current discussions on migration. As scholars and young researchers, we are delighted by this opportunity created by Professor Sirkeci.
"International migration is one of the most challenging and critical factors shaping the future of societies and economies today. Its accumulated complexity challenges academics, politicians, professionals and citizens. Bringing together the voices of authors from diverse countries and backgrounds, belonging to a new generation of researchers, this book brings new clues to understand how modern policies are built and new tools to act for a better world."

– João Peixoto, Lisbon School of Economics and Management (ISEG), Universidade de Lisboa, Portugal
 "The book offers thought-provoking and cutting-edge analyses of relevant aspects such as the intersection between migration and climate change, the effectiveness of fundamental rights of migrants, and the moral values underlying the legal terminology of migration studies. In times of increasing restrictions to the movement of people in many parts of the world, the contributions in this book deal with some of the current essential controversies related to transnational migration. Authors and editors offer an important tool for legal professionals concerned with the problems of human movement around the globe."

– Prof. Dr. Ely Caetano Xavier Junior, Professor of international law and conflict of laws. Department of Legal Sciences. Federal Rural University of Rio de Janeiro, Brazil
Contents
INTRODUCTION
Emília Lana de Freitas Castro and Sergio Maia Tavares Marques
CHAPTER 1. RESTRICTIVE ASYLUM POLICIES AND REFLECTIONS IN THE LABOUR MARKET: THE CASES OF ITALY AND TURKEY
Anita C. Butera and Secil Ertorer
CHAPTER 2. HOW FAR DO MORAL VALUES SHAPE THE LEGAL TERMINOLOGY USED IN INTERNATIONAL CONVENTIONS CONCERNING MIGRANT WORKERS?
Sureyya Sonmez Efe
CHAPTER 3. A HUMAN RIGHT TO RELOCATE: THE CASE FOR CLIMATE MIGRANTS
Melina Duarte
CHAPTER 4. CLIMATE CHANGE MIGRATION AS AN ADAPTATION STRATEGY: THE ADAPTATION APPROACH THEORY AND THE PARIS AGREEMENT
Giulia Manccini Pinheiro
CHAPTER 5. WHOSE DIASPORA? RETHINKING DIASPORA POLITICS: CHINA'S OVERSEAS CHINESE ENGAGEMENT IN TRANSNATIONAL SPACES
Carsten Schäfer
CHAPTER 6. "OUT OF SIGHT, OUT OF MIND". MANAGING MIGRATION FLOWS WITH TURKEY AS A "SAFE THIRD COUNTRY"?
Annalisa Geraci
CHAPTER 7. SOFT LAW, EFFECTIVENESS OF FUNDAMENTAL RIGHTS AND MIGRATION: HOW EFFECTIVE ARE MIGRANTS' FUNDAMENTAL RIGHTS IN AN ERA OF EUROPEAN GOVERNANCE?
Roila Mavrouli
About the Editors and Contributors
Emília Lana de Freitas Castro defended her PhD at Universität Hamburg in 2019. Her thesis, entitled "The Free Movement of Voluntary Immigrants and their Freedom of Settlement in a Comparative Perspective: The Legal Frameworks of Migration in Brazil and the MERCOSUL and the Legal Frameworks in Germany and the EU as a Parameter of Comparison" has been given the grade magna cum laude. During her PhD, she held a scholarship from CAPES (Coordenadoria de Aperfeiçoamento de Pessoal de Nível Superior), an entity of the Brazilian Ministry of Culture. She holds a Bachelor of Laws and a Master in International Law from the Universidade do Estado do Rio de Janeiro (UERJ). She is a Brazilian qualified lawyer and worked as an Assistant Lecturer for Private International Law at UERJ (2013 and 2014) and as a lecturer for Brazilian Private International Law at Universität Hamburg (2017 and 2018).
Sergio Maia Tavares Marques is a PhD candidate at the Catholic University of Portugal. He holds a masters degree in EU Law from the University of Minho (2017), where he is a researcher at the Centre of Studies in EU Law (CEDU), lecturer for EU Law and managing editor of UNIO – EU Law Journal. For his master thesis, entitled "The public reason of the Union based on the rule of law: from lawfulness to social democratisation" he was awarded the Jacques Delors Prize in 2018. He is a member of ICON.S Portugal. Sergio is a qualified lawyer and currently works as référendaire at the Constitutional Court of Portugal.
Anita C. Butera received her PhD in Sociology with a specialization in Racial and Ethnic Conflict within the Postindustrial Economy from The American University, Washington DC (USA) and her J.D. from SUNY-Buffalo School of Law (USA) with a focus on International Law and Human Rights. An active member of the New York Bar, she is also admitted to practice in Federal Court, Western and Northern District of New York as well as the 9th Circuit. Prior to joining Canisius College, she taught at College of Law, Prince Mohammed bin Fahad University, in Al-Khobar (KSA) and Marist College, in Poughkeepsie NY (USA). Dr Butera has conducted research in the field of race-ethnic conflict and economic restructuring, human rights, Sharia Law, Philosophy of Law as well as Bankruptcy Reform. As a lawyer, she has represented undocumented migrant workers and victims of human trafficking.
Secil E. Ertorer received her PhD in Sociology with a specialization in Migration and Ethnic Relations from The University of Western Ontario, Canada. She taught at the University of Western Ontario, King's University College, and York University before joining Canisius College in 2017. Dr Ertorer's research interests are in the areas of international migration, refugee studies, integration, and identity. She has conducted fieldwork in England, Canada, and Turkey, interviewing Kurdish, Turkish, Karen, Burmese, and Syrian refugees and representatives of humanitarian agencies, focusing on settlement and integration experiences as well as re-formation of identities in the process of migration.
Sureyya Sonmez Efe currently works as a Lecturer in Politics and International Relations at the University of Lincoln. She studied European Studies (BA Hons) at The Open University, followed by Globalising Justice: Human Rights, Crime and Social Justice (PG) at University of Lincoln, and completed her PhD in Political Science at Leeds Beckett University in 2017. Sureyya's research is on 'the rights of migrant workers in contemporary Turkey' which takes an interdisciplinary approach to the analysis of legal status and rights of migrant workers at national and international levels. Through developing the theory of 'porous values', this research is important in terms of pushing the boundaries of politics of migration designed under states' jurisdiction by including the 'rights perspective' into the process of policy-making. Sureyya's current research looks into the integration process of migrants and minorities into the host communities which focuses on states' integration policies such as 'cohesion programmes in Europe'.
Melina Duarte is an internationally educated political philosopher, specialized in migration scholarship. She is currently a post-doctoral researcher affiliated to the Department of Philosophy, Faculty of Humanities and Social Sciences, UiT The Arctic University of Norway. Her research centers on immigration and borders, national and democratic citizenship, and human rights and international law. She is particularly preoccupied with disclosing new ways in which the mobility of persons across borders could be handled while respecting both human rights and state sovereignty. Duarte's work have been published in Portuguese, French, English, German and Norwegian. Contact: melina.duarte@uit.no
Giulia Manccini Pinheiro is an international lawyer with bachelor's in law from the Federal University of Santa Catarina, Brazil and Master's in International Law from the Graduate Institute of International and Development Studies, Switzerland. Moreover, she is a researcher from the South America Network on Environmental Migration (RESAMA). Giulia has been researching on the interactions of human mobility, climate change, disaster and human-rights law since 2014 and has hold a PIBIC/CNPq research fellowship.
Carsten Schäfer is assistant professor at the Institute of East Asian Studies (department for Chinese Studies) at the University of Cologne, Germany. Between 2011 and 2015 he worked at the Department of East Asian Studies/Sinology, University of Vienna, Austria. He studied in Freiburg/Br. (Germany), Shanghai (China), and Vienna and received his PhD in 2018. His research interests include Chinese migration, overseas Chinese politics, Greater China studies, and the historiography of the People's Republic of China. He is currently working on projects on China's diaspora policies and the image of Xi Jinping in Chinese propaganda. In his leisure time, he translates modern Chinese literature into German language.
Annalisa Geraci is a PhD student at the University of Teramo (Italy). She attends the PhD in "International Perspectives in Corporate Governance and Public Administration" with a research project entitled: "EU migration policies at the crossroads of humanitarian disasters and solidarity". She collaborates with the chairs of Public Law, International Law and European Law at the Faculty of Political Science. Her publications include "Unaccompanied minors in international, European and Italian law. Current weaknesses and future prospects", La Comunità Internazionale, 4/2017; "There is not enough union in this Union". Principio di solidarietà e "Sistema di Dublino" alla prova del più imponente esodo di profughi dal secondo dopoguerra, www.federalismi.it, 2016.
Roila Mavrouli is a lawyer and a PhD candidate at the University of Luxembourg in cotutelle with the University of Paris Nanterre. Roila holds a Bachelor's degree in Law of the Aristotle University of Thessaloniki, a Master's degree in International and European public law of the University Jean Moulin Lyon 3 and a Master's Degree in Political Philosophy of the University Paris 7 Diderot. She has worked as a lawyer in Athens and as a legal counsel focusing on migration law and fundamental rights in Paris and in Luxembourg. During the last years, she has been teaching Constitutional law at the University Paris 13 and European law at the University of Luxembourg. She has been an active volunteer with various asylum law associations and she has participated in many conferences and workshops. Her research focuses on legal theory and jurisprudence from the perspective of a realistic critical approach to the traditional legal concepts and the validity of the norms.
CREDITS:
Cover Design: Gizem Cakir
Cover Photo: 19.12.2017, Serbia, Belgrad Refugees people on the balkan route by Janossy Gergely/Shutterstock.com
Product Details:
ISBN:  978-1-910781-77-7
Publisher: Transnational Press London
Published: 1 January 2020
Language: English
Pages: 128
Binding: Perfect-bound Paperback
Interior Ink: Black & white
Weight (approx.): 0.29 kg
Dimensions (approx.): 15.6cm wide x 23.39cm tall
Additional information
| | |
| --- | --- |
| Weight | 0.29 kg |
| Version | Print |
| Binding | Paperback |
| Interior Ink | Black and White |