Turkish Migration 2016
£24.99
Turkish Migration 2016 Selected Papers compiled by Deniz Eroglu, Jeffrey H. Cohen, Ibrahim Sirkeci | Paperback | ISBN: 978-1-910781-28-9 : Buy from Lulu | Buy at Amazon | Digital version : Buy Kindle e-book | Buy on GooglePlayBooks
Description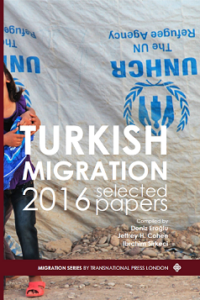 Turkish Migration 2016 Selected Papers
compiled by Deniz Eroglu, Jeffrey H. Cohen, Ibrahim Sirkeci
You can purchase the book via the links below.
Paperback | ISBN: 978-1-910781-28-9 : Buy from Lulu | Buy at Amazon 
Digital version : Buy Kindle e-book | Buy on GooglePlayBooks
These papers are a corrective to the limits of the poles and to any other models that seek to dehumanize migrants and cast refugees as the victims of processes they cannot control. Our interests range across the social sciences and the humanities and engage with experiences and theories that contextualize mobility and look beyond the limits of the news cycle to answer fundamental questions about mobility and Turkish migration. The voices represented define some of the very best work taking place around the world and exploring the outcomes of mobility. The forty chapters in this book are drawn from the papers presented at the Migration Conference held at the University of Vienna, Austria in 2016.
COVER PDF
CONTENT PDF
About the editors of the compilation
Introduction: 4th Turkish Migration Conference
Jeffrey H. Cohen, Deniz Eroglu, Ibrahim Sirkeci
Part I. MIGRATION POLICY

Chapter 1. Is a Refugee a Refugee Everywhere? A Comparative Study between Turkish, Italian and Brazilian Law
Annalisa Morticelli, Emília Castro And Ülkü Sezgi Sözen
Chapter 2. Working Rights for Refugees: A Comparison of the Turkish and the Australian Models in Achieving Humanitarian and Labour Objectives
Sherene Ozyurek, Ali Zafer Sagiroglu, Rodger Fernandez
Chapter 3. The Impact of Mass Migrations on Immigration Policy of Turkey
Özlen Çelebi and Özlem Pehlivan
Chapter 4. European Union's Irregular Migration "Paradox": The Case of EU-Turkey Readmission Agreement  
Yeliz Yazan
Chapter 5. Displaced People and Right to Evacuation
Gökhan Akgün
Chapter 6. Deportation of Foreigners in Turkey: What Has Changed After the Law On Foreigners and International Protection and the Creation of the Directorate General of Migration Management? Evidence from Kocaeli
İbrahim Soysüren, Kuvvet Lordoğlu, Ali Soysüren
Chapter 7. Emigration Policy in the Post-Constitutional Period (1908-1914)
Meryem Günaydın
Part II. IMMIGRANTS IN TURKEY
Chapter 8. Cross-Border Lives in The Eyes of the Children: A Qualitative Study
Ezgi Arslan and Tuba Yüceer Kardeş
Chapter 9. Peace Journalism or War Journalism: Representation of Refugees in Turkish Media
Arda Umut Saygın
Chapter 10. Contextualizing Refugee NGOs in Izmir
Denise Tan
Chapter 11. Gentrification in Istanbul and its (In)adequate Mediation of "Distant" Suffering – a Documentary Analysis
Isabelle Mariacher
Chapter 12. Attitudes of Tradesmen Towards Somalian Asylum Seekers  
Veli Duyan, Tuba Yüceer Kardeş, Münevver Göker
Chapter 13. Cultural Adaptation of Somali Female Asylum Seekers in Isparta
Burcu Özdemir and Münevver Göker
Chapter 14. Attitudes of Shopping Mall Workers Towards Somali Asylum Seekers
Elif Gökçearslan Çifci, Burcu Özdemir, Ezgi Arslan, Fulya Akgül Gök
Chapter 15. Transnational Identity among the Bulgarian-Turkish Migrants in Turkey  
Özge Kaytan
Part III. SYRIANS IN TURKEY
Chapter 16. Crisis or Opportunity? Public Debate and Perception on Syrian Refugees in Turkey  
Oğuzhan Ömer Demir
Chapter 17. Not Only a Burden but Also a Contribution: Impacts of Syrians on Turkish Economy  
Ali Zafer Sağıroğlu
Chapter 18. Solidarity with Syrian Immigrants with the Power of Islamic Beliefs and Volunteerism  
Emel Topçu and Sevgi Kurtulmuş
Chapter 19. Working Conditions and Informal Employment of Syrian Refugees in Turkey
Gülşen Gerşil and Ramazan Temel
Chapter 20. Attitudes of Turkish youth toward Syrian refugees in respect to youths' gender, income, education, and city: A Scale Development Study
Seray Çağla Keleş, Tuğçe Aral, Muazzez Yıldırım, Ece Kurtoğlu, Ulaş Sunata
Chapter 21. Turkey's Policy on Employment of Syrian Refugees and its Impact on the Turkish Labour Market
Cihan Kızıl
Chapter 22. A New Exploited Class: Syrian Refugees
Hasan Boynukara and Uğur Altıntaş
Chapter 23. Education of Turkish People for Social Cohesion with Syrians in Turkey
Tuba Duman
Part IV. TURKISH DIASPORAS
Chapter 24. Voluntary Work in the Active Aging Experiences of First Generation Immigrant Turks Living in Netherlands
Ferhan Saniye Palaz and Yusuf Adıgüzel
Chapter 25. Crossing Borders-Negotiating Identities in Transnational Spaces: The case of Bulgarian Turks in Germany
Hande Erdem
Chapter 26. Benefitting from a Turkish migration background? Experiences from medical students with Turkish migration background
Gloria Tauber, Heidi Siller and Margarethe Hochleitner
Chapter 27. An Essay of Meta-Analysis on Seeking Identity of Euro-Turks
Yakup Çoştu and Feyza Ceyhan Çoştu
Chapter 28. An Alevi Concert Event in Paris: Doğa Aşkına – Terre, Mon Amour 
Sinibaldo De Rosa
Chapter 29. The Reception Analysis of the Short Movie ''Bawke"
Arda Umut Saygın
Chapter 30. Goodbye Germany: Migration Intentions of Highly Qualified Turks 
Cemal Sari and M. Nail Alkan
Chapter 31. The impact of Higher Education on religious attitudes of University graduated Turkish women in Vienna
Şule Dursun
Chapter 32. Social Determinants of International Students' Mobility: PhD Students from Turkey  
Setenay Dilek Fidler
Part V. MOVERS AND IMPACT
Chapter 33. Skilled Migration to USA: Diaspora Networks and Contribution to Home Country
Neslihan Arslan
Chapter 34. Population, Turkey's EU Accession and Migration Crisis
Neriman Hocaoğlu Bahadır
Chapter 35. Migration and Security: Three Capitals and Three Terrorist Attacks as Reflected in the Press
Filiz Göktuna Yaylacı, Mine Karakuş Yetkin, Melis Karakuş
Chapter 36. A Collage of Migration: Memory Fragments with a Spatial Pattern
Gamze Okumuş
Chapter 37. Internal Migration of Turkey's Older Population
Sutay Yavuz
Chapter 38. Internal Migration and Perception of Employability: Case of Kocaeli 
Burcu Kümbül Güler and Doğa Başar Sarıipek
Chapter 39. Studies on Migration and Education in Turkey: A General Evaluation 
Ali Faruk Yaylacı and Filiz Göktuna Yaylacı
Chapter 40. Transformation of The Migration Theme in Turkish Cinema 
Tugba Elmacı
CREDITS: Cover Photo: Erem Kansoy – Cover Design: Nihal Yazgan
Product Details:
ISBN: 978191078129
Publisher: Transnational Press London
Published: 23 June 2018
Language: Turkish
Pages: 342
Binding: Perfect-bound Paperback
Interior Ink: Black & white
Weight (approx.): 0.58 kg
Dimensions (approx.): 22.86cm tall x 15.24cm wide
Additional information
| | |
| --- | --- |
| Weight | 0.58 kg |
| Version | Print |
| Binding | Paperback |
| Interior Ink | Black and White |