Nathy's Kitchen, Delicious and Easy Recipes
£17.50 – £35.00
Description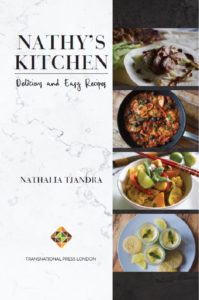 Nathy's Kitchen, Delicious and Easy Recipes
By Nathalia Tjandra
Published: 01/01/2020 [Heritage Series: 03] 
Print:
978-1-912997-34-3 (paperback – colour) | Buy at Lulu
978-1-912997-39-8 (paperback – premium colour interior) | Buy at Lulu |  Buy Paperback from Amazon |
978-1-912997-35-0 (hardcover – colour) | Buy at Lulu
Digital: Buy at GooglePlay | Buy Kindle version
My name is Nathalia Tjandra! My family and friends call me Nathy. Welcome to my recipe book. I was born and raised in Indonesia. I moved to the Netherlands when I was younger. I now work and live in the UK. I live in one of the most beautiful cities in the world, Edinburgh, with my husband, John. I am an academic and a frequent traveller. I am also very passionate about cooking and photography. When I don't travel, I spend my weekends in the kitchen, creating and trying different recipes. I find cooking very relaxing. I love cooking delicious, healthy but easy-to-make food. My recipes are influenced by my upbringing as well as my travelling experience. I hope you enjoy the recipes and have the chance to try them for your loved ones.
Content
SOUP APPETISERS AND SALADS
04. Chicken and Lentil Soup
06. Roast Red Pepper Soup
08. Cullen Skink
10. Aromatic Crispy Duck with Pancakes
12. Sweet Pork Satay (Sate Babi Manis)
14. Corn Fritter (Dadar Jagung)
16. Homemade Trout Fishcakes
18. Lamb Koftas and Warm Harissa Salsa
20. Turkey Scotch Eggs with Masala Mayonnaise
22. Pork, Cabagge and Chive Gyoza
24. Kale, Quinoa, Couscous and Roast Chicken Salad
25. Super Pink Salad
SEA FOOD
28. Basa Fillets in Herby Lemon Butter Sauce
30. Haddock Pie
32. Pan Fried Seabass with Spring
Onion, Ginger, Chilli and Garlic
34. Pan Fried Trout in Sweet and Spicy Shallot Sauce
36. Aromatic Tuna Wrapped in Banana Leaf (Pepes Ikan Tuna)
38. Smoked Mackerel Curry
40. Thai Aromatic Steamed Mussels
42. Salt and Pepper Squids
44. Malaysian Butter Prawns
46. Stir Fried Prawns with Baby Corn and Runner Beans in Oyster Sauce
CHICKEN
50. Chicken Kebab
52. Tumeric Fried Chicken (Ayam Goreng Kunyit)
54. Chicken Cacciatore
56. Honey Sriracha Chicken Wings
58. Slow Cooked Asian Sweet and Spicy Chicken Drumsticks
60. Slow Cooked Pulled Chicken Tacos
62. Cajun Spiced Chicken and Kidney Beans
64. Spicy Thai Basil Turkey (Turkey Pad Krapow)
66. Balinese Chicken Curry (Ayam Bali)
68. Surinaamse Kip Kerrie (Surinamese Chicken Curry)
MEAT
72. Chilli Bean Pork and Chinese Chives
74. Vietnamese Caramel Pork
76. Slow Cooked Chinese Sticky Pork Belly
78. Sweet and Sour Pork
80. Swedish Meatballs
82. Coconut Lamb Curry
84. Lamb Burger
86. Lamb Meatballs in Moroccan Tomato Sauce
88. Slow Cooked Sausage, Butternut Squash and Bean Casserole
90. Slow Cooked Christmas Ham with Maple Syrup and Mustard Glaze
PASTA, RICE and NOODLES
94. Classic Spaghetti with Tomato and Basil Sauce
96. Pasta with Prawns, Cherry Tomatoes and Basil
98. Spinach, Mushroom and Ricotta Cannelloni
100. Gnocchi with Chorizo, Pepper and Cherry Tomatoes
102. Butternut Squash Pearl Barley Risotto
104. Slow Cooked Barley, Pumpkin, Leek and Sausage Casserole
106. Bacon, Radish and Chive Fried Rice
108. Indonesian Grilled Rice with Calamari in Spicy Basil Sauce
110. Fish Ball and Seaweed Noodle Soup
112. Prawn Pad Thai
VEGETARIAN & VEGAN
116. Chinese Omelette (Egg Fuyung)
118. Broccoli, Leek, Potato, Mushroom and Green Pea Pie
120. Vegetarian Shepherd Pie
122. Chickpea Meatball Curry
124. Indonesian Tofu Curry (Kare Tahu)
126. Roasted Masala Vegetables
128. Vegetarian Mousakka
130. Moroccan Chickpea, Sweet Potato and Kidney Bean Stew
132. Slow Cooked Vegetarian Chilli
134. Vegan Laksa
DESSERTS AND CAKES
138. Spiced Chocolate Pannacotta
139. Lemon Posset and Lemon and Ginger Shortbread
140. Matcha Ice Cream
141. Christmas Trifle
142. Portuguese Custard Tarts (Pastéis de Nata)
143. Baileys Brownies
144. Spiced Pumpkin Cupcakes with Cinnamon Buttercream
145. Glazed Cherry Loaf Cake
Author:
Nathalia Tjandra is an Associate Professor at Edinburgh Napier University teaching Marketing.
Product Details:
ISBN: 978-1-912997-34-3 (paperback – colour) | 978-1-912997-39-8 (paperback – premium colour interior) | 978-1-912997-35-0 (hardcover – colour)
Publisher: Transnational Press London
Published: 1 January 2020
Language: English
Pages: 152
Binding: Paperback
Interior Ink: Colour
Weight (approx.): 0.75 kg
Dimensions (approx.): 15.24cm x 22.86cm
Additional information
| | |
| --- | --- |
| Weight | 0.75 kg |
| Version | Print |
| Binding | Paperback, Hardcover |
| Interior Ink | Colour, Premium Colour |