Description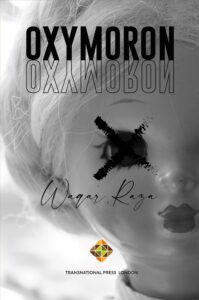 Oxymoron
by Waqar Raza
Published: 14 November 2022 [Fiction: 5]
Paperback: ISBN: 978-1-80135-134-8 Buy from Amazon 
Digital version: ISBN: 978-1-80135-135-5  Read on Google Play | Read on Kindle
A man called Oxymoron, not born but made, seeks his identity throughout the two years of his whole life. Did he succeed? A man called Oxymoron is constructed, not in a lab but in a surgical theatre. No sooner does he wake up from anesthesia than he finds himself on the journey to discovering who he is. Not before long, he runs into his own dead body. He has three wives but is husband to none, two children but father of none. Though people from all walks are eager to meet with him, none is interested in knowing him. Does he belong to no one and nothing? From being an involved scientist, in frustration, he moves on to being an aloof farmer. One nice evening on his farm, he comes to know 'who he is'; in fact, he also finds 'why he is'. But then, in the time he has got in hand, it is already too late.
The Story-Teller
Dr Waqar Raza (MBBS, MD, PhD, FRCPath) (Professor in Microbiology)
As a hospital doctor, a scientist and a university teacher, Raza have widely published on topics in the medical field. His recent work, however, focuses on a different theme, consciousness. 'Oxymoron' has been borne out of this work. The story portrays a uniquely constructed protagonist who has gone through a drastic change in his person, but not so much in his personality. Through this character, the story identifies self in the person and that which self owns within the person, setting the self apart from the objects listed in his belongings. The story posits questions of the sorts never asked before, of ethical, psychological, social, legal and philosophical nature, arising from the exceptional circumstances the protagonist finds himself on his journey to self-actualization.
CREDITS: Cover design by Nihal Yazgan; Cover Image sourced from Anya Osintsova on unsplash.com.
PRODUCT DETAILS:
Fiction: 5
SBN: 978-1-80135-134-8 (Paperback)
ISBN: 978-1-80135-135-5 (Digital)
Publisher: Transnational Press London
Published: 14 November 2022
Language: English
Pages: 237
Binding: Paperback
Interior Ink: Black & white
Weight (approx.): 0.5 kg
Dimensions (approx.): 15cm wide x 23cm tall
Additional information
| | |
| --- | --- |
| Weight | 0.40 kg |
| Version | Print |
| Binding | Paperback |
| Interior Ink | Black and White |