Drinking, Fasting, and Tattoos: Syrian Women's Lived Islam
£24.50
Description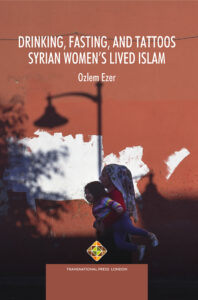 Drinking, Fasting, and Tattoos: Syrian Women's Lived Islam
by Ozlem Ezer
Published: 1 January 2023 [Religion and International Relations Series: 1]
Paperback: ISBN: 978-1-80135-140-9 Buy from Amazon | Talebe.com'dan al
Digital version: ISBN: 978-1-80135-141-6  Read on Google Play | Read on Kindle | Read on CEEOL | Talebe.com'da oku
Drinking, Fasting, and Tattoos reveals the problematics of Refugee and Forced Migration Studies via Lived Religion (LR) by using qualitative and collaborative methodologies. It offers LR as a potential recovery for the tensions across different disciplines of gender and women's studies, theology, migration studies, and religious studies. It also problematizes major assumptions about Islam that have led to the current scholarship, such as churchification of Islam in Europe. It breaks a tripled silence around women, refugees, and unaffiliated Muslims. It draws attention to permeable boundaries between academic disciplines, secular and religious, researcher and researched divides while challenging current paradigms in academia, particularly the ones that still validate Euro-American frameworks. More specifically, Syrian women refugees whose representations can be expanded to Muslim women migrants in the Global North, present firsthand accounts regarding their faith-based practices and interpretations of Islam. The accounts reveal empowerment, resilience, and post-traumatic growth, and thus agency in unlikely places.
ABOUT THE AUTHOR:
Ozlem Ezer studied English Language and Literature at Bogazici University in Istanbul, received her Ph.D. in Women's and Gender Studies at York University, Toronto. She completed her post-doctoral studies at Linkoping University, Sweden. Her first book Dogu, Batı ve Kadın (2012) was well received and has been taught in several literature programs in Turkey. Pausing full time teaching after 2015, Ezer focused more on engaged research, writing, and community work, especially with individuals who were displaced or deprived of financial and educational resources. She has reached out to several Syrian activists across Europe and North America and during her residency at CMES UC-Berkeley while working on her book on Syrian newcomers' transitions in several countries and delivered public lectures. She has been the recipient of funding from assorted international institutions, including DAAD, Joan B. Kroc Institute for Peace and Justice, the Lisbon Consortium, Swedish Research Institute, European Summer School in the Digital Humanities, International Women's Study Center in Santa Fe, Vrije University of Amsterdam, and Centre for Global Studies at Victoria University of British Columbia. In Athens and Amsterdam, she designed workshops and offered training on writing lives and how the practice can provide healing and agency.
CREDITS: Cover design by Nihal Yazgan; Cover Photo by Rostyslav Savchyn on unsplash.com.
PRODUCT DETAILS:
Religion and International Relations Series: 1
ISBN: 978-1-80135-140-9 (Paperback)
ISBN: 978-1-80135-141-6 (Digital)
Publisher: Transnational Press London
Published: 1 January 2023
Language: English
Pages: 131
Binding: Paperback
Interior Ink: Black & white
Weight (approx.): 0.5/0.8 kg
Dimensions (approx.): 15cm wide x 23cm tall
Additional information
| | |
| --- | --- |
| Weight | 0.40 kg |
| Version | Print |
| Binding | Paperback, Hardcover |
| Interior Ink | Black and White |