Description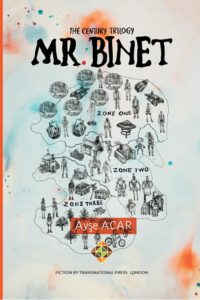 The Century Trilogy
Mr Binet
by Ayşe Acar
[Translated from Turkish by İpek Kotan]
Published: 2 January 2020 [ Fiction by TPLondon ]
Paperback: ISBN: 978-1-912997-29-9: Buy from Lulu | Buy from Amazon
Electronic version: eISBN: 978-1-912997-30-5: Buy from Google Play | Buy Kindle version | Read on CEEOL
This book is part of a sequel titled The Century Trilogy, which has been very successful in Turkey. Following this first book in the series, we do hope to offer other two novels to English reading audiences soon. Mr Binet offers a journey through belief, love, artificial intelligence, simulation, cyber reality, and numerous negotiations in an intriguing three-zone world. Mr Binet comes with a list of songs which Ayse Acar thinks appropriate when going into our own journey with Mr Binet and his companions.
"Mr Binet tells an exciting story with a fresh perspective on the future of society and Artificial Intelligence. I could not set the book down, and with the twist at the end I already can't wait to read the sequel! Reading Mr Binet, the feeling it gave me was like when I read Three Body Problem for the first time." Richard Kelley, Phd, Chief Engineer, Nevada Advanced Autonomous Systems Innovation Center, University of Nevada, Reno, USA.
About the Author:
Ayşe Acar is known for her field research and documentaries on various belief groups in Turkey and Israel. She is the author of three science fiction fantasy novels published in Turkey. Her articles and columns on philosophy have been published in newspapers and periodicals. Acar is particularly known for her contribution in blending mythological stories and characters of Alevi belief into modern literature.
Product Details:
ISBN: 978-1-912997-29-9
eISBN: 978-1-912997-30-5
Publisher: Transnational Press London
Published: 2 January 2020
Language: English
Pages: 218
Binding: Paperback
Interior Ink: Black & white
Weight (approx.): 0.4 kg
Dimensions (approx.): 15cm wide x 23cm tall
Additional information
| | |
| --- | --- |
| Weight | 0.40 kg |
| Version | Print |
| Binding | Paperback |
| Interior Ink | Black and White |