Sale!
The Migration Conference 2022 Abstracts Book
Description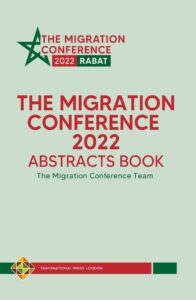 The Migration Conference 2022 Abstracts Book
Compiled by The Migration Conference Team
Published: 7 September 2022 [Conference Series: 22]
Paperback ISBN: 978-1-80135-160-7 Buy on Amazon
Digital ISBN: 978-1-80135-161-4 | Read free on Google Play Books | Read on ResearchGate |Buy Abstract Book on Amazon Kindle
The Migration Conference is the largest international annual academic event on migration with a global scope and participation. Participants of the TMC2022 Rabat have come from all around the world presenting and discussing migration. Researchers from over 70 countries have presented their work at the Conference. The conference entertained 3 plenary sessions, 6 panel discussions, 4 workshops, and 1 movie screening over four days. 8 sessions were held in French and Arabic, while 6 sessions in Spanish and 3 sessions were in Turkish. The topics covered in the conference included integration, acculturation, migration policy and law, labour markets, theory and methods in migration studies, culture, communication, climate change, conflicts, insecurities, media, gender, remittances, high skilled migration and several other key topics. Several sessions have focused on migration in Morocco and North Africa.
The Migration Conference 2022 is hosted by the Faculty of Law, Economic and Social Sciences Agdal of Mohammad V University, Rabat, Morocco and organised by AMERM (l'Association Marocaine d'Etudes et de Recherches sur les Migrations) and IBS (International Business School, UK). Details of the conference programme and the links to the online sessions can be inspected here. www.migrationconference.net | @migrationevent | fb.me/MigrationConference | Email: migrationscholar@gmail.com
Product Details:
Paperback ISBN: 978-1-80135-160-7
Digital ISBN: 978-1-80135-161-4
Conference Series: 22
Publisher: Transnational Press London
Published: 7 September 2022
Language: English
Pages: 273
Binding: Digital and Paperback
Interior Ink: Black and White
Weight (approx.): 0.5 kg
Dimensions (approx.): 18.9 cm x 24.61 cm
Additional information
| | |
| --- | --- |
| Weight | 0.65 kg |
| Version | Digital, Ebook/Kindle |