Critical Race Theory
£24.50
Description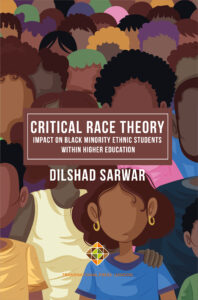 Critical Race Theory: Impact on Black Minority Ethnic Students within Higher Education
By Dilshad Sarwar
Published: 26 October 2020 [Society and Politics Series: 2]
Paperback: ISBN: 978-1-912997-46-6 | Buy at Amazon 
Digital: Read Kindle version | Read on GooglePlay | Read on CEEOL
"This book arrives at a timely moment. The resurgence of the Black Lives Matter movement in the wake of widespread shock felt across the world over the murder of George Floyd at the hands of the police in the US has triggered a renewed concern with race equality and encouraged organisations, including universities, to reflect on what they are doing to address this issue. While we shall have to wait to see whether fine words are translated into effective actions, there is little doubt that universities are currently more willing to listen to BME voices."

– Professor Andrew Pilkington, University of Northampton, UK.
"Historically, CRT follows the notion that there is considerable White bias evident in education and society generally (Bimper, 2017). Studies carried out by Ladson Billings believe that there is clear marginalisation regarding students coming from a BME background and in particular, those students for whom English is not their first language (Carrera, 2019). The author further examined the start of the movement for CRT. CRT began when a small group of activists wanted to understand better race, racism and power (Allen, 2017). The first real CRT movement began by focusing their attention on issues relating to conventional civil rights and ethnic study discourses which existed. They began by really questioning the liberal order addressing equality theory, legal reasoning, rationalism and the fundamental principles of constitutional law in America (Dixon, James, & Frieson, 2018). Regardless of the fact that CRT originated from a movement within Law it did, however, move beyond that discipline. The author further established within her research that educators in the main link themselves to CRT quite holistically (Garcia & Velez, 2018). Educational theorists apply CRT quite loosely to HEIs under the guise of school discipline and hierarchy, tracking, controversies over curriculum and history, IQ and achievement testing. Educational theorists do consider and associate CRT and endeavour to use its core principles to change the social situations present in society today."
Contents
CHAPTER 1 – Introduction
CHAPTER 2 – Critical Race Theory An Educational Construct
CHAPTER 3 – Research Methodology
CHAPTER 4 – Academic Attainment
CHAPTER 5 – Black Minority Ethnic Experiences
CHAPTER 6 – The Societal Curriculum
CHAPTER 7 – Government Strategy
CHAPTER 8 – Thematic Analysis
CHAPTER 9 – Discussion and Theorising the Findings
CHAPTER 10 – Conclusions and Recommendations
About the Authors
Dr Dilshad Sarwar is working within the area of Business Systems and Operations at the Faculty of Business and Law, the University of Northampton. In her previous and present role, she has taught at both Undergraduate and Postgraduate levels and has actively been involved in PhD supervision. Dilshad's obtained her PhD from Leeds Beckett University. She also has a Postgraduate Certificate in Research, MA in Education Management and MSc Information Systems. She is a Senior Fellow of the HEA. Dr Sarwar's current research is broadly within the area of BAME Policies and Practices, Information Systems and Business Information Systems as a discipline with a focused research interest in the social influences and domains of Internet of Things and Disaster Management Systems, which entails social computing and managing information in the digital age.
CREDITS:
Cover Design: Nihal Yazgan
Product Details:
Society and Politics Series: 2
ISBN:  978-1-912997-46-6
Publisher: Transnational Press London
Published: 26 October 2020
Language: English
Pages: 140
Binding: Perfect-bound Paperback
Interior Ink: Black & white
Weight (approx.): 0.35 kg
Dimensions (approx.): 15.2cm wide x 22.9cm tall
Additional information
| | |
| --- | --- |
| Weight | 0.35 kg |
| Version | Print |
| Binding | Paperback |
| Interior Ink | Black and White |