Art of Displacement
£49.50 – £55.00
Art of Displacement | By Giovanni Perillo | To be published: 2019 [Heritage Series] | ISBN: 978-1-912997-31-2 (paperback) | 978-1-912997-32-9 (hardcover) | [Can only purchase pre-orders not to be delivered prior to publication] 
Description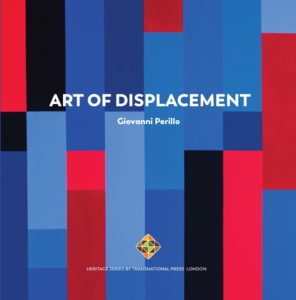 Art of Displacement
By Giovanni Perillo
To be published: 2019 [Heritage Series]
[Can only purchase pre-orders not to be delivered prior to publication] 
ISBN:
978-1-912997-31-2 (paperback)
978-1-912997-32-9 (hardcover)
In his artistic research, Giovanni Perillo aims to generate conflicts with oneself, to weaken certainties, stereotypes and rigid expectations, encouraging a dialogue to express one's reflections on the real freedom of one's choices and on the possible influences that they imply. Through a détourner, a displacement, a deviation from alienating cultural mechanisms, aesthetic experimentation can become practical for a transformation towards a different self-awareness.
"Taking the cue from the theory of events, I started to research stimuli and creative interaction processes through my artistic investigation and production. The stimuli had to be able to arouse behaviours and interpretations that are far from conformist and pre-established models.

The interpretations, as answers to a stimulus coming from reality, are the significant consequences of the sense and vision of reality.

The conventional and conformist interpretations form the specific psychological structure of a culture, and for this reason, they are its identity.

If the reactions of the individuals who interact with artwork were not spontaneous, heterogeneous or unpredictable, they would show the homogenized and homogenizing game of taking part to practices where roles and goals of the players are pre-establish and reinforce a system of perception of reality that is influenced by dominant socio-cultural models."
– Excerpt from the Introduction by Giovanni Perillo
Content
INTRODUCTION
MEMORIZATION OF FACES, ASSOCIATED WITH PROFESSIONS AND CHARACTERS
IMAGE OF THE WORD, WORD TO THE IMAGE
THE INFLUENCE OF STEREOTYPES AND PREJUDICES IN AESTHETIC CHOICES
AESTHETICS OF MIGRATIONS
SKIN colourS TEST II
ARTWORKS
SERIES OF MAPS WITH MIGRATORY EXCHANGES IN COMPLIANCE WITH THE RULE OF CONTIGUITY AND WITHOUT THE POSSIBILITY OF RETURN TO PREVIOUSLY INHABITED REGIONS
SKIN colourS TEST
NEARLY EQUAL
PALO DEL COLLE SKIN colourS PROJECT
SKIN colourS TEST II
Author:
Giovanni Perillo is a PhD student in Letters, Languages and Arts at University of Bari, Italy. As an artist he researches stimuli and creative interaction processes. He presented his research at the Triennale Museum in Milan in 2019, at "The Migration Conference 2019" at the University of Bari Aldo Moro in 2019, "Congress of the International Association of Empirical Aesthetics" (IAEA) at the University of New York in 2014, and at the University of Vienna in 2016, at the University of Toronto in 2018 and at "Children and Childhood Territories International Colloquium" at the University of Brasilia in 2018. He also exhibited "Risvolti" at the Mudima Foundation for Contemporary Art in Milan in 2013. Earlier, he has published with Edizioni dal Sud: Skin Colors Test and Per un approccio non conformista dell'esperienza estetica e conseguenze didattico-pedagogiche, with Giuseppe Laterza Editore: Aesthetic of migrations (2017); Pittura, proprietà combinatorie e composizioni modulari (2016).
Product Details:
ISBN: 978-1-912997-31-2
Publisher: Transnational Press London
Published: December 2019
Language: English
Pages: 128
Binding: Paperback
Interior Ink: Colour
Weight (approx.): 0.95 kg
Dimensions (approx.): 21.59 cm wide x 21.59 cm tall
Additional information
| | |
| --- | --- |
| Weight | 0.95 kg |
| Version | Print |
| Binding | Paperback, Hardcover |
| Interior Ink | Colour |