Nyonya Kebaya Peranakan Heritage Fashion
£59.95
Description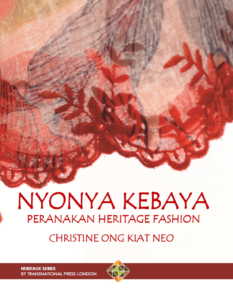 Nyonya Kebaya
Peranakan Heritage Fashion
By Christine Ong Kiat Neo
Published: 6 January 2019
You can also purchase the book via the links below.
Paperback: ISBN: 978-1-910781-97-5: Buy from Lulu | Buy from Amazon
eBook: Buy from Google Play | Buy for Kindle
NYONYA KEBAYA, PERANAKAN HERITAGE FASHION by Christine ONG KIAT NEO combines the passionate and the practical features of the kebaya fashion.  It renews the intricate embroidery work of the past through the creative adaptation to fit contemporary demands. The outfit can be worn and cared for on a daily basis or based on creative preferences of the nyonyas. The book also shares tips and ideas on matching the kebayas with the sarongs (skirts) so as to achieve an amazing ensemble!  Aspects of the sarong art is also highlighted.
About the Author
Christine Ong Kiat Neo was born and bred in Singapore from a Chinese Peranakan family. Being a true-blue "nyonya" (the female term of Peranakans), she has a burning passion to perpetuate her unique culture through promoting the Nyonya Kebaya fashion. During her 30 years' long career in the corporate world, she made plans to focus on her passion as part of her heritage upon her retirement. By writing this book, she fulfils her mission to share her joy and love for this fashion.
Product Details:
ISBN: 9781910781975
Publisher: Transnational Press London
Published: 6 Jan. 2019
Language: English
Pages: 208
Binding: Paperback
Interior Ink: Colour
Weight (approx.): 0.62 kg
Dimensions (approx.): 18.9cm wide x 24.59cm tall
Additional information
| | |
| --- | --- |
| Weight | 0.62 kg |
| Version | Print |
| Binding | Paperback |
| Interior Ink | Colour |