Reinventing Eastern Europe
£24.50
Description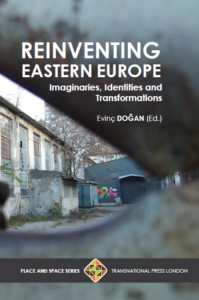 Reinventing Eastern Europe: Imaginaries, Identities and Transformations
Edited by Evinç Doğan
Published: 22 January 2019
You can also purchase the book via the links below.
Paperback: ISBN: 978-1-910781-87-6: Buy from Lulu | Buy from Amazon
Electronic version: Buy from Google Play | Buy Kindle version | Buy at CEEOL
This edited collection brings together a wide range of topics that shed light on the social, cultural, economic, political and spatio-temporal changes influencing post-socialist cities of Eastern Europe. Different case studies are presented through papers that were presented at the Euroacademia International Conference series. Imaginaries, identities and transformations represent three blocks for understanding the ways in which visual narratives, memory and identity, and processes of alterity shape the symbolic meanings articulated and inscribed upon post-socialist cities. As such, this book stimulates a debate in order to provide alternative views on the dynamics, persistence and change broadly shaping mental mappings of Eastern Europe. The volume offers an opportunity for scholars, activists and practitioners to identify, discuss, and debate the multiple dimensions in which specific narratives of alterity making towards Eastern Europe preserve their salience today in re-furbished and re-fashioned manners.
"Twenty-five years have passed since Larry Wolff's Inventing Eastern Europe opened our eyes to the manner in which the concept of the region was created. With the temporal distance since the dissolution of the Soviet Union and Yugoslavia, we can begin to assess this invention anew, which is what the essays in Reinventing Eastern Europe do, with their close readings of individual moments and phenomena across the region. Focusing on place and space and its relation to identity, this collection of essays reassesses the impact of the various transformations in the region over the past several years, in order to understand how these changes have contributed to the reinvention of the area, both in terms of a re-conceptualisation from the outside, as well as an attempt for these various locales and peoples to reinvent and define themselves, following ruptures in economy and state, as well as war. This fine collection of essays contributes a fresh and nuanced understanding of the specificities of the region, demonstrating how its complexity makes it a continual challenge to scholars to capture in one glimpse." —Professor Amy Bryzgel, Personal Chair in Film and Visual Culture, University of Aberdeen
Content
Foreword – Iván Tosics
Preface – Evinç Doğan
Introduction – Evinç Doğan
Chapter 1: The Angel of Nostalgia Trapped between East and West – Marta Fernàndez Soldado
Chapter 2: Ukraine's East-West Regional Division – Zhanna Mylogorodska
Chapter 3: Cultural Encounters and the Role of Art in Yugoslav-US Relations 1961-1966 – Stefana Djokic
Chapter 4: The Absent Presence of Abandoned Industrial Spaces in Belgrade: A Semiotic Study through Photographic Imagery – Evinç Doğan
Chapter 5: Make Macedonia Great Again! The New Face of Skopje and the Macedonians' Identity Dilemma – Arianna Piacentini
Chapter 6: Identity Struggle in Post-Socialist City: Re-Imagineering Belgrade, Remodelling Skopje – Nebojša Čamprag
Chapter 7: Idiosyncratic Identity of Muslim Turks and the Romani of Bulgaria: Rethinking Human Security through the prism of Self-Governing Rights – Francesco Trupia
Chapter 8: Domestication as Pacification: Public Space Design in Post-Soviet Countries – Jacopo Leveratto
Chapter 9: The Post-socialist City and the Revaluation of Public Space. Case Study Velenje – Daniel Grünkranz
Chapter 10: Urban Transformation in a Post-socialist Society—From unity to separation – Aleksandar Joksimović
Conclusion – Evinç Doğan
About Editor:
Dr Evinc Dogan is an Assistant Professor at the Faculty of Tourism at Akdeniz University, Turkey. She holds a PhD in Management and Development of Cultural Heritage from IMT School for Advanced Studies Lucca, Italy. She received an MSc in History of Architecture from Istanbul Technical University and BA in Tourism Management from Bogazici University, Turkey. She is the author of Image of Istanbul: Impact of ECoC 2010 on Rebranding the City.
Product Details:
ISBN: 9781910781876
Publisher: Transnational Press London
Published: 22 Jan. 2019
Language: English
Pages: 178
Binding: Paperback
Interior Ink: Black & white
Weight (approx.): 0.30 kg
Dimensions (approx.): 15cm wide x 23cm tall
Additional information
| | |
| --- | --- |
| Weight | 0.39 kg |
| Version | Print |
| Binding | Paperback |
| Interior Ink | Black and White |