Introduction to Criminal Law – Revision Guide
£19.50
Description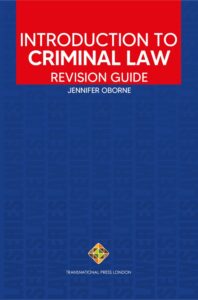 Introduction to Criminal Law
Revision Guide
by Jennifer Oborne
Published: 10 October 2023 [ Law Series: 6 ]
Paperback: ISBN: 978-1-80135-152-2  Buy from Amazon | Buy from Lulu | Buy from Talebe.com
Digital: ISBN: 978-1-80135-153-9 Read on Google Play  | Read on Kindle  | Read on CEEOL | Read on Talebe.com
Criminal law and procedure in England and Wales are a subject of great fascination to lay people and practitioners alike. It is a dynamic area of law that strikes at the very heart of what it means to be human and the values of the society we live in. The reason for the emergence of this book is that other publications do not explain such a complex issue in plain language, which makes it very difficult for those taking an interest, in particular A-level as well as LLB/LLM law students. Moreover, experience of teaching this course for many years and particularly knowing the fields in which students experience difficulties, has made me aware of the need for such a work. This book does not repeat material that is available in many textbooks that are in print. Rather, it endeavours to present every topic in plain language and concludes every chapter with a fictitious, explanatory sample case. In other words, it is an introduction to the subject of criminal law, the objective of which is to explain the topic both theoretically and in its application. Additionally, this book will assist students in preparing for examinations. At the end of the book, there is also a test that summarizes all the subjects contained in the book, which is appropriate to the first stage SQE (Solicitors Qualifying Examination) examination model that will be introduced in September 2021.
This book is superbly outlined with clear learning outcomes. It undoubtedly provides a practical overview of criminal law. It will be an indispensable source for law students.
– Professor Özgür H. Çınar, Deputy Head of School of Law and Criminology, University of Greenwich, UK
CONTENTS:
FOREWORD
CHAPTER 1. An Introduction To Criminal Law
CHAPTER II Actus Reus: The Criminal Act
CHAPTER III Mens Rea I – The Mental Element
CHAPTER IV Mens Rea II – Defences
CHAPTER V Secondary Liability, Conspiracy and Attempt
CHAPTER VI Homicide
CHAPTER VII Offences Against the Person
CHAPTER VIII Sexual Offences
CHAPTER IX Theft and Dishonesty Offence
CHAPTER X Drugs, Firearms and Offensive Weapons
SUMMARY: SAMPLE TEST QUESTIONS
ANSWERS
RECOMMENDED READING LIST
About the Author:
Jennifer Oborne is a barrister at Deka Chambers in London. She has previously taught Criminal Litigation, Evidence and Procedure at BPP Law School.
Product Details:
ISBN: 978-1-80135-152-2
ISBN: 978-1-80135-153-9 (Digital)
Publisher: Transnational Press London
Published: 10 October 2023
Language: English
Pages: 110
Binding: Paperback
Interior Ink: Black & white
Weight (approx.): 0.4 kg
Dimensions (approx.): 15.24cm wide x 22.86cm tall
Additional information
| | |
| --- | --- |
| Weight | 0.40 kg |
| Version | Print |
| Binding | Paperback |
| Interior Ink | Black and White |