Introduction to Public Law and Human Rights
£14.50
Categories: E-books, Law Series, Text books
Tags: Bar exam, Civil Justice System, Criminal Justice System, Dr Özgür Heval Çınar, English Legal System, Human rights law, Law students, Public law, Revision Guide, Solicitors Qualifying Examination, Sources of Law I: Domestic Legislation, Study Guide
Description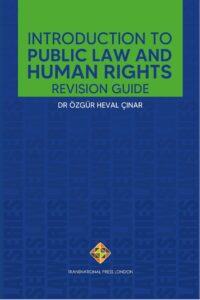 Introduction to Public Law and Human Rights
REVISION GUIDE
by Dr Özgür Heval Çınar
Published: 15 October 2021 [ Law Series: 3 ]
Paperback: ISBN: 978-1-912997-78-7  Buy from Amazon
Digital: ISBN: 978-1-80135-067-9 Read on Google Play  | Read on Kindle  | Read on CEEOL
Public Law and Human Rights is a core module in the legal education of the United Kingdom (UK). Throughout the world it is known as common law. While common law consists of case-law and statutes, it has reached its present state by incorporating elements of international law, prerogative power and other legal and non-legal sources such as conventions and customs. This book closely examines the public law (constitution and administrative law) and human rights system of the UK (England and Wales in particular). The reason for the emergence of this book is that other publications do not explain such a complex issue in plain language, which makes it very difficult for those taking an interest, in particular A-level as well as LLB/LLM law students. This book does not repeat material that is available in many textbooks that are in print. Rather, it endeavours to present every topic in plain language and concludes every chapter with a fictitious, explanatory sample case. This book will also assist students to prepare for examinations. It comes with a test that summarizes all the subjects contained in the book, which is appropriate to the first stage SQE (Solicitors Qualifying Examination) examination.
This concise text brings clearly into focus the key elements of public law and human rights. The Q&A approach, examples and exercises provide an excellent way for students to both gain knowledge and apply that knowledge to this complex area of law.

– Dr Ryan Hill, Deputy Head of School, Anglia Ruskin University, Law School, UK
This resource presents the core framework of Public Law and human rights within the United Kingdom, and also the key current debates surrounding this subject, in clear and accessible language. The technique of using fictional cases to work through practical issues is an excellent way for students to gain insight into the real world application of theoretical principles. Not only does this book help prepare learners for assessments, it also provides support in developing critical legal thinking which will be of great value in their professional lives.

–  Javier Garcia Oliva, Professor of Law, The University of Manchester, UK
CONTENTS:
Abbreviations
About the author
Foreword
PART A. Constitutional Law
CHAPTER I. Introduction: The Nature and Sources of the Constitution
CHAPTER II. Fundamental Constitutional Principles
CHAPTER III. Houses of Parliament and the Legislative Process
PART B. Human Rights
CHAPTER IV. Human Rights in the UK: Human Rights Act 1998 and European Convention on Human Rights
CHAPTER V. Fundamental Freedoms in the Human Rights Act/European Convention on Human Rights
PART C. Administrative Law
CHAPTER VI. The Principles of Judicial Review and Preliminary Requirements
CHAPTER VII. Judicial Review Grounds I: Illegality and Unreasonableness/Irrationality
CHAPTER VIII. Judicial Review Grounds II: Procedural Impropriety
CHAPTER IX. Administrative Justice: Inquiries, Ombudsman and Tribunals
SUMMARY: Sample Test Questions
PART A – Constitutional Law
PART B – Human Rights
PART C – Administrative Law
ANSWERS
Index
Recommended Reading List
About the Author:
Dr Özgür Heval Çınar is a lawyer. Presently, he is an associate professor at the University of Greenwich, School of Law and Criminology, where he teaches law subjects such as Public Law, English Legal System, EU Law. He completed his PhD at the School of Law, University of Essex. Previously, he was a post-doc fellow at the University of Oxford between 2012 and 2016. In addition, since 2008, he has worked as a legal expert for the Council of Europe, training lawyers, prosecutors, judges, legal officers and legal experts on the European Convention on Human Rights.
Product Details:
ISBN: 978-1-912997-78-7
eISBN: 978-1-80135-067-9
Publisher: Transnational Press London
Published: 15 October 2021
Language: English
Pages: 177
Binding: Paperback
Interior Ink: Black & white
Weight (approx.): 0.4 kg
Dimensions (approx.): 15.24cm wide x 22.86cm tall
Additional information
| | |
| --- | --- |
| Weight | 0.40 kg |
| Version | Print |
| Binding | Paperback |
| Interior Ink | Black and White |