Ecoaesthetics and Ecosophy in China
£24.50
Description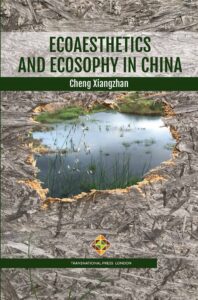 Ecoaesthetics and Ecosophy in China
by Cheng Xiangzhan
Published: 9 October 2023 [ Environmental Humanities Series: 2 ]
Series Editors: Peggy Karpouzou and Nikoleta Zampaki
Paperback: ISBN: 978-1-912997-79-4 Buy from Amazon | Buy from Lulu
Digital: ISBN: 978-1-912997-80-0 Read on Google Play | Read on Kindle | Read on CEEOL
Chinese ecoaesthetics, which originated in 1994, has developed theoretically over the last 30 years. This branch of aesthetics, which is "based on ecology" and to "transform aesthetically towards the era of ecological civilization," uses ecological realism as its philosophical foundation and ecohumanism as its guiding principles. Its central aesthetic paradigm is known as the "body-mind-environment" model. Its main research object is "…ecological aesthetic appreciation," an exploration of how to appreciate aesthetics and ecology through "ecological beauty." Additionally, ecohumanism can be further improved by referring to principles of ecology and examining the aesthetic synergies between humans and the earth's ecosystem. Ultimately, ecohumanism is not only a method to aid in survival in an ecological crisis, but to elevate the human condition through assuming ecological responsibilities and promoting ecological civilization, leading to a more valuable and meaningful life.
The theme of this book, Ecosophy C, can be summarized as "Moving toward the Aesthetics of Eternal Engendering". Its key phrase, "Creating life" corresponds to shengsheng (生生) in Chinese, literally implying a continuous cycle of reproduction. Philosophically, this concept translates to "eternal engendering". In essence, ecoaesthetics is the pursuit of the endless cycling of bio-engendering, which is the main goal of ecoaesthetics.
"Cheng Xiangzhan is outstanding among Chinese environmental aestheticians in joining classical and contemporary Western environmental aesthetics with his original contributions to the more recent work by Chinese scholars.  Cheng's creative and integrative accomplishments are supported by a remarkable facility in English and reflected in his original and systematic consideration of the outstanding issues.  While much can be debated, there is substantial material here, and this book makes a signal contribution to carrying the discussion forward."
– Arnold Berleant, distinguished environmental aesthetician.  His latest book, The Social Aesthetics of Human Environments, will appear in September 2023.
Contents
SECTION I – BASIC ISSUES IN ECOAESTHETICS
CHAPTER 1. Ecohumanism and the Construction of Ecoaesthetics in China
CHAPTER 2. The Four Keystones of Ecological Aesthetic Appreciation
CHAPTER 3. An Ecoaesthetic Reflection on the Hazy Weather: The Naturalization of Nature
CHAPTER 4. Ecological Civilization and Ecological Aesthetics in China
SECTION Ⅱ – ECOLOGICAL AESTHETIC APPRECIATION AND ECOSOPHY C
CHAPTER 5. Aesthetic Engagement, Ecosophy C, and Ecological Appreciation
CHAPTER 7. The Archetype of Chinese Aesthetic Activity and a Construction of Everyday Aesthetics
CHAPTER 8. Creating with Nature: Ecosophy C as an Ecological Rationality for Healing the Earth Community
SECTION Ⅲ – ECOAESTHETICS AND ENVIRONMENTAL AESTHETICS
CHAPTER 9. Arnold Berleant's Environmental Aesthetics and Chinese Ecological Aesthetics
CHAPTER 10. Some Critical Reflections on Berleantian Critique of Kantian Aesthetics from the Perspective of Ecoaesthetics
CHAPTER 11. Critical Reflection on Arnold Berleant's Ideas on Ecological Aesthetics
SECTION Ⅳ – ECOAESTHETICS' APPLICATION
CHAPTER 12. Ecoaesthetics and Ecocriticism
CHAPTER 13. Contribution of Ecological Aesthetics to Urban Planning
CHAPTER 14. Urban Image and Urban Aesthetics: Urban Aesthetics in Cross-Cultural Perspective
About the Author:
Cheng Xiangzhan is a Professor at Sun Yat-sen University in Guangzhou, China. He was previously a professor of aesthetics, a Chang Jiang Scholar, a deputy dean of the School of Literature at Shandong University, China, a deputy director of Shandong University Research Center for Literary Theory and Aesthetics, a deputy director of Shandong University Research Center for Ecological Civilization and Ecoaesthetics, Director of Ecological Aesthetics Professional Committee of Chinese Aesthetic Society, a visiting scholar of Harvard-Yenching Institute at Harvard University (2006-2007), the executive editor of Newsletter on Ecoaesthetics and Ecocriticism, and a member of International Advisory Board of Contemporary Aesthetics. His fields of research include the history of Chinese aesthetics, environmental aesthetics, ecological aesthetics (i.e., ecoaesthetics or eco-aesthetics). His most recent books on ecoaesthetics are A Study of Environmental Aesthetics in China (Zhengzhou: Henan People's Publishing House, 2009), Ecological Aesthetics and Ecological Assessment and Planning (Zhengzhou: Henan People's Publishing House, 2013), An Introduction to Ecoaesthetics (Ji'nan: Shandong Publishing House of Arts and Literature, 2021), A History of Ecoaesthetics in the West (Ji'nan: Shandong Publishing House of Arts and Literature, 2021) and A General Introduction to Contemporary Western Environmental Aesthetics (Beijing: People's Publishing House, 2022). Eight of his work on ecological aesthetics are introduced in Allen Carlson's entry of "Environmental Aesthetics" for The Stanford Encyclopedia of Philosophy (Summer 2019 Edition), Edward N. Zalta (ed.), URL = <https://plato.stanford.edu/archives/sum2019/entries/environmental-aesthetics/>.)
His e-mail address is sducxz@163.com
Product Details:
ISBN (Print): 978-1-912997-79-4
ISBN (Digital): 978-1-912997-80-0
Series: Environmental Humanities
Publisher: Transnational Press London
Published: 9 October 2023
Language: English
Pages: 199
Binding: Paperback
Interior Ink: Black & white
Weight (approx.): 0.65 kg
Dimensions (approx.): 15cm wide x 23cm tall
Additional information
| | |
| --- | --- |
| Weight | 0.40 kg |
| Version | Print |
| Binding | Paperback |
| Interior Ink | Black and White |