Critical Posthumanism: Cloned, Toxic and Cyborg Bodies in Fiction
£24.50
Description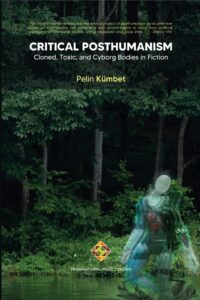 Critical Posthumanism: Cloned, Toxic and Cyborg Bodies in Fiction
by Pelin Kümbet
Published: 25 December 2020 [ Posthumanism Series: 1 ]
Paperback: ISBN: 978-1-80135-004-4: Buy from Amazon |
Digital: Read on Google Play | Read on Kindle | Read on CEEOL
Focusing on three representation of posthuman bodies as cloned bodies in Kazuo Ishiguro's Never Let Me Go (2005), toxic bodies in Indra Sinha's Animal's People (2007), and cyborg bodies in Justina Robson's Natural History (2004) from the theoretical perspectives of posthuman definition of what it means to be human, this study discusses the changing concept of the body. In this context, the integral and dynamic connection between a human body and the world is of special significance, which opens up new possibilities to reconfigure the human body that is no longer conceded separate from the nonhuman world but embodied in it. Each of the novels significantly displays the in-betweenness of humans by making them interact with chemical substances, machines, and other nonhuman entities, and shows how clear-cut distinctions between the human and the nonhuman bodies have collapsed.
"This book importantly expands the ethical project of posthumanism by its attentive focus on how bodies are entwined with environments to show how political economy differentiates bodies along racialized and class lines. " — Sherryl Vint
CONTENTS:
Introduction
Chapter I. Cloned Bodies: Kazuo Ishiguro's Never Let Me Go
Chapter II. Toxic Bodies: Indra Sinha's Animal's People
Chapter III. Cyborg Bodies: Justina Robson's Natural History
Conclusion: Towards a Posthuman(ist) Ethics
Bibliography
Index
About the Author:
Dr Pelin Kümbet is currently working as an English Lecturer in the Department of Western Languages and Literature at Kocaeli University, Turkey. She received her PhD from the department of English Language and Literature at Hacettepe University, Turkey. While doing her research on her doctoral dissertation, she became a visiting scholar in the English Department, University of California, Riverside, USA. Her dissertation discusses the cruciality of enacting dynamic, evolving, and living posthuman(ist) ethics, which embodies the acknowledgement of inherent and intrinsic values of all beings through different posthuman body representations. Dr Kümbet's general research interests include posthuman theory and ethics, posthuman bodies, medical and environmental humanities, in particular, the intersections between posthumanism, environmental humanities, gender issues and science fiction.
Product Details:
ISBN: 978-1-80135-004-4
Publisher: Transnational Press London
Published: 25 December 2020
Language: English
Pages: 158
Binding: Paperback
Interior Ink: Black & white
Weight (approx.): 0.4 kg
Dimensions (approx.): 15cm wide x 23cm tall
Additional information
| | |
| --- | --- |
| Weight | 0.40 kg |
| Version | Print |
| Binding | Paperback |
| Interior Ink | Black and White |