LITERATURE: Lingua Franca of Cultures
£22.50
Description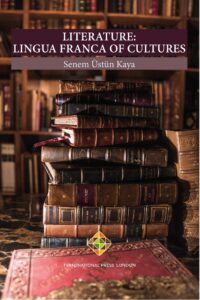 LITERATURE: Lingua Franca of Cultures
By Senem Üstün Kaya
Published: 3 April 2023 [Literature Series: 6]
Paperback: ISBN: 978-1-80135-211-6 Buy from Amazon | Buy from Talebe.com
Digital version: ISBN: 978-1-80135-212-3 | Read on Google Play | Read on Kindle | Read on CEEOL | Read on Talebe.com
Literature is an essential unit of a culture and social, political and historical changes in a society impact both culture, language, and particularly, literature. Although there are various languages in the world, literature is the main communication that connects people from different cultures and countries. Literature: Lingua Franca of Cultures, thus, is designed to depict the similarities between different cultures within similar issues and topics. To meet this purpose, the book contains thirteen chapters, each of which was designed to clarify, exemplify and interpret a specific theme, underscored by remarkable authors from different cultures. Within this scope, each chapter respectively presents a topic: diseases, male gaze, children, intimate relations, antagonists or protagonists, human nature, war and depression, parenthood, death and suicide, God and religion, geography and human, revenge, and alienation. In each chapter, notable literary texts from different authors were analyzed to foreground the thematic and contextual similarities. This book, hence, provides readers different perspectives and interpretations to better internalize the common themes and messages of world classics. Although there are various studies of the remarkable senior academicians in the comparative literary field, hopefully, Literature: Lingua Franca of Cultures would contribute to this field both for the academicians and readers.
Contents
INTRODUCTION
CHAPTER I: DISEASES
CHAPTER II: MALE GAZE
CHAPTER III: CHILDREN
CHAPTER IV: INTIMATE RELATIONS
CHAPTER V: ANTAGONISTS OR PROTAGONISTS
CHAPTER VI: HUMAN NATURE
CHAPTER VII: WAR AND DEPRESSION
CHAPTER VIII: PARENTHOOD
CHAPTER IX: DEATH AND SUICIDE
CHAPTER X: GOD AND RELIGION
CHAPTER XI: GEOGRAPHY AND HUMAN
CHAPTER XII: REVENGE
CHAPTER XIII: ALIENATION
About the author:
Assoc. Prof. Dr. Senem ÜSTÜN KAYA was born in Diyarbakır in 1974. She graduated from Hacettepe University, English Language and Literature Department in 1999 and received her PHD at Ankara University, Western Languages and Literature Department in 2009. Üstün Kaya has been the Head of ELT Department at Başkent University since 2013. She has contributed to the academic field via her articles at national and international journals, presentations at noteworthy seminars and books. Senem Üstün Kaya is the author of The Awakening of Angels in the House, Short Stories for ELT Classes, Edebiyatta Sonsuz bir Serüven: Karşılaştırmalı Edebiyat, The Spirit of Dickensian Style, The Shadows of Authors and Women Behind the Pens and the co-author of Drama in ELT, Sosyal ve İnsani Bilimler, Güncel Araştırmalar ve Yeni Eğilimler and Researching ELT: Classroom Methodology and Beyond. Her current research interests include comparative literary studies, gender studies, Stylistics, Western and Turkish Literatures.
Product Details:
ISBN: 978-1-80135-211-6 (paperback)
ISBN: 978-1-80135-212-3 (digital)
Publisher: Transnational Press London
Published: 3 April 2023
Language: English
Pages: 173
Binding: Paperback
Interior Ink: Black & white
Weight (approx.): 0.4 kg
Dimensions (approx.): 15cm wide x 23cm tall
Additional information
| | |
| --- | --- |
| Weight | 0.40 kg |
| Version | Print |
| Binding | Paperback |
| Interior Ink | Black and White |