LGBT+ Studies in Turkey
£24.50
Description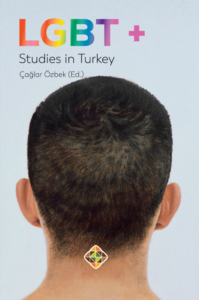 LGBT+ Studies in Turkey
Edited by Çağlar Özbek
Published: 4 February 2019
You can also purchase the book via the links below.
Paperback: ISBN: 978-1-912997-11-4: Buy from Lulu | Buy from Amazon
Electronic version: Buy from Google Play | Buy Kindle version | Buy at CEEOL
This volume brings together a selection of discussions on LGBT that are presented from different points of view and from different disciplines. This compilation consisting of nine chapters, focuses on the perspectives on LGBT in Turkey, in a broad range from NGOs to cinema, social policies to theatres. All chapters discuss Turkey and the studies of LGBT in Turkey and presented in two parts. First part is about the theoric and empirical studies which takes over Turkey experiences from a structural perspective. There are also two chapters comparing the UK and EU experiences with Turkey. The second part has more of text analysis which aligns with cultural studies.
"Today, the concept of gender is being re-defined throughout the world. The change that penetrates both the theoretical and the daily life, especially under the leadership of the USA and Europe, is recognised rapidly but with caution most of the time.
Unisex clothes, the world-famous fashion brands employing androgen models in their parades, many Western cultures allowing same-sex marriages and allowing those couples to have (adopt) children imply a genderless social structure. This anti-genderism comes along with the markets that produce even toothpaste or shower gel for women and men separately. The commercials and TV series still exploit the dualist identities of modernity as a marketing feature. The emphasis on violence against disadvantaged identities is fed here. The alienation, which was once carried out on AIDS, is now carried out on other obscurities today. Transphobia, homophobia, biphobia and other phobia that was fed by heteronormativity is more prominent more than they have ever been.
Here stands the great paradox!"
Content
PREFACE: WHAT IS GOING ON UNDER THE RAINBOW – Çağlar Özbek
PART I. THEORETICAL AND EMPIRICAL DEBATES
CHAPTER 1: EXPLORING THE INTERPLAY BETWEEN THE AIMS AND THE CONTEXT OF LGBTI+ ORGANISING: THE CASE OF LGBTI+ ORGANISATIONS IN TURKEY AND THE UK – Erhan Aydın and Mustafa F. Özbilgin
CHAPTER 2: A COMPARATIVE LOOK AT LGBT RIGHTS AND ACQUISITIONS: EUROPEAN UNION AND TURKEY – Gaye Gökalp Yılmaz
CHAPTER 3: TRANS WOMEN PRISONERS IN TURKEY – Selin Berghan
CHAPTER 4: OTHERS IN MEDIA: LGBT INDIVIDUALS – Yasemin Giritli İnceoğlu
CHAPTER 5: SOCIAL MEDIA USE IN LGBTQI MOVEMENTS IN TURKEY – Sinan Aşçı
PART II. CONTEXTUAL ANALYSIS
CHAPTER 6: QUEER CHARACTERS AND GENDER PERFORMANCES IN SAIT FAIK'S WORKS – Nazan Maksudyan
CHAPTER 7: AN ANALYSIS OF THE CINEMATIC REPRESENTATION OF LGBT: LOLA AND BILLY THE KID – Ayçin Alp and Çağlar Özbek
CHAPTER 8: KAOS GL MAGAZINE'S ROLE IN THE EMERGENCE OF THE LGBTI PUBLIC SPHERE IN TURKEY – İdil Engindeniz
CHAPTER 9: TRANSPHOBIA IN EBRU NİHAN CELKAN'S KİMSENİN ÖLMEDİĞİ BİR GÜNÜN ERTESİYDİ (AFTER THE DAY NOBODY DIED) – Evrim Ersöz Koç
About Editor:
Dr Çağlar Özbek is an Assistant Professor in Muğla Sıtkı Koçman University, Department of Labor Economics and Industrial Relations. Özbek, completed his PhD at Muğla Sıtkı Koçman University, Department of Sociology with the thesis titled; "New Actors of Democracy: Non-Governmental Organisations Within the Context of Ecologic, Feminist and LGBT Movements". He worked as a research assistant at the same university for 9 years at the Department of Sociology. His interests include international migration, gender, LGBTIQ studies, social movements, citizenship and identity. He is the co-author of the book Yerlileşen Yabancılar-Güney Ege Bölgesi'nde Göç, Yurttaşlık ve Kimliğin Dönüşümü (with Muammer Tuna, Detay Publishing). He worked as researcher in various research projects supported by TUBİTAK, EU, UNDP, United States Department of Labor and various organizations.
Product Details:
ISBN: 9781912997114
Publisher: Transnational Press London
Published: 4 Feb. 2019
Language: English
Pages: 151
Binding: Paperback
Interior Ink: Black & white
Weight (approx.): 0.30 kg
Dimensions (approx.): 15cm wide x 23cm tall
Additional information
| | |
| --- | --- |
| Weight | 0.30 kg |
| Version | Print |
| Binding | Paperback |
| Interior Ink | Black and White |