Legacy of Palestinian Education Reform
£24.50
Description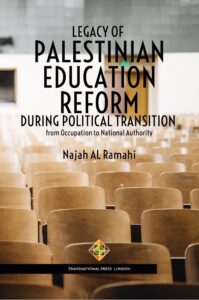 Legacy of Palestinian Education Reform
During Political Transition
from Occupation to National Authority
by Dr Najah Al Ramahi
Published: 10 April 2023 [ Education Series: 3 ]
Paperback: ISBN: 978-1-80135-047-1 Buy from Amazon | Talebe.com'dan al
Digital: ISBN: 978-1-80135-048-8 Read on Google Play | Read on Kindle | Read on CEEOL | Talebe.com'da oku
This book makes a major contribution to educational research and literature in exploring the process of educational reform in the period of Political transition in Palestine. It is aimed at describing the journey of changing Palestinian primary education and the legacy of establishing the first national education system in Palestine as well as the introduction of a number of educational reforms. The introduction of new educational reforms was urgently needed in order to achieve quality education in Palestinian schools. This was particularly crucial after the prolonged military occupation, which left the education system in a perilous situation and lowered education achievements for a whole generation. The book explores an attempt to retrieve Palestinian education after a prolonged period of military occupation and to rescue the education system from collapsing. It tells the story of reshaping national identity and reviving Palestinian heritage and culture.
Therefore, this book is the first one that captures the story of education reform against a background of struggle that should not be forgotten. It documents a unique period of time in Palestinian history and highlights the beginning of an education system in Palestinians' hands. Moreover, this book presents real life stories from Palestinian schools and shows the real struggle over power and control in the education system in Palestine.
Contents
Preface. 5
Introduction. 9
Chapter One: Defining the Context of the Study. 17
Chapter Two: Education in Palestine. 29
Chapter Three: The ILP is Socially Constructed Educational Reform.. 57
Chapter Four: Fieldwork Study and the Context of the ILP. 77
Chapter Five: The Journey of Reforming Palestinian Education. 97
Chapter Six: Conclusions and Recommendations 167
About the Author:
Dr Najah Al Ramahi is an eminent and accomplished educator with more than 20 years of experience in consulting, university lecturing, research, teacher training and strategic planning within the education sector.  She holds Doctoral and master's degrees in education management from Cardiff University of Wales. She worked as Assistant Professor for more than ten years and was a member of the Board of Directors for International schools. Her areas of expertise are qualitative research methodologies, the management of educational change and education quality.
Product Details:
ISBN (Print): 978-1-80135-047-1
ISBN (Digital): 978-1-80135-048-8
Series: Education Series
Publisher: Transnational Press London
Published: 9 April 2023
Language: English
Pages: 193
Binding: Paperback
Interior Ink: Black & white
Weight (approx.): 0.4 kg
Dimensions (approx.): 15cm wide x 23cm tall
Additional information
| | |
| --- | --- |
| Weight | 0.40 kg |
| Version | Print |
| Binding | Paperback |
| Interior Ink | Black and White |