Reassessing Activism and Engagement Among Arab Youth
£21.50
Description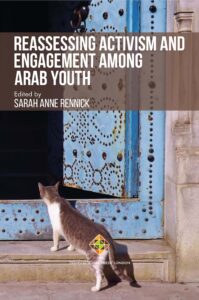 Reassessing Activism and Engagement Among Arab Youth
Edited by Sarah Anne Rennick
Published: 20 February 2022 [Peace, Conflict and Violence Series: 3]
Paperback: ISBN: 978-1-80135-117-1 Buy from Amazon | Buy from Lulu
Digital version: ISBN: 978-1-80135-118-8  Read on Google Play | Read on Kindle | Read on CEEOL | Read on Talebe.com
This collective volume contributes to the conceptual understanding of Arab youth and their relationship to politics by making explicit how civic engagement in seemingly 'apolitical' fields can be conceived as a form of political activism. In speaking with Algerian, Tunisian, Lebanese, and Syrian youth civic activists who also participated in their country's uprisings in 2011 or 2019, what is striking is their own insistence on the continuity between direct political protest and their civic engagement. Yet at the same time, these activists almost universally qualify their civic engagement as expressly 'apolitical'. Such reflections beg two questions: how do youth understand the notion of 'apolitical' engagement, and on what premise do they see continuity between political protest and so-called 'apolitical' civic engagement? To answer these questions, the studies draw on the analytical tools of practice theory, reconceptualizing 'youth' as a generational practice of politics, meaning a 'competent performance' of shared knowledge and understandings of what constitutes politics and the political. In conceiving of youth in these terms, this unorthodox collection – representing multidisciplinary and multilinguistic research and blending theoretical and practitioner perspectives – is able to bring to the fore how youth comprehend and indeed dichotomize their collective action with 'politics'.
CONTENTS
Introduction – Sarah Anne Rennick
Youth and Politics in Bouteflika's Algeria: Engagement at a Distance from 'Politics' – Layla Baamara
Hybrid, Culture-based, and Youthful: The New Political Commitment of Youth in Post-Revolutionary Tunisia – Mounir Saidani
The Imagined Community of Lebanese Youth Activists: Political Resistance by Other Means?  – Khaled Nasser and Sarah Anne Rennick
Syrian Revolutionary Youth: The Lost and Found of Political Agency – Hadia Kawikji
Is There a Youth Politics? – Asef Bayat
ABOUT THE AUTHORS:
Layla Baamara is a political scientist specialising in commitment, collective action, and protest mobilisations. Since 2009, her research has relied on fieldwork conducted mainly in Algeria and has focused on political parties, neighbourhood committees, young members of associations, and electoral campaigns. She recently co-edited the book Cheminements révolutionnaires. Un an de mobilisations en Algérie (2019-2020), published by CNRS editions. Researcher at the Institut de recherche sur le Maghreb contemporain in Tunis, her new research programme is about student movements and engagements.
Asef Bayat is Professor of Sociology, and Catherine & Bruce Bastian Professor of Global and Transnational Studies at the University of Illinois, Urbana-Champaign. Before joining Illinois, he taught at the American University in Cairo for many years; and served as the director of the International Institute for the Study of Islam in the Modern World (ISIM) holding the Chair of Society and Culture of the Modern Middle East at Leiden University, The Netherlands. His research areas range from social movements and social change, to religion and public life, urban space and politics, and contemporary Middle East. His recent books include Being Young and Muslim: Cultural Politics in the Global South and North (ed. with Linda Herrera) (Oxford University Press, 2010); Post-Islamism: The Changing Faces of Political Islam (Oxford University Press, 2013); Life as Politics: How Ordinary People Change the Middle East (Stanford University Press, 2013. 2nd edition), Revolution without Revolutionaries: Making Sense of the Arab Spring (Stanford University Press, 2017), Global Middle East: Into the 21st Century (ed. With Linda Herrera) (University of California Press, 2021), and Revolutionary Life: The Everyday of the Arab Spring (Harvard University Press, 2021).
Hadia Kawikji is a Syrian certified attorney at law since 2004. She is the co-founder and a Non-Resident Senior Fellow at the Omran Center for Strategic Studies, founded in 2013. She has more than 14 years' experience in governmental a non-governmental organizations in human rights, political affairs, and mediation in the Syrian peace process. She also has several publications in English and Arabic, and has participated as a speaker in dozens of events at the international level. In early 2016 she joined the High Negotiation Committee that is representing the opposition delegation in the Syria talks in Geneva as a consultant. During the Syrian crisis, she trained a number of local councils and local communities in Syria on governance, mediation skills, gender issues, and conflict analysis. She has a Master of Advanced Studies in Mediation in Peace Process from ETH Zurich, Switzerland (2019), and an International Master in Legal, Social, and Economic Sciences from Foggia, Italy (2007).
Khaled Nasser, PhD, is a family communication consultant who specializes in trauma management, parenting, and couples therapy. Nasser practices at his private clinic in Beirut, where he also administers neurofeedback training. He also provides trauma therapy and training sessions to refugee communities and journalists exposed to tensions in the Middle East. Nasser is a lecturer in Communication at the Lebanese American University (LAU) and the American University of Beirut (AUB). His research currently focuses on mapping the trauma impact among Arab journalists covering tensions in the Middle East.
Sarah Anne Rennick (editor) is the deputy director of the Arab Reform Initiative, an adjunct lecturer in Political Science at Sciences Po Paris, and in 2022 she is a researcher at the Centre for Advanced Middle East Studies at Lund University. Her research focuses on social movements, mobilization, and alternative forms of political engagement in the Arab region. More particularly, her work explores patterns and spaces of youth mobilization and civic and political participation, and various factors influencing when and how youth engage in collective action. She also works on Arab diaspora mobilization in the post-2011 period, exploring transnational/translocal political remittances and their impact on the creation of new identities, solidarities, and political practices in both host and home sites. Her book Politics and Revolution in Egypt: Rise and Fall of the Youth Activists (Routledge, 2018) involves a culturalist analysis of the revolutionary youth social movement that became a dominant social force during the 2011 Egyptian uprising. She holds a dual PhD in political science from Lund University and the Ecole des Hautes Etudes en Sciences Sociales.
Mounir Saidani is Professor of Sociology at the High Institute of Human Sciences, Tunis Al Manar University, Tunisia. He is interested in socio-anthropology of culture, knowledge and art, and socio-cultural change in contemporary Tunisia and the Arab World. He has published several books and articles in Arabic, French, and English in Tunisia and abroad. He has also translated books and articles in the field of his interest from French and English into Arabic. One of his latest publications is a 1,418 page report on the Religious State in Tunisia 2011-2015, a collective work on which he served as general supervisor and the editor in chief. He is leading a multidisciplinary research unit working on "Knowledges, Cultures, and Social Change" and is a member of the Executive Committee of the International Sociological Association. He has given lectures and presentations in A Coruña, Ajman, Ankara, Beirut, Brussels, Doha, Gottingen, Liège, Manama, Oran, Paris, Rabat, Santiago di Compostela, Taipei, Toronto, and Tunis. He is the Editor in Chief of the Tunisian Review of Social Sciences, edited since 1964 by the Centre for Economic and Social Studies and Research (CERES, 1962). He also coordinates the XVII ISA PhD Students Lab (September, 2022).
CREDITS: Cover Photo by Uta Scholl on unplash.com
PRODUCT DETAILS:
Peace, Conflict and Violence Series: 3
ISBN: 978-1-80135-117-1 (Print)
ISBN: 978-1-80135-118-8 (Digital)
Publisher: Transnational Press London
Published:  20 February 2022
Language: English
Pages: 112
Binding: Paperback
Interior Ink: Black & white
Weight (approx.): 0.50 kg
Dimensions (approx.): 15cm wide x 23cm tall
Additional information
| | |
| --- | --- |
| Weight | 0.40 kg |
| Version | Print |
| Binding | Paperback |
| Interior Ink | Black and White |