Political Function of Religion in Nationalistic Confrontations
£18.50
Political Function of Religion in Nationalistic Confrontations in Greater Kurdistan by Sabah Mofidi | Published: 20 January 2022 [Peace, Conflict and Violence Series: 2] | Paperback: ISBN: 978-1-80135-108-9 Buy from Amazon | Buy on Lulu | Buy on Talebe.com | Digital version: ISBN: 978-1-80135-109-6  Read on Google Play | Read on Kindle | Read on CEEOL | Read on Talebe.com
Description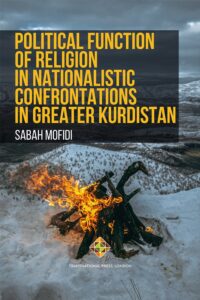 Political Function of Religion in Nationalistic Confrontations in Greater Kurdistan
By Sabah Mofidi
Published: 20 January 2022 [Peace, Conflict and Violence Series: 2]
Paperback: ISBN: 978-1-80135-108-9 Buy from Amazon | Buy from Lulu
Digital version: ISBN: 978-1-80135-109-6  Read on Google Play | Read on Kindle | Read on CEEOL | Read on Talebe.com
This book shows how the state-based and stateless ethno-nationalist forces in the four countries overlapping Kurdistan, i.e. Turkey, Iran, Syria and Iraq, have politically deployed religion in their nationalistic confrontations in Kurdistan as the converging area between them. The stances and actions of these different antagonistic forces are analyzed, as well as the dynamics between them. Unlike other studies on Kurdistan, it focuses on Greater Kurdistan as the arena for nationalist conflicts, instead of looking only at separate parts of Kurdistan. The research presented in this book shows that both the religious state (Iran) and so-called secular states (Turkey, Iraq and Syria) make use of religious discourse and symbols in order to impose power over 'their part' of Greater Kurdistan and as a way of countering Kurdish nationalist movements. The dominant ethno-nationalist groups of Fars, Turk and Arab have politically used Islam, during wars and elections, to gain and maintain their power over Kurdish areas. Conversely, Kurdish nationalist groups have also tried to neutralize those states' policies by evoking religious symbols and discourses. Nevertheless, as the book concludes, the unequal political power balance between the four states on one side, and the stateless Kurdish nationalist groups on the other, has resulted in the latter being restricted in using religion as a means to gain power in the region.
Sabah Mofidi offers a rich analysis of fierce nationalist confrontations in Greater Kurdistan since the 19th century. In doing so, this study makes a highly textured contribution to the history of religious nationalism by demonstrating the shifting ways in which Islam, as well as minority religions, have been variably harnessed to political projects by both secular and religious (non-)state actors, including Turkish, Arab, Perso-Iranian and Kurdish ones.

Dr Markha Valenta, Utrecht University
In the case of the Kurds, the changing relations between religion and national identity are particularly complex and contradictory in nature. Sabah Mofidi's study presents us with a useful historicizing overview, from a political-scientific perspective, of these relations in the four major parts of Kurdistan. Especially valuable is his discussion of the Kurds' confrontations with the successive regimes in Iran, which is partly based on oral information that is not easily available elsewhere.

Dr Michiel Leezenberg, University of Amsterdam
CONTENTS
CONTENTS
Introduction
Theoretical and Conceptual Overview
Nationalistic Confrontations in Contemporary Kurdistan
Turkey: Turkish-Kurdish confrontation in Bakûr
Iraq: Arab-Kurdish confrontation in Başûr
Syria: Arab-Kurdish confrontation in Rojava
Iran: Persian-Kurdish confrontation in Rojhelat
Conclusion
Bibliography
ABOUT THE AUTHORS:
Dr Sabah Mofidi, from Rojhelat (Eastern Kurdistan), is a Kurdish studies scholar who researches Kurdish Political history, political identity, and the relationship between religion and politics. After earning a master's degree in political science in Iran in 2007, he completed his doctorate in India's same field in 2014. From 2014 to 2019, he was a university lecturer in Rojhelat teaching political structures and fundamental rights, and at the same time, he was a research fellow at the Kurdistan Conflict and Crisis Research Center (KCCRC) in Başûr (Southern Kurdistan) working on religio-political issues of Kurdistan and the Middle East. He continued his studies as a research fellow at the Netherlands Institute for Advanced Study in the Humanities and Social Sciences (NIAS), Amsterdam, from 2019 to 2021, studying the Political Function of Religion in the Middle East, focusing on Greater Kurdistan. Currently, Sabah Mofidi is working on a project on the change in political identity among Kurdish immigrants in western Europe, holding a postdoctoral scholarship funded by the Gerda Henkel Foundation and hosted by the University of Amsterdam. His articles and books have been published in Kurdish, English and Persian.
CREDITS:
Cover Photo by Mohammed Abdullah on unplash.com
PRODUCT DETAILS:
Peace, Conflict and Violence Series: 2
ISBN: 978-1-80135-108-9 (Print)
ISBN: 978-1-80135-109-6 (Digital)
Publisher: Transnational Press London
Published:  20 January 2022
Language: English
Pages: 109
Binding: Paperback
Interior Ink: Black & white
Weight (approx.): 0.50 kg
Dimensions (approx.): 15cm wide x 23cm tall
Additional information
| | |
| --- | --- |
| Weight | 0.40 kg |
| Version | Print |
| Binding | Paperback |
| Interior Ink | Black and White |