Youth Identity, Politics and Change in Contemporary Kurdistan
£24.50
Description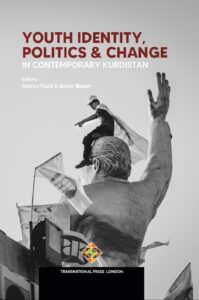 Youth Identity, Politics and Change in Contemporary Kurdistan
Editors: Shivan Fazil and Bahar Baser
Published: 1 September 2021 [Peace, Conflict and Violence Series: 1]
Paperback: ISBN: 978-1-80135-078-5 Buy from Amazon | Buy on Talebe.com
Digital version: ISBN: 978-1-80135-079-2  Read on Google Play | Read on Kindle | Read on CEEOL | Read on Talebe.com
Today's youth are challenging the older political class around the world and are forming new political generations. Examples from South Africa and elsewhere where peace processes were deemed to be successful show signs of youth disapproval of the current post-conflict conditions. Moreover, the Arab Spring witnessed numerous youth movements emerge in authoritarian and illiberal contexts. This book was prepared in light of these discussions and aims to contribute to these ongoing debates on youth politics by presenting the situation of youth in the Kurdistan Region of Iraq (KRI) as a case study. It will be the first book that specifically focuses on the Iraqi Kurdish youth and their political, social, and economic participation in Kurdistan.
The contemporary history of the KRI is marked by conflict, war, and ethnic cleansing under Saddam Hussein and the tyranny of the Ba'ath regime, significantly affecting the political situation of the Kurds in the Middle East. Most of the recent academic literature has focused on the broader picture or, in other words, the macro politics of the Kurdish conundrum within Iraq and beyond. There is little scholarship about the Kurdish population and their socio-economic conditions after 2003, and almost none about the younger generation of Kurds who came of age during autonomous Kurdish rule. This is a generation that, unlike their forebears, has no direct memory of the decades-long campaigns of repression. Studying and examining the rise of this generation of Kurdish young millennials—"Generation 2000"—who came of age in the aftermath of the United States invasion of Iraq offers a unique approach to understand the dynamics in a region that underwent a substantial socio-political transformation after 2003 as well as the impact of these developments on the youth population. Pursuing different themes and lines of inquiry the contributors of the book analyze the challenges and opportunities for young men and women to fulfil their needs and desires, and contribute to the ongoing quest for nationhood and nation-building.
"In this book, our aim is to bring together a variety of perspectives from local and foreign academics who have been working on pressing issues in Kurdistan and beyond. The chapters focus on an array of themes, particularly including political participation, political situation and change, religiosity, and extremism. … Taken together, the chapters provide us with an introduction to youth politics in Kurdistan. This book is just the first attempt to open academic and nonacademic debate on this subject at a time when protests around youth-related issues are becoming a more prevalent method of political engagement in the region. Our hope is that more research follows and supplements what has not been addressed in this book, especially through the introduction of first-hand youth perspectives to the core of this analysis and giving them a voice in nonviolent platforms."
CONTENTS
Foreword: Youth in the Kurdistan Region and Their Past and Present Roles – Karwan Jamal Tahir
Kurdish Youth as Agents of Change: Political Participation, Looming Challenges, and Future Predictions – Shivan Fazil and Bahar Baser
CHAPTER 1. Youth Political Participation and Prospects for Democratic Reform in Iraqi Kurdistan – Munir H. Mohammad
CHAPTER 2. Social Media, Youth Organization, and Public Order in the Kurdistan Region of Iraq – Megan Connelly
CHAPTER 3. Constructing Their Own Liberation: Youth's Reimagining of Gender and Queer Sexuality in Iraqi Kurdistan – Hawzhin Azeez
CHAPTER 4. Kurdish Youth and Civic Culture: Support for Democracy Among Kurdish and non-Kurdish Youth in Iraq – Dastan Jasim
CHAPTER 5. Youth and Nationalism in the Kurdistan Region of Iraq – Sofia Barbarani
CHAPTER 6. An Elitist Interpretation of KRG Governance: How Self-Serving Kurdish Elites Govern Under the Guise of Democracy and the Subsequent Implications for Representation and Change – Bamo Nouri
CHAPTER 7. Educational Policy in the Kurdistan Region: A Critical Democratic Response – Abdurrahman Ahmad Wahab
CHAPTER 8. Making Heaven in a Shithole: Changing Political Engagement in the Aftermath of the Islamic State – Lana Askari
CHAPTER 9. Kurdish Youth and Religious Identity: Between Religious and National Tensions – Ibrahim Sadiq
CHAPTER 10. Youth Radicalization in Kurdistan: The Government Response – Kamaran Palani
ABOUT THE AUTHORS:
Karwan Jamal Tahir is the Kurdistan Regional Government's High Representative to the UK. He has previously served as the Deputy Minister at the Department of Foreign Relations where he has promoted the Kurdistan region's relations with the international community on political and cultural levels through his engagements in numerous conferences around the world. From 2005-2007 he also served as an Advisor at the Council of Ministers and a Senior Advisor at the KRG's Ministry of Natural Resources. He played a pivotal role in the Ministry of Natural Resources' strategic plans and relations with the IOCs.
Shivan Fazil is a Researcher with the Middle East and North Africa Programme at Stockholm International Peace Research Institute. His work focuses on drivers of conflict, peacebuilding, and governance in Iraq. Shivan holds an MSc in Middle Eastern Politics from the School of Oriental and African Studies, University of London. He is the recipient of the Chevening Scholarship, a prestigious award by the UK Foreign, Commonwealth and Development Office.
Bahar Baser is Associate Professor in Middle Eastern Studies at Durham University. Previously, she was Associate Professor at the Centre for Trust, Peace and Social Relations at Coventry University. She is also a research associate at the Security Institute for Leadership in Africa, Stellenbosch University and visiting researcher at the Tampere Peace Research Institute, Finland. Her expertise lies in diaspora studies and peace and conflict studies with a regional focus on the Middle East.
Munir Hasan Mohammad holds a PhD in Politics and International Studies from University of Warwick, United Kingdom. Previously he was Lecturer at Salahaddin University-Erbil. He also worked as a trainer with several International NGOs to promote democracy in the Kurdistan region. His research interests include international politics of the Middle East with particular focus in democracy and democratization politics. He is the author of a book on Social Media and Democratization in Iraqi Kurdistan.
Megan Connelly is Non-Resident Fellow at the American University of Iraq-Sulaimani, Institute of Regional and International Studies. She is focusing on the politics of the Kurdistan Region – Iraq and she has published articles for the Middle East Institute, Sada, and the Arab Center for Research and Policy Studies. She received her BA from Buffalo State College in 2014 and her JD from SUNY University at Buffalo in 2020.
Hawzhin Azeez is a Kurdish academic, activist, and poet. She holds a Ph.D. in Political Science and International Relations specializing in post-conflict nation building and democratization. She has worked with local and international NGOs in the field of post-war reconstruction in Syria for three years. She is researching and teaching as a visiting scholar at the American University's Centre for Gender and Development Studies in Sulaimani, Iraq.
Dastan Jasim is a doctoral candidate at the German Institute for Global and Area Studies in Hamburg. Her dissertation project covers the Civic Culture of Statelessness of Kurds in Iraq, Iran, Syria and Turkey. She is also a researcher at the Heidelberg Institute for International Conflict Research, focusing on violent conflicts of Kurdish areas in Syria and Iraq. In 2019, she was a visiting scholar at the Center of Gender Development and Studies at the American University of Iraq – Sulaimani, where she coordinated a project analyzing gender depictions in Iraqi TV.
Sofia Barbarani is a freelance journalist covering the Middle East. Her work focuses on the impact of conflict on civilian populations, as well as gender, security, politics and women's issues. She was based in the Kurdistan Region from 2013 to 2016, during which she reported on the rise and fall of ISIS in Iraq and Syria for leading publications including The Telegraph, The Economist and Thomson Reuters Foundation.
Bamo Nouri is Lecturer in International Relations at the School of Human and Social Sciences, University of West London. He is an independent investigative journalist and writer with interests in American foreign policy and the international and domestic politics of the Middle East. He is currently an Honorary Research Fellow at City, University of London.
Abdurrahman Wahab is Lecturer in the Faculty of Education at Tishk International University, in Erbil. Dr Wahab has a Ph.D. in Social Justice Education and Educational Policy from the University of Toronto. He is also a Fulbright alumnus from Iraq to the United States where he received his MA in English. His research focuses on democratic education and pedagogy, educational policy and program evaluation, sociology of ethnic and national identities and nation-state building, teacher education, literary and cultural studies, curriculum design and program development.
Lana Askari has a PhD in Social Anthropology with Visual Media from the University of Manchester. She studied political science and anthropology at University College Utrecht and Cambridge University, and was trained in documentary filmmaking at the Granada Centre for Visual Anthropology Manchester. Lana is interested in the anthropology of the Middle East, the Kurdistan Region and issues of migration, youth, future and (urban) planning and ethnographic documentary film. Her PhD research focused on how people in Iraqi Kurdistan imagine and plan their future in times of crisis, for which she produced the films "Bridge to Kobane" (2016) and "Future Factory" (2018). She currently works for the Dutch Ministry of Foreign affairs and researches the human rights and security situation in countries in the Middle East.
Ibrahim Sadiq is a researcher and writer who has worked as a lecturer in sociology at Soran University in Iraqi Kurdistan. He is also a visiting fellow at Coventry University. He has decades of experience working with a variety of Kurdish newspapers and TV channels in Iraq and Europe and advising humanitarian organizations in the Middle East and Europe on social integration and intercultural relations.
Kamaran Palani is a Research Fellow at the Middle East Research Institute and a Lecturer in International Relations at Salahaddin University-Erbil. Palani is also an Associate Fellow at Al Sharq Strategic Research. He defended his PhD thesis on Fluidity and Dynamics of De Facto Statehood: The Case of Iraqi Kurdistan (Leiden University, 2021). His research interests include Iraqi politics, regional Kurdish politics, de facto statehood in the international system, and violent extremism in the Middle East.
CREDITS:
Cover Photo by Tobias Schreiner, www.tobias-schreiner.com
Cover Design: Olivia Blinn, www.oliviablinn.com
PRODUCT DETAILS:
Peace, Conflict and Violence Series: 1
ISBN: 978-1-80135-078-5 (Print)
ISBN: 978-1-80135-079-2 (Digital)
Publisher: Transnational Press London
Published:  1 September 2021
Language: English
Pages: 251
Binding: Paperback
Interior Ink: Black & white
Weight (approx.): 0.50 kg
Dimensions (approx.): 15cm wide x 23cm tall
Additional information
| | |
| --- | --- |
| Weight | 0.40 kg |
| Version | Print |
| Binding | Paperback |
| Interior Ink | Black and White |