Küreselleşen Dünyada Kadın ve Siyaset II
£24.50
Description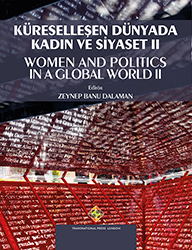 Küreselleşen Dünyada Kadın ve Siyaset II
Women and Politics in a Global World II
Editör: Zeynep Banu Dalaman
Published: 26.06.2021 [ Society and Politics: 8 ]
Paperback: ISBN: 978-1-80135-063-1  Talebe.com'dan al | Buy from Lulu | Buy from Amazon
Digital: ISBN: 978-1-80135-037-2  Google Play'de oku | Talebe.com'da oku
Bu kitapta yer alan kitap bölümleri, 25-26 Aralık 2020 tarihlerinde "online" platformda gerçekleşen  "2. Uluslararası Küresel Dünyada Kadın ve Siyaset  Kongresi"nde sunulan 48 bildiri içinden seçilerek ve çift "kör hakem" sürecinden geçirilerek basılmıştır.
Kongrede Türkçe veya İngilizce dillerinde sunulan bildiriler, sunuldukları dilde kitapta yer almışlardır. COVID-19 salgını, en derin güvenlik açıklarımızı ve en büyük güçlerimizi ortaya çıkardı. Birbiriyle bağlantılı bir dünyada, bulaşıcı bir hastalığın nasıl yıkıcı bir hızla sınırlara, şehirlere ve caddelere yayıldığını gördük. Bu ortam öncesinde fiziksel olarak tasarladığımız konferans deneyimini sanal ortamda gerçekleştirmeyi, sunmayı başardık. Böylece kitap bölümü yazarları birbirlerini sadece sanal ortamda birbirlerini tanıyıp bu kitapta buluşmuş oldular.
The chapters in this book are printed through being selected from 48 papers presented at "2nd International Congress on Women and Politics in a Global World" held "online" platform on December 25-26, 2020 and double blind peer-review process.
The papers presented at the congress in Turkish or English were included in the book in the language in which they were presented. COVID-19 pandemic exposed our deepest vulnerabilities and greatest power. In an interconnected world, we have seen how an infectious disease spreads across borders, cities and streets at devastating speed. We were able to run a virtual conference that we designed it physically before the pandemic. Thus, the authors of the chapters only have to know each other in a virtual environment and come together in this book.
İÇİNDEKİLER / CONTENTS
I. TARİHSEL PERSPEKTİFTEN KADIN / WOMEN FROM HISTORICAL PERSPECTIVE
OSMANLI TOPLUMU SON DÖNEMİNDE KADIN DERGİLERİ VE FEMİNİST UYANIŞ / FEMINIST AWAKENING THROUGH WOMEN'S MAGAZINES IN THE LAST PERIOD OF THE OTTOMAN SOCIETY – Zeynep Banu Dalaman
KADIN HAKLARI KONUSUNDA BİR ÖNCÜ: SÜREYYA AĞAOĞLU / SÜREYYA AĞAOĞLU: A PIONEER IN WOMEN'S RIGHTS – Zeynep Özlem Üskül Engin
ÇİLLER HÜKÜMETLERİNİN (1993-1996) KADIN POLİTİKALARI AÇISINDAN DEĞERLENDİRİLMESİ / EVALUATION OF CILLER GOVERNMENTS (1993-1996) IN TERMS OF WOMEN'S POLICIES – Ece Yüksel
II. KADIN VE SİYASİ KATILIM / WOMEN AND POLITICAL PARTICIPATION
TÜRKİYE'DE KADINLARIN SİYASAL KATILIMDA KONUMU / THE POSITION OF WOMEN IN POLITICAL PARTICIPATION IN TURKEY – Ceren Avcil
TÜRKİYE'DE KADINLARIN SİYASAL KATILIMI: KÜRESEL TOPLUMSAL CİNSİYET UÇURUM RAPORU ÜZERİNDEN BİR DEĞERLENDİRME / WOMEN'S POLITICAL PARTICIPATION IN TURKEY: AN ASSESSMENT OF THE GLOBAL GENDER INEQUALITY REPORT – Hazal Ilgın Bahçeci Başarmak & İrem Ece Akpınar
YERELDE EŞİTLİK MÜCADELESİ: MUHTAR KADINLAR / STRUGGLE FOR EQUALITY LOCALLY: MUKHTAR WOMEN – Hilal Dokuzcan
27. DÖNEM MİLLETVEKİLİ SEÇİMİNDE TOPLUMSAL CİNSİYET EŞİTLİĞİ / GENDER EQUALITY IN THE 27th TERM PARLIAMENTARY ELECTION – Nuray Karaoğlu & Ayşe Kaşıkırık
III. KADIN, SİYASİ HAKLAR VE VATANDAŞLIK / WOMEN, RIGHTS AND CITIZENSHIP
ANTIGONE IN PALESTINE.  LUISA  MORGANTINI  AND  THE  DEFENSE  OF  THE  OPPRESSED – Anna Di Giusto
'COMPLEMENTARY' OR 'EQUAL'? THE RISE OF 'MODERATE' ISLAMISM AND THE UNDECLARED WAR ON WOMEN RIGHTS IN TUNISIA – Hajer Ben Hadj Salem
IV. KADIN, MEDYA VE SANAT / WOMEN, MEDIA AND ART
TÜKETİM KÜLTÜRÜ ÇERÇEVESİNDE SOSYAL MEDYA KANALLARI ÜZERİNDEN KADININ METALAŞTIRILMASI SORUNSALI / THE PROBLEMATIC OF WOMEN'S METALIZATION THROUGH SOCIAL MEDIA CHANNELS, IN THE FRAMEWORK OF CULTURE OF CONSUMPTION – Pınar Sevginer & Burçak Kadıoğlu
KADIN VE YABANCILAŞMA / WOMAN AND ALIENATION – Diler Ezgi Tarhan
REPRESENTATION OF MEGXIT CRISIS ON BRITISH NEWSPAPERS / MEGXİT KRİZİNİN İNGİLİZ GAZETELERİNDE TEMSİLİ – Gözde Yirmibeşoğlu & Begüm Birsen Arslan Çelik
TOPLUMSAL HAFIZANIN KARANLIK DEHLİZİNE SIZAN IŞIK: "ALYAZMA ANITI" / THE LIGHT THROUGHOUT THE DARK TUNNEL OF SOCIAL MEMORY: THE "ALYAZMA MONUMENT" – Lütfiye Bozdağ
V. KADIN VE GÖÇ / WOMEN AND MIGRATION
MONGOLIAN WOMEN'S MARRIAGE MIGRATION TO SOUTH KOREA, 2000-2010 / Tsetsegjargal Tseden
WOMEN AND MIGRATION: A SOCIOLOGICAL REVIEW ON THE CURRENT TRENDS AND FUTURE OF WOMEN MIGRATION IN BANGLADESH / Manzuma Ahsan
VI. KADINA YÖNELİK ŞİDDET / VIOLENCE AGAINST WOMEN
ETHIOPIAN LEGAL REGIMES VIS-À-VIS GENDER BASED VIOLENCE / CİNSİYET TEMELLİ ŞİDDETE YÖNELİK ETİYOPYA YASAL REJİMLERİ – Marew Abebe Salemot & Alemsteyahe Birhanu Behaksira
6284 SAYILI KANUN KAPSAMINDA TEDBİR KARARLARININ VERİLMESİ VE UYGULANMASINA İLİŞKİN USUL VE ESASLARIN DEĞERLENDİRİLMESİ / EVALUATION OF THE RULES AND PROCEDURES REGARDING TAKING AND IMPLEMENTATION OF THE CAUTIONARY DECISIONS WITHIN THE SCOPE OF LAW NO. 6284 – Simge Aksu Kayacan
A POLITICAL READING OF SEXUAL VIOLENCE. THE INTERPRETATIVE MODEL OF RITA LAURA  SEGATO AND THE CONTRIBUTION OF LATIN AMERICAN FEMINIST THOUGHT TO THE ISSUE OF GENDER-BASED VIOLENCE – Susanna Mantioni
FLIRTING WITH DEATH: REFLECTIONS ON WOMEN WORKING IN THIKA'S FRESH CUT FLOWER INDUSTRY, 1990-2019 – Felistus Kinyanjui
---
Bu kitap İstanbul Ayvansaray Üniversitesi desteğiyle yayınlanmıştır.
This book has been published with the support of Istanbul Ayvansaray University, Turkey.
---
Product Details:
Society and Politics Series: 8
ISBN: 978-1-80135-063-1 (print)
ISBN: 978-1-80135-064-8 (dijital)
Publisher: Transnational Press London
Published: 26 June 2021
Language: English
Pages: 237
Binding: Paperback
Interior Ink: Black & white
Weight (approx.): 0.4 kg
Dimensions (approx.): 15cm wide x 23cm tall
Additional information
| | |
| --- | --- |
| Weight | 0.40 kg |
| Version | Print |
| Binding | Paperback |
| Interior Ink | Black and White |