Turkey's Syrians: Today and Tomorrow
£24.50 – £45.00
Turkey's Syrians: Today and Tomorrow edited by Deniz Eroğlu UTKU, K. Onur UNUTULMAZ, Ibrahim SIRKECI | Published: 21 December 2017 | 254 pp. | paperback | ISBN: 978-1-910781-74-6 | Digital | Read on Kindle | Read on Google Play | Read at CEEOL
Description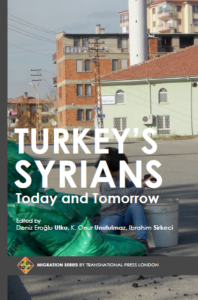 Turkey's Syrians: Today and Tomorrow
Edited by Deniz Eroğlu UTKU, K. Onur UNUTULMAZ, Ibrahim SIRKECI
Published: 21 December 2017
Paperback | ISBN: 978-1-910781-74-6: Buy from Lulu | Buy at Amazon Türk | Buy at Amazon UK 
Hardcover | ISBN: 978-1-910781-75-3: Buy from Lulu 
Digital | Read on Kindle | Read on Google Play | Read at CEEOL
Since the first arrival of Syrian refugees, the issue has sparked considerable national and international interest. Political discourses concentrated on state 'generosities' to provide protection to those coming from insecurities and possibilities to reduce 'burden of refugees' to receiving countries via international solidarity. While these concerns focus on effects of hosting refugees, what happens to refugees themselves, how they are affected by government policies and how they are perceived by host country people are questions yet to be answered. This book brings together a multidisciplinary set of contributions scrutinising the case of Syrian refugees in Turkey.
Contents
About the Authors
Chapter One: Syrian Communities in Turkey: Conflict Induced Diaspora – K. Onur Unutulmaz, Ibrahim Sirkeci, Deniz Eroğlu Utku
Chapter Two: Biopolitical Problematic: Syrian Refugees in Turkey – H. Yaprak Civelek
Chapter Three: Deserving Refugee or Undeserving Migrant? The Politics of the Refugee Category in Turkey – Funda Ustek Spilda
PART 2 CASE STUDIES
Chapter Four: Civil Society and Syrian Refugees in Turkey: a Human Security Perspective – Helen Macreath, M. Utku Güngör, S. Gülfer Sağnıç
Chapter Five: Contesting Refugees in Turkey: Political Parties and the Syrian Refugees – Aslı Ilgıt, Fulya Memişoğlu
Chapter Six: Syrian Refugees in a Slum Neighbourhood Poor Turkish Residents Encountering the Other in Önder Neighbourhood, Altındağ, Ankara – Tahire Erman
Chapter Seven: Comparative Analysis of Public Attitudes towards Syrian Refugees in Turkish Cities of Ankara and Hatay – Güneş Gökgöz, Alexa Arena, Cansu Aydın
Chapter Eight: Temporary Education Centres as a Temporary Solution for Educational Problems of Syrian Refugee Children in Mersin – Bilge Deniz Çatak
Chapter Nine: Social Identity Motives, Boundary Definitions, and Attitudes towards Syrian Refugees in Turkey – Nagihan Taşdemir
PART 3 FUTURE PROSPECTS
Chapter Ten: Demographic Gaps between Syrian and the European Populations: What Do They suggest? – M. Murat Yüceşahin, Ibrahim Sirkeci
Chapter Eleven: Integration of Syrians: Politics of Integration in Turkey in the Face of a Closing Window of Opportunity – K. Onur Unutulmaz
CONCLUSION – K. Onur Unutulmaz, Ibrahim Sirkeci, Deniz Eroğlu Utku
ABOUT THE EDITORS:
Dr Deniz Eroğlu Utku is Assistant Professor in the Department for Public Administration in Trakya University and former deputy director of the Institute for Roman Language and Culture, Trakya University, Edirne, Turkey. She holds a PhD and a Master degree in Government Department at the University of Essex.
Dr K. Onur Unutulmaz is currently the Deputy Head of Department of International Relations, Social Sciences University of Ankara, Turkey. He received his doctorate from the University of Oxford in Social and Cultural Anthropology.
Prof Dr Ibrahim Sirkeci is Chair of Transnational Studies and Director of Regent's Centre for Migration and Integration at Regent's University London, United Kingdom.
CREDITS: Cover Design: Gizem Cakir | Cover photo: Tahire Erman
Additional information
| | |
| --- | --- |
| Weight | 0.45 kg |
| Binding | Paperback, Hardcover |