Women's Voices from Kurdistan
£19.50
Description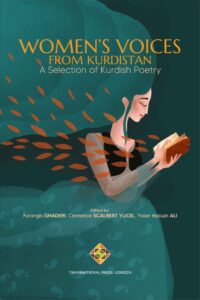 Women's Voices from Kurdistan
A Selection of Kurdish Poetry
Edited by Farangis Ghaderi, Clémence Scalbert Yücel, Yaser Hassan Ali
Published:  14 April 2021 [Heritage Series: 4]
Paperback: ISBN: 978-1-912997-81-7  Buy from Amazon | Talebe.com'dan satın al
Digital version: ISBN: 978-1-80135-033-4  Read on Google Play | Read on Kindle | Read on CEEOL | Read on Talebe.com
Against the backdrop of war and violence, social-political as well as lingual repressions, and the challenges presented by a patriarchal society, Kurdish poetesses have been creating meaningful work throughout the centuries. This collection of translated poems brings to light some of these underrepresented female writers, whose work has been essential to the development of Kurdish poetry. Representing various Kurdish regions and dialects, this volume of selected poems touches upon themes such as sexuality, violence, gender domination, intimacy, fantasy, and romantic love. While this collection offers illuminating insights into the work of Kurdish poetesses, it is the hope of its creators, the Exeter Kurdish Translation Initiative, that it inspires further translations and publication of Kurdish literature.
This beautiful and groundbreaking collection of English translations from Gorani, Sorani, Kurmanji, and Arabic was achieved through an innovative collaborative translation project in the  Centre for Kurdish Studies, University of Exeter.  From the nineteenth to the twenty-first century, it expresses women's voices on politics, nationalism, gender, love, science, education, and everyday Kurdishness in memory, elegy, dream, and discourse.  See such haunting lines from Gulîzer as "May those who have stayed not say the leaving is easy./ May those who have left not say the staying is simple." Or "When two rivers separate/ How do they part their water?" Anyone interested in women's poetry, diaspora, translation, and transnation will want to hear these poems.

– Regenia Gagnier FBA, author of Literatures of Liberalization: Global Circulation and the Long Nineteenth Century and editor, The Global Circulation Project

The vivid image of love, lost, hope, beauty, desire, violence, pain, and suffering that are sketched in this book enchant and attract readers to enter into a more intimate lives of Kurdish women. In this exquisite collection of poems written by Kurdish women and translated into English for the first time, we are exposed to a more imaginative way of hearing Kurdish women's voices. It is in the interstices of lived words and the lifeworld that Kurdish women poets candidly dream freedom and suggest ways to move beyond all forms of oppression and violence.

– Shahrzad Mojab, Professor, University of Toronto and the editor of Women of Non-State Nation: The Kurds.
CONTENTS
Translating Kurdish Poetry as a Collective Endeavour – Farangis Ghaderi and Clémence Scalbert Yücel
Unsung Poets of Kurdistan: A Reflection on Women's Voices in Kurdish Poetry – Farangis Ghaderi and Clémence Scalbert-Yücel
Mestûre Erdelan
Hêmin
Fayeq Bêkes
Jîla Huseynî
Diya Ciwan
Tîroj
Trîfa Doskî
Viyan M. Tahir
Gulîzer
ABOUT THE EDITORS:
Clémence Scalbert Yücel holds a BA in Kurdish languages and civilisations (INALCO, Paris) and a PhD in human geography (Sorbonne-Paris VI). She has been a lecturer in Kurdish Studies at the Institute of Arab and Islamic Studies, University of Exeter since 2007. She has published extensively on Kurdish literature, Kurdish heritage, and cultural production in Turkey, including her monograph Langue, Littérature et engagement. Le champ littéraire kurde en Turquie – 1980-2010 (Paris, Petra, 2014). She is a member of the editorial board of the European Journal of Turkish Studies.
Farangis Ghaderi is a researcher at Jagiellonian University and associate research fellow at the Institute of Arab and Islamic Studies, the University of Exeter. She obtained her PhD from the University of Exeter in 2016 and her doctoral research examined the emergence and development of modern Kurdish poetry. She is the author of several peer-reviewed articles on Kurdish literature and is associate editor of Kurdish Studies Journal and co-editor of the Kurdish-language academic journal, Derwaze.
Yaser Hassan Ali is a lecturer at Nawroz University in Duhok. After earning bachelor's and master's degrees in Kurdish literature, he received his PhD in Kurdish Studies from the University of Exeter. He is the author of The Rhythmic Structure of Modern Kurdish Poetry (Duhok, 2007). Ali worked as an editor and secretary of Peyv magazine (2004-2009), and as a reporter and translator for Evro daily newspaper (2012-2015).
The translation editor Rinat Harel holds bachelor's and master's degrees in fine art, and has studied in a master's program in creative writing at Emerson College in Boston, where she received the 2015 Nonfiction Award. Her writing has been published in a host of literary magazines, and she is currently a PhD candidate in creative writing at the University of Exeter in England.
CREDITS: Cover design by Nihal Yazgan | Cover Image: Rounak Rasoulpoor | Translation Editor: Rinat Harel
PRODUCT DETAILS:
ISBN: 978-1-912997-81-7 (Print)
ISBN: 978-1-80135-033-4 (Digital)
Publisher: Transnational Press London
Published:  14 April 2021
Language: English – Kurdish
Pages: 99
Binding: Paperback
Interior Ink: Black & white
Weight (approx.): 0.40 kg
Dimensions (approx.): 15cm wide x 23cm tall
Additional information
| | |
| --- | --- |
| Weight | 0.40 kg |
| Version | Print |
| Binding | Paperback |
| Interior Ink | Black and White |