Sale!
The Autonomous Administration of North and East Syria
Description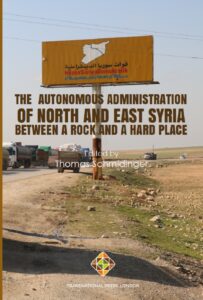 The Autonomous Administration of North and East Syria: Between A Rock and A Hard Place
Edited by Thomas Schmidinger
Published: 28 November 2020
Paperback: ISBN: 978-1-912997-51-0 | Buy from Lulu | Buy from Amazon
Electronic version: Read on Google Play | Read on Kindle | Read on CEEOL
This book is based on papers presented at the conference. However, it is not a typical publication of academic conference proceedings because the topics are not completely congruent with those of the conference. Some lectures that could not be held due to travel restrictions related to the coronavirus pandemic were submitted as book contributions. In addition, I also wrote a short contribution on the Jewish history of the region, which has been often neglected in previous presentations of the region.
The various authors for this volume have been intensively involved with the region in recent years. However, the authors do not only focus on the situation on the ground, but also on the international context of the autonomous administration. The conflict in Syria is no longer just a civil war, but a transnational conflict with important roles played not only by actors such as Russia or the USA, but also Turkey or Iran.
Given the transnationality of the conflict and the role of the hegemonic powers, these authors share thoughtful analyses from very different perspectives. It is important to share these diverse views with the world so that the tragic conflict might become more comprehensible. This does not mean, however, that I necessarily advocate each particular position taken by the varied contributors to this book. The intent is to offer you multiple perspectives and certainly not a common narrative.
"Rojava is a synonym for the diverse political and socio-political change in the region of western Kurdistan. It is here that religious tolerance and gender equality are lived. It gives the Kurds a modern, cosmopolitan structure. Rojava is a beacon of hope for democracy, with its secular polity, and its stability in a multi-ethnic society."

– Andreas Schieder, Member of European Parliament and Member of the S&D group in the European Parliament, Austria.
* Publication of this book is partially funded by Group of the Progressive Alliance of Socialists and Democrats in the European Parliament
Contents
FOREWORD – Andreas Schieder, MEP
INTRODUCTION – Thomas Schmidinger
CHAPTER 1. History of Syrian Kurds and Their Political Parties – Jordi Tejel
CHAPTER 2. Christians in North Syria: Syriacs, Assyrians, Armenians, and Kurdish converts – Thomas Schmidinger
CHAPTER 3. Yezidis in Syria – Sebastian Maisel
CHAPTER 4. The Jews of North and East Syria and their Heritage – Thomas Schmidinger
CHAPTER 5. On the Kurdish Quest for Autonomy: Rojava's Political System and the Structures of Self-Administration in North and East Syria – Rosa Burç
CHAPTER 6. Struggle against ISIS and the Integration of Arab territories in the Autonomous Administration – Wladimir van Wilgenburg
CHAPTER 7. Turkey's War in Syria: Prevention or Expansion – Arzu Yilmaz
CHAPTER 8. The impact of Turkey's 2019 invasion on North and East Syria – Thomas McClure & Nina Steinhardt
CHAPTER 9. United States-Kurdish Relations over North-eastern Syria: From instrumentalism to doctrinism? – Nazan Bedirhanoğlu
CHAPTER 10. Russian Positions on Syria and Syrian Kurds – Konstantin Truevtsev
CHAPTER 11. Weapons, Borders, and Human Rights: The complicated relationship between the European Union and the Autonomous Administration of North and East Syria – Francesco Marilungo
CHAPTER 12. The UN and the Turkish Invasion in Syria – Christoph Osztovics
Contributors:
Nazan Bedirhanoğlu is a political scientist and a Freedom Project post-doctoral fellow in the Political Science Department at Wellesley College in Massachusetts (USA). Contact: nbedirha@wellesley.edu
Rosa Burç is a PhD researcher at the Center on Social Movement Studies as part of the Scuola Normale Superiore in Florence, Italy. She specialises in the political sociology of statelessness, with a current focus on bottom-up articulations of democracy in the Kurdish Middle East. Contact: rosa.burc@sns.it
Sebastian Maisel is Professor for Arabic linguistics at the University of Leipzig (Germany) and author of Yezidis in Syria – Identity Building among a Double Minority (2017). Contact: sebastian.maisel@uni-leipzig.de
Francesco Marilungo has a PhD in Kurdish Studies from the University of Exeter (UK). While completing his PhD, he was appointed by an Italian NGO to coordinate and monitor cooperation and development projects in the Kurdish regions of Iraq and Syria. Contact: marilungo.francesco@gmail.com
Thomas McClure is a freelance journalist and founding member of the Rojava Information Center (RIC). He works for RIC as a researcher, spokesperson and point of liaison for foreign press seeking to report on North and East Syria. Contact: thomas@rojavaic.com
Christoph Osztovics is an Austrian political scientist and co-editor of the Vienna Kurdish Studies Yearbook. Contact: christoph.osztovics@posteo.de
Thomas Schmidinger is a political scientist and social anthropologist at the University of Vienna and the University for Applied Sciences Oberösterreich and Co-editor of the Vienna Kurdish Studies Yearbook and author of Rojava – Revolution, War and the Future of the Kurds (2018) and The Battle for the Mountain of the Kurds (2019). Contact: thomas.schmidinger@univie.ac.at
Nina Steinhardt is a researcher with Rojava Information Center (RIC). Coming from an academic background, she conducts field research along with RIC´s team of local and international researchers to contribute to RIC´s in-depth coverage of the situation in North and East Syria. Contact: contact@rojavaic.com
Jordi Tejel is a historian specialising in modern history, state/society relations, and state-building in the Middle East and the Syrian Kurds. He is Professor at the University of Neuchâtel (Switzerland) and author of Syria´s Kurds. History, politics and society (2009). Contact: jordi.tejel@unine.ch
Konstantin Truevtsev is a senior researcher at the Institute of Oriental Studies, Russian Academy of Sciences, an expert of the Valdai Club, an expert of the Russian Council for International Affairs, Assistant Professor at the Russian University of Friendship of Peoples. Contact: hrrc@mail.ru
Wladimir van Wilgenburg is a political analyst, journalist and co-author of The Kurds of Northern Syria – Governance, Diversity and Conflicts (2019). Contact: vvanwilgenburg@gmail.com
Arzu Yilmaz has a PhD in International Relations from Ankara University in Turkey, where she wrote her dissertation on Kurdish refugees and the political identity of the refugee agent. She is currently Alexander von Humboldt Foundation fellow in the AAI at University of Hamburg (Germany). Contact: yilmaza02@gmail.com
CREDITS: Cover design by Nihal Yazgan | Photos inside are by courtesy of Thomas Schmidinger
Product Details:
ISBN: 978-1-912997-51-0
Publisher: Transnational Press London
Published: 28 November. 2020
Language: English
Pages: 217
Binding: Paperback
Interior Ink: Black & white
Weight (approx.): 0.40 kg
Dimensions (approx.): 15cm wide x 23cm tall
Additional information
| | |
| --- | --- |
| Weight | 0.40 kg |
| Version | Print |
| Binding | Paperback |
| Interior Ink | Black and White |