Women in a Global World, Edition III
£24.50
Description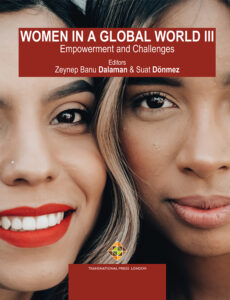 Women in a Global World, Edition III: Empowerment and Challenges
Editors: Zeynep Banu Dalaman and Suat Dönmez
Published: 11.05.2023 [ Society and Politics: 11 ]
Paperback: ISBN: 978-1-80135-218-5  Buy from Talebe.com | Buy from Lulu | Buy from Amazon
Digital: ISBN: 978-1-80135-219-2  Read on Kindle | Read on Google Play | Read on Talebe.com
This book has been prepared as the third installment in the book series titled "Women in a Global World III." All research articles that constitute this book are interdisciplinary and international comparative studies. Researchers from around the world presented their diverse perspectives on women-themed topics such as "Women's Empowerment, Women's Challenges in Society, Women and Literature." The book provides a thought-provoking and informative account of the experiences and travails of women around the world. It serves as a reminder of the intrinsic value of women's voices and stories, and advocates for their elevation to the forefront of contemporary social discourse.
Editorial Board:
Ahmet Görgen
Alp Arısoy
Berrin Ceylan Ataman
Ceren Avcil
Elif Gençkal Eroler
Elvan Karaman
Fabio Grassi
Gökhan Ak
Lan Lo
Nilüfer Narlı
Paulette Schuster
Savaş Biçer
Tuba Demirci
Zeynep Üskül Engin
CONTENTS
I. WOMEN'S EMPOWERMENT: ITS IMPACT ON POLITICS, PUBLIC SPHERE AND INTERNATIONAL RELATIONS
The Power of Words: How Silent Spring Sparked the American Environmental Movement through Debate and Diplomacy – Jayashabari Shankar
The Other Side of Male Dominance: Prohibition of Pants  – Zeynep Özlem Üskül Engin and Dolunay Çörek Akyıldız
Gender Mainstreaming and International Organizations: NATO Example – Suat Dönmez
Gender Mainstreaming in Türkiye within the Framework of the "European Charter for Equality of Women and Men in Local Life" – Zeynep Banu Dalaman
The Development of Civil Society and the Women's Rights Movements in Türkiye – Ahmet Görgen
II. WOMEN'S CHALLENGES IN SOCIETY
Colonial Prejudice Hunting the African Woman:  The Case of Southern/West Cameroon (1916-2022) – Charles Nda Agbor
The Relationship between the Girl Child Marriage Problem and Gender Inequality: The Case of Türkiye – Ayşe Nur Çiftçi
Chinese Women in Transnational Marriage Migration – In Two British Cities – Lan Lo and Xia Lin
Gendered Perceptions of Sexual Harassment in the Workplace in India – Naureen Bhullar, Chrysiynn D'Costa, and Ishani Roy
Female Educational Leadership between a Rock and a Hard Place – Latifa Belfakir and Imane Zeryouh
The Continuation of Gender Stereotyping and Patriarchal Mentality in the Post-Communist Albania – Enkelejda Cenaj
The Effects of Gender Discrimination on Women's Health – Şükran Başgör and Semra Elmas
III. WOMEN AND LITERATURE
Utopian Works by Two Feminist Writers: Herland and Yeni Turan – Senem Üstün Kaya
Women Claim Agency and Subjectivity: Assia Djebar's Fantasia: An Algerian Cavalcade – Ferma Lekesizalin
Reconfigurations of Female Gender Performance and Proto-Radicalism in Rachel Crothers' A Man's World – Furkan Tozan
---
This book has been published with the support of Istanbul Topkapi University, Turkey.
---
Product Details:
Society and Politics Series: 11
ISBN: 978-1-80135-218-5 (paperback)
ISBN: 978-1-80135-219-2 (digital)
Publisher: Transnational Press London
Published: 11 May 2023
Language: English
Pages: 161
Binding: Paperback
Interior Ink: Black & white
Weight (approx.): 0.4 kg
Dimensions (approx.): 15cm wide x 23cm tall
Additional information
| | |
| --- | --- |
| Weight | 0.40 kg |
| Version | Print |
| Binding | Paperback |
| Interior Ink | Black and White |