Japon Dili İncelemeleri
£24.50
Japon Dili İncelemeleri – 日本語諸考究 | Editör: Ayşegül Atay | JDIシリーズIV – Japon Dili İncelemeleri Serisi – IV | karton kapak | ISBN: 978-1-910781-91-3 : Buy from Lulu
Description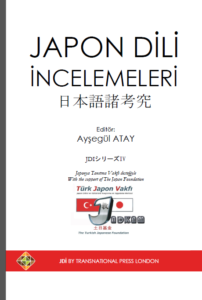 Japon Dili İncelemeleri – 日本語諸考究
Editör: Ayşegül Atay
JDIシリーズIV – Japon Dili İncelemeleri Serisi – IV
karton kapak | ISBN: 978-1-910781-91-3 : Buy from Lulu
"Japon Dili İncelemeleri (JDİ IV) Serisi olan 4. kitabımızı basmış bulunmaktayız. Erciyes Üniversitesi ev sahipliğinde 21-22 Haziran 2018 tarihleri arasında düzenlenen III. Japon Dili ve Eğitimi Uluslararası Sempozyumu'nda (JADEUS 2018) sunulan bildiriler, hakem heyetinin değerlendirme ve görüşleri doğrultusunda yazarları tarafından düzeltilerek yayına uygun hale getirilmiştir. Kitabımızın 4. sayısında Türkçe ve Japonca dillerinde yazılmış 16 bölüm yer almaktadır. Bölümler, Japonca eğitimini edebi ve kültürel açıdan ele alan araştırmalar, Türkçe-Japonca karşılaştırmalı dil araştırmaları ve uygulamalı araştırma alanlarındandır. Bu bölümler Japon dili, kültürü ve eğitimi konularına ilgi duyan, öğrenmek – öğretmek isteyenlere ve akademik düzeyde araştırma yapanlara kaynak olması amacıyla kitap haline getirilmiştir."
Bu çalışma Japonya Tanıtma Vakfı desteğiyle gerçekleştirilmiştir. This book was made possible with the support of The Japan Foundation.
İçindekiler – Content
Editörden. viii
刊行にあたって (Sunuş) ix
İçindekiler xi
ÖNSÖZ.. xv
Ayşe Nur Tekmen
文法研究・文法教育における新たな視点 – A new Perspective of Grammar in Japanese Language Education. 1
前田直子 (Maeda NAOKO)
21. Yüzyıl Postmodern Japon Edebiyatının Aykırı Sesleri: İkezava Natsuki, Seirai Yūiçi ve Kobayaşi Takici – 21st Century Postmodern Japanese Literature's Nonconformist Voices: Ikezawa Natsuki, Seirai Yūichi ve Kobayashi Takiji 17
Devrim Çetin GÜVEN
工学者系学生を対象とした日本語・日本文化教育  ―JTRE プログラムを事例としてー  Mühendislik Öğrencilerine Yönelik Japonca ve Japon Kültürü Eğitimi -JTRE Programı Örnekleminde- 37
Ayşe Nur Tekmen & Yumiko Furuichi
Yalan Mazerete Yönelik Kazanç-Bedel Algısı: Namık Kemal Üniversitesi Örneği Üzerine – Gain- Price Perception for Lie Excuse an example of Namik Kemal University. 45
Levent TOKSÖZ
日本語専攻生の日本語学習過程に於ける自己効力感及び学習不安感を測る尺度開発への一試み – Development of Self Efficacy and Foreign Language Anxiety Scale for Japanese Languıage Learners in Turkey  59
Nuri Bilgin İRİM & Tolga ÖZŞEN
「深い学び」のための哲学カフェの実践  ―「主体」概念と「私的な話題」に注目して – "Derin Öğrenme''de Felsefe Cafe'si Etkinliği Uygulaması: "Shutai (Özne)" kavramı ve "bireysel konular" açısından bir değerlendirme. 73
川本 健二 (Kenji Kawamoto)
日本語とトルコ語における述語の時間的限定性について – Türkçe ve Japonca Yüklemlerde Zamansal Sınırlama Üzerine. 91
Aydın ÖZBEK  & Esra KIRA
Japoncada Fiil İstemi Ve Türk Öğrencilere "İsim+Ni+Fiil" Yapılarının Öğretimi Üzerine – Japanese Verb Valence System and Teaching "Noun+ni+Verb" Structure to Turkish Native Speakers. 105
Zeynep GENÇER
タとテイルの形容詞的用法の習得に関する横断的研究―トルコ人日本語学習者を対象として―  Sıfat Fonksiyonlu -ta ve -teiru'nun Edinimine İlişkin Enine Kesitsel Bir Çalışma: Türk Japonca Öğrenirleri Üzerine  117
Esra KIRA
翻訳論の視点からジェスチャー認識及び日本語学習者に対するエンブレムジェスチャーの教育に関する一考察 ー日本語とトルコ語の翻訳を中心にー   A Study on Gesture Recognition and Education of Emblem Gesture for Japanese Learners from the Perspective of Translation Studies – Focusing on Japanese and Turkish Translations- 133
Ayşe AĞRIŞ
第二言語学習者のコミュニケーション上の問題と
コミュニケーション・ストラテジー ―トルコ人日本語学習者の横断的な会話データを用いて―  İkinci Dil Öğrenicilerinin İletişim Problemleri ve İletişim Stratejileri -Japonca Öğrenen Türk Öğrencilerin Kesitsel Konuşma Verileri- 145
Seda DEDEOĞLU
Causative Structures in Japanese and their Translation to Turkish – Japoncadaki Ettirgen Yapılar ve Türkçeye Aktarımları 157
Ümmühan ÇİFTÇİ
Japon Edebiyatı Eğitimi ve Toplum – Kawabata Yasunari'nin Shojo no Inori『処女の祈り』Öyküsü Örneklemi – Japanese Literature Education and Society – A Sample of Kawabata Yasunari's Shojo no Inori『処女の祈り』Narrative – 173
Nihan ATLI
Japonca Eğitiminde Modern Senryūların Ders Malzemesi Olarak Kullanımı – Using Modern Senryūs as a Lesson Material in Japanese Education. 189
Güliz Enbatan
Nevşehir Hacı Bektaş Veli Üniversitesi Japon Dili ve Edebiyatı Anabilim Dalı 1. Sınıf Öğrencilerinin Sözcük Öğrenim Süreçleri Üzerine Bir Araştırma – A Research on Word Learning Process of 1st Year Students of Japanese Language and Literature Department of Nevsehir Haci Bektas Veli University. 205
Gonca VAROĞLU
Japon Dili Eğitiminde は (wa) ve が (ga) İlgeçleri ve Bu İlgeçlerin Türkçeye Yansımaları – The preposition は (wa) and が (ga) in Japanese Language Education and Their Reflections in Turkish. 215
Ayşegül ATAY
EDİTÖR HAKKINDA: 
Dr Ayşegül ATAY, Lisans öğrenimini (1994-1998) Erciyes Üniversitesinde, (2000-2010) Yüksek Lisans ve Doktora öğrenimini ise Ankara Üniversitesinde tamamlamıştır. 2011 yılından itibaren Erciyes Üniversitesi Edebiyat Fakültesi Japon Dili ve Edebiyatı Anabilim Dalında çalışmaktadır. 2001 yılında Japan Fondation'ın Uzun Dönem (6 aylık) Japonca Öğretmenleri Staj (Chōki Kenshū) programına katılmıştır. 2009 -2010 yılında ise yine Japan Foundation'ın Fellow Ship Programı ile 1 yıllık misafir araştırmacı olarak Ulusal Japon Dili ve Dilbilimi Enstitüsü (National Institute for Japanese Language and Linguistics) misafir araştırmacı olarak bulunmuşturDoktora tezi, Japoncada Zaman- Görünüş Tartışması – Görünüş Tartışması Kapsamında Yardımcı Eylem "iru" ve Türkçe üzerinedir. Japonca ve Türkçe karşılaştırmalı araştırmalar ve Japon eğitimi üzerine araştırmalar yapmakta, bu alanlarda yayımlanmış ulusal ve uluslararası makaleleri ile kitap bölümleri vardır.
CREDITS: Cover Design: Gizem Çakır
Product Details:
ISBN: 978191078913
Publisher: Transnational Press London
Published: 22 December 2018
Language: Turkish, English and Japanese
Pages: 252
Binding: Perfect-bound Paperback
Interior Ink: Black & white
Weight (approx.): 0.45 kg
Dimensions (approx.): 24cm tall x 15cm wide
Additional information
| | |
| --- | --- |
| Weight | 0.45 kg |
| Version | Print |
| Binding | Paperback |
| Interior Ink | Black and White |