National Myths in Greece
£24.50
Description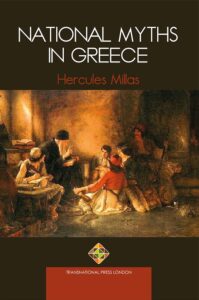 National Myths in Greece
by Hercules Millas
Published: 1 January 2023 [Society and Politics Series: 10]
Paperback: ISBN: 978-1-80135-099-0 Buy from Amazon | Talebe.com'dan al
Digital version: ISBN: 978-1-80135-100-3  Read on Google Play | Read on Kindle | Read on CEEOL | Talebe.com'da oku
The national myths and the efforts to refute them are reliable sources in obtaining a holistic picture of a modern society. My starting point, which was to present the national myths in Modern Greece, turned into questioning "our human capacity" to live in a world distant from myths.
A myth may mean from a "false story" to a "philosophical metaphor" and form a "lie" to a "unifying social story". Myths are so widespread that one suspects that they constitute the norm of human existence.
The whole endeavour is related to the construction of modern social identities and to the national perceptions vis-à-vis the self and the Other. The case of Greece illuminates drives that may be encountered in all present-day societies. One may read this book as a guide to get in acquaintance the Greeks, as well.
The questions posed in this study are more numerous than the reached conclusions. For example, an unanswered but meaningful question is the following: "The grownups create stories that differ from the stories of children, but still stories that by others may be evaluated as myths. What is the difference between the belief in going to the moon riding a broom to meet a prince and the conviction of going to heaven accompanied by an angel to meet a god?".
ABOUT THE AUTHOR:
Hercules Millas is a political scientist (PhD) and a civil engineer. He worked as an engineer in Middle East countries and taught history, political science and Greek and Turkish language/literature in various universities in Greece and Turkey. He published various books and many articles, mostly on historiography, interethnic perceptions and Greek-Turkish relations. He translated more than twenty books, mostly Greek and Turkish poetry.
He received the 'Abdi Ipekçi Peace Award' 1992, the 'Dido Sotiriou' award of the Hellenic Authors' Society in 2004 and the award Free Thinking and Expression of Publishers' Association of Turkey in 2005. His documentary (jointly with N. Dinc) The Other Town won various awards: The spectators award in the Thessaloniki Film Festival in 2011; special award of the Turkish Film Festival in Boston in 2012; the Best Historical Documentary in Greek Film Fest in Chicago in 2012. His novel The Family Grave received the "Orhan Kemal best novel award" for the year 2021 in Turkey.
CREDITS: Cover design by Nihal Yazgan; Cover Image by Nikolaos Gyzis, To Kryfo Scholio – oil on canvas.
PRODUCT DETAILS:
Society and Politics Series: 10
ISBN: 978-1-80135-099-0 (Paperback)
ISBN: 978-1-80135-100-3 (Digital)
Publisher: Transnational Press London
Published: 1 January 2023
Language: English
Pages: 244
Binding: Paperback
Interior Ink: Black & white
Weight (approx.): 0.5/0.8 kg
Dimensions (approx.): 15cm wide x 23cm tall
Additional information
| | |
| --- | --- |
| Weight | 0.40 kg |
| Version | Print |
| Binding | Paperback, Hardcover |
| Interior Ink | Black and White |