The Models and Techniques Used in Family Mediation in England and Wales
£17.50
Description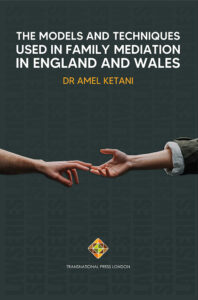 The Models and Techniques Used in Family Mediation in England and Wales
by Dr Amel Ketani
Published: 3 March 2022 [ Law Series: 5 ]
Paperback: ISBN: 978-1-912997-72-5  Buy from Amazon | Buy from Talebe.com
Digital: ISBN: 978-1-80135-114-0 Read on Google Play  | Read on Kindle  | Read on CEEOL | Read on Talebe.com
Over the past forty years, the approach to legal disputes in England and Wales has experienced some important changes. In many instances, mediation, with its objective of resolving disputes, is favoured over the traditional and adversarial procedure of litigation.
Intriguingly, the perspectives of mediators on the practice of family mediation are relatively unexplored territory. This book with its focus on family mediation seeks to reduce this gap by supplementing the existing literature.
It will put forward the family mediators' opinions and my recommendations on how family mediation can be improved from the perspective of models. It aims to contribute, through the practitioners' lens, to some of the important theoretical issues, discussions and difficulties surrounding family mediation. In addition, the aim of this book is to set out the understanding of family mediators and draw on this to explore important themes such as mediation models, their principles and the nature of the task. The analysis of these themes will reveal many things, from the difficulties and demanding tasks in family mediation, to the satisfaction and reward that can be felt by family mediators who achieve the parties' objective of amicably resolving a family dispute.
"This book brings clarity and offers new contributions to the field of family mediation and dispute resolution- a must read for practitioners, academics and professionals working in the field."

Dr Sara Hourani, Senior Law Lecturer at Middlesex University
"This is a very practical guide by a specialist who clearly understands the important role that different mediation techniques play in legal practice today. This guide combines both an academic analysis with some practical tools that are especially useful to practitioners in the field of Family Law. The guide considers the merits (and in some cases, drawbacks), of different mediation models, and offers a helpful perspective on conditions that need to be met which would improve the efficacy of mediation. This is a highly recommended resource for academics, teachers and practitioners alike!'

Ms Marie Iskander, Solicitor, New South Wales, Australia
CONTENTS:
About the Author:
Dr Amel Ketani is a Barrister, a Senior Law Lecturer and a Mediator. She is currently a Senior Law Lecturer at BPP University. Prior to joining BPP University, she has taught in many other private and public institutions in England. She completed a PhD on Family Mediation at the University of Surrey and has published and presented papers in many conferences on this subject.
Product Details:
ISBN: 978-1-912997-72-5
eISBN: 978-1-80135-114-0
Publisher: Transnational Press London
Published: 3 March 2022
Language: English
Pages: 99
Binding: Paperback
Interior Ink: Black & white
Weight (approx.): 0.4 kg
Dimensions (approx.): 15.24cm wide x 22.86cm tall
Additional information
| | |
| --- | --- |
| Weight | 0.40 kg |
| Version | Print |
| Binding | Paperback |
| Interior Ink | Black and White |